Career
Advice
CPAs
A Compassionate Accounting Career: Dustin Johnson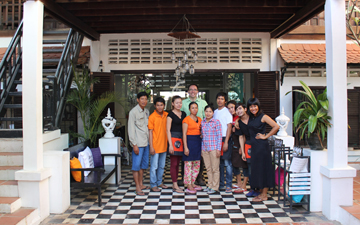 Life changing experiences for accountants and auditors through AfID
Financial management lays the crucial foundation for organizations in the not-for-profit sector to achieve their missions. Without clear financial controls, accountability or a sustainable funding model, the very survival of such organizations comes into question. Neil Jennings, founder of social enterprise Accounting for International Development (AfID), recognized the urgent need to address this risk during his time working for a small Rwandan education NGO.
"It became obvious that whilst the staff had achieved amazing results with little resources, the survival of their activities hung desperately in the balance due to a lack of financial management experience and a faltering donor relationship," Neil recalls. "Volunteers had come and gone but sadly never addressing this issue and never really contributing to the organization's long-term development and sustainability."
Accountants play a crucial role in the survival and growth of charitable organizations. The rewards of a finance career in the international development sector are plentiful, from making a meaningful positive impact on global issues to working with inspiring people united by a shared cause. However, as a sector with a lack of funding across the board and where jobs are highly competitive, it is no surprise that such opportunities are hard to find.
Organizations like Accounting for International Development enable accountants to volunteer their finance skills to a wide range of charities overseas. This provides exposure into working life in the sector as well as the invaluable experience necessary for an edge in the recruitment process. Over 20 per cent of AfID's volunteers now work in the non-profit sector full-time — most leaving behind careers in the corporate world to do so. Chartered Professional Accountant Dustin Johnson did just that.
A Compassionate CPA
Back in 2014, Dustin first volunteered through AfID for a community development programme in Cambodia. He then went on to support an educational charity in Guatemala in late 2018 — this time accompanied by his wife, Nancy, who volunteered alongside him as a plus one in a teaching capacity.
Earlier this year, Dustin took the next step and transitioned into the charity sector full-time, taking up the position of U.S. Controller at Compassion International, a Christian children's development non-profit organization based in Colorado Springs.
Dustin was previously an established controller with over 20 years of experience, much of which was in the waste industry. Prior to his first placement, he had been considering a career change at some point down the road — but he didn't really know what that meant or what his options were.
While volunteering, Dustin became aware of the urgent need for financial consultancy and support in the charity sector. "I realised that I have valuable skills, and that there is an extensive and widespread need for this support in remote areas all around the world," he reflects. It also helped him realize that he wanted to move into the non-profit sector full-time.
"I learned that I truly have a passion to help, even in accounting. I decided I needed to follow that passion, but certainly had concerns — moving to non-profit was a big change. I wondered how much of my experience would translate to a day-to-day, non-profit role. Would I start over at the beginning?"
A concern over relevance of skills is widely shared by accountants new to the charity sector. However, Dustin discovered that his background actually adds a useful viewpoint to conversations. This fresh perspective from a corporate angle is of great benefit to non-profits. "While there is a lot to learn on the non-profit side, the basic business acumen still holds true," Dustin shares. "Switching to non-profit has forced me to remain open to learning new things, but the transition has actually been easier than expected."
In both sectors, he was responsible for preparing accurate financial statements so that good financial decisions could be made. However, the difference lies in the goal behind these decisions. In the corporate sector, the goal is to maximize profits or shareholder value, where Dustin would find multiple ways to boost margins. At Compassion, the goal is to help as many children as possible.
Now, Dustin needs to ensure that they [non-profits] spend effectively, responsibly and with accountability. "Some of the accounting rules are different in non-profit," Dustin says, "but that's what keeps it interesting."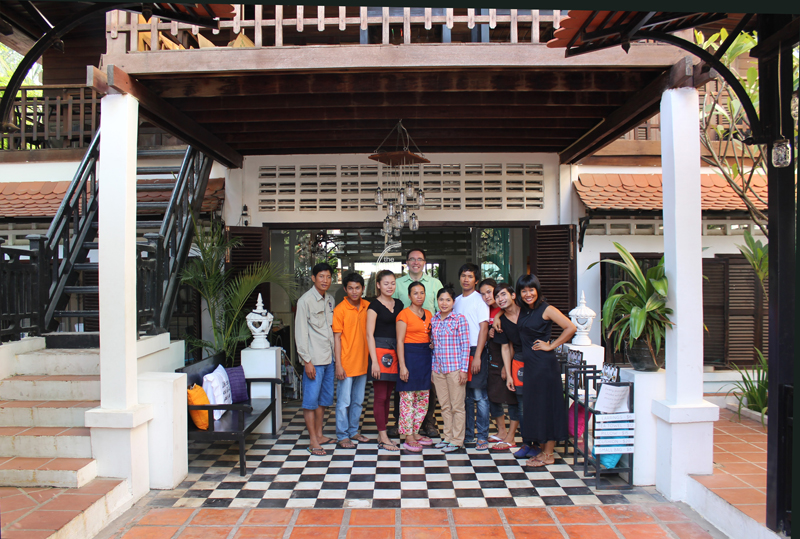 Dustin Johnson went to Cambodia for his first placement with Accounting for International Development. He helped the charity Restore One, which teaches basic skills, and now works as U.S. Controller at Compassion International. (AfID)
A Career In The Charity Sector?
Pro bono accountancy increased his comfort level in doing something new and different, making him realize that a career path doesn't always have to follow in a straight line. "We should go where we are happy, and in my case, that's helping others. Volunteering my finance skills definitely increased my understanding of the challenges and struggles in the charity sector, and has helped tremendously when coming to Compassion."
Flexibility and openness to change are key to a successful career in the charity sector. "The non-profit sector is very different, and more challenging than some may think. It's important to keep an open mind and be able to collaborate and hear other points of view, but still make a decision and move forward," advises Dustin.
"As a manager working in a charity, I have also noticed that many people are in it because of its mission and a desire to do good. There is less motivation around a paycheque or an annual bonus, and more motivation towards self-improvement or one's ability to impact the organization. You need to be open to that, and manage differently as a result."
Volunteer accounting experience equips finance professionals with a basic understanding of non-profit financial management in the real world. "If an accountant wants to work in an organization like mine, which operations in developing countries, I would like to see them have some experience abroad, such as the placements AfID provides," he shares. "Extensive travel abroad would be helpful as well. People in the charity sector come from diverse backgrounds and it's important to be able to effectively work together."
"Additionally, being a patient teacher and communicator is an excellent skill to have. As mentioned before, people in charity aren't necessarily driven by the same factors as people in the corporate sector — they also might not have the same levels of accounting awareness. It's very important to listen lots and speak less, be cognizant of feelings and opinions, and make changes thoughtfully and transparently."
The most important factors to consider before a career transition is your prior experience, your passion for the cause and motivation for working in the sector as a whole, and an openness to work and lifestyle changes.
Jessica Jackson is a marketing and recruitment assistant at Accounting for International Development (AfID). To get a taste of life as an accountant in the charity sector, take on a volunteering placement with Accounting for International Development by visiting www.afid.org.uk or emailing info@afid.org.uk.