Career
Work/Life
Travel well, road warriors: A CPA's guide to the major stressors of business travel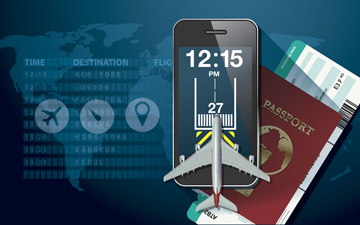 A new study has pinpointed six business travel stressors and offered corporate policy recommendations
TORONTO – Accountants and auditors are the nomads of the 21st century, criss-crossing the world aboard high-altitude pack animals in search of the next oasis of business in our globalized economy. For some, particularly millennials, travel is a passion of the profession. For others, particularly those with children, it's a reason often cited for leaving public accounting or even the profession.
A recent study has pinpointed aspects of business travel that take the biggest toll on professionals. "I was surprised that hotel/airline preferences and destination concerns were two important factors related to business travellers' stress," wrote Professor Hsiangting (Shatina) Chen of the University of Alabama in an email to Canadian Accountant. "This finding was not addressed in the previous studies."
Professor Chen's study, "Travel well, road warriors: Assessing business travelers' stressors," should be required reading for weary CPAs and the corporate managers who implement travel policies and guidelines. The stressors were ranked in a survey taken by respondents:
Travel inconvenience. Has your airline ever lost or delayed your luggage? Of all the inconveniences, luggage loss stresses people out the most. Others include trips with short notice, flight delays and, especially aggravating to professionals, lousy Wi-Fi/Internet.
Hotel/airline preferences. Road warriors trust brands and staying in a non-preferred hotel brand was a major stressor. As Professor Chen points out, "this may imply that business travellers tend to stay in a hotel brand they prefer in order to lessen travel stress and meet their healthy lifestyle requirements."
Travel arrangements. What does every road warrior dislike the most about travel arrangements? It's contacting their travel management supervisor or agent. Apparently, the worst thing about arrangements is arranging them.
Work/personal life. Long hours, lack of sleep, feelings of isolation. A potpourri of pain. But the worst stressors, according to respondents, is what your faced with when you return: not enough downtime and the work has piled up.
Difficulty of maintaining healthy lifestyle. You can't eat healthy. You can't work out. You suffer from jet lag. Simply put, road warriors have trouble maintaining a healthy lifestyle.
Destination concerns. You're worried about the culture and your personal safety at your destination. That makes it tough to enjoy your flight or anything about the trip.
Is the inconvenience of corporate travel inevitable? Absolutely not, according to the study, which puts the onus on corporate travel managers to provide advice and assistance to help business travellers overcome travel stress. Corporate programs and policies that reduce the negative aspects of travel are essential.
What about the prickly subject of hotel brands? "Since many corporate organizations have policies or contracts with certain hotel brands," says Professor Chen, "most of the time, business travelers are not allowed to choose a hotel brand which they prefer. Corporate travel managers may consider asking their employees about their hotel/airline experience, which may influence their healthy lifestyle and travel-related stress on the road."
True road warriors, like George Clooney's character in Up in the Air (2009), often develop their own "travel competence," fine-tuning their travel habits to reduce hassles. For the rest of us, travel-related stress causes increased work and personal levels of stress.
It is "imperative," says the study, that companies recognize the toll taken by business travel, which can lead to personal health issues and, ultimately, "loss in work productivity and efficiency, employees' complaints and turnover, and potential compensation costs."
Evaluate your company's business travel resources and make recommendations. Simple changes in policy can make a difference in erasing the connection between travel stress , job commitment and satisfaction.
Travel well, road warriors. You are the nomads of the 21st century. May you find your brand-name oases in all your travels.
Thank you to Professor Chen for making available the full study, Travel well, road warriors: Assessing business travelers' stressors. Colin Ellis is editor-in-chief of Canadian Accountant.