Profession
Practice
Tax season is (finally!) over. How are Canadian accountants celebrating?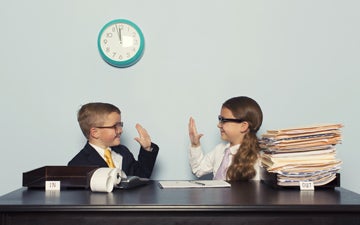 April 30th marked the end of another tax season of hard work and long hours for practitioners. Now it's time to celebrate!
TORONTO, May 1, 2018 – It's the end of tax season and all across the country accountants are celebrating the passing of the April 30 deadline. "I was so busy in my practice, working evenings and weekends, that I actually forgot a couple of times what day of the week it was," says Chartered Professional Accountant Susan Ivanovics, who runs her own practice in Hamilton, Ont.
"How am I celebrating today? First, I slept in so I could get some much-needed rest. Then I am going out for dinner, to see what the real world looks like outside of my office."
Canadian accountants working in small to medium-sized firms work long hours during tax season, which officially began on February 26, according to the Canada Revenue Agency, and ended on April 30. Accounting staff will typically work 60-65 hours per week, including Saturdays, with Sundays off.
Partners will typically work longer hours, often seven days a week. It's a common tale among sole practitioners that they will break for dinner and family time in the early evening, then return to the office (or home office) in the evening.
At Colby McGeachy Professional Corporation in Almonte, Ont., "We celebrate with an after-tax dinner at a restaurant," says partner Dawn McGeachy. Employees are allowed to bring along a partner, spouse or guest, and the evening includes games and quizzes to earn prizes. "It's our way of thanking the staff for their hard work and giving them a chance to relax and enjoy a nice meal."
Some firms, like Colby McGeachy, allow their staff to choose which day they want the season-ending event to take place. Other firms, like Fred Mertz Professional Corporation in Calgary, Alta., hold their event prior to the tax deadline. "The last weekend before April 30, we treat our staff and their spouses to an evening of fine wines and a dining place of their choice," says Mertz.
"This is very traditional and it allows our office to see the coming light after a very busy tax season. It is also our way of thanking their spouses for allowing the staff to live at the office for several weeks. May 1st is also tax 'holiday' for our office, where we take the day off."
Bridget Noonan of Clearline Consulting, based in Vancouver, B.C., has worked in public practice for 20 years. "Our four offices closed yesterday at 3 p.m. and the staff made their way to a 4 p.m. reservation at a restaurant. Drinks and appetizers were followed by a short note from the partners to thank everybody who worked so hard over the last few months, then a small token of appreciation."
Noonan says the staff have short trips planned to celebrate the end of tax season, such as Harrison Hot Springs or Disneyland. But not everyone takes a break — some catch morning flights the very next day to be on site for audits that begin the next day.
According to Noonan, the tradition hasn't changed much in 20 years. "There is something about that that I like. It's no different than a family tradition. It's become a professional tradition."
Of course, not all traditions are created equal. "Each April 30, we all write the names of the clients that caused us the most grief during the year," says Nola Lamoureux Spierenburg of AC Hunter Tellier Belgrave Adamson, Chartered Professional Accountants, in Dartmouth, Nova Scotia.
The staff then put the pieces of paper in a pottery bowl. "On May 1, we burn them. The little urn sits in our lobby all year round — with actual ashes."
What a great way to blow off a little steam.
Colin Ellis is the managing editor of Canadian Accountant.