Profession
Practice
Business
Sunday News Roundup 23.04.16: CRA strike talks continue and more Canadian accounting news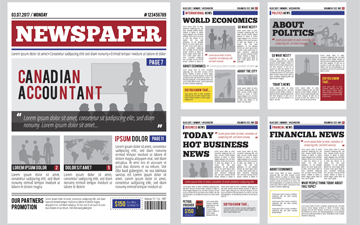 Wrapping up the odds and ends from the past week in Canadian accounting news
Subscribe to our weekly newsletter and get all the week's stories. Click here to sign up.
TORONTO, April 16, 2023 – Negotiations have continued past the legal strike position of workers at the Canada Revenue Agency, who were in legal strike position this past Thursday. The Public Service Alliance of Canada say it is encouraging that talks are continuing into the weekend. PSAC will be holding a press conference on Monday, April 17 at 9 a.m. ET to provide an update on the status of negotiations.
A strike by PSAC would be one of Canada's largest strikes ever, but the impact on Canadian accountants may be more limited than many have been led to believe. In this recent article, we cleared up some of the misconceptions around the strike vote by the Union of Taxation Employees. The CRA has announced, however, that it has "no plans" to extend the tax season deadline if a strike occurs.
And now, on to the rest of the news and links from the past week in Canadian accounting.
Break up to make up: Will the split fallout affect EY Canada?
Ernst & Young announced this past week that it was stopping work on Project Everest, which set out to separate the EY business lines. There was a lot of ink spilled on the potential damage to the EY brand, the costs of the breakup, and the potential for layoffs. EY Canada kept mum throughout the talks, which were largely between EY operations in the UK and US. We'll have more on this in the future.
Quick Hits: Articles of Interest
Canadian
Canadians pay so much more in taxes than Americans – and for what? (Globe and Mail)
Gig workers, beware: Hiding your side hustles from the CRA is asking for trouble (Financial Post)
Backing up expense claims on your taxes could save you from CRA trouble (Financial Post)
Farmers should be exempt from new tax (Village Media)
International
Big Four's Stormy Spring Resurrects Fear About Audit Quality (Bloomberg Tax)
Smaller accounting firms ask Big Four to share their expertise (Financial Times UK)
Trump's New Accounting Firm Agrees to Respond to New York AG Subpoena (Bloomberg)
One among many: How can accountants stand out on LinkedIn? (Accounting Today)
Our Obsession with Hours Is Destroying the Accounting Profession (CPA Practice Advisor)
Supreme Court sides with accountant over SEC (Accounting Today)
U.S. Supreme Court empowers bids to curb authority of federal agencies (Reuters)
By Canadian Accountant staff.