Students
Andrew Knapman
CPA Program
CPA PEP core modules: Focus on knowledge, not exam conditions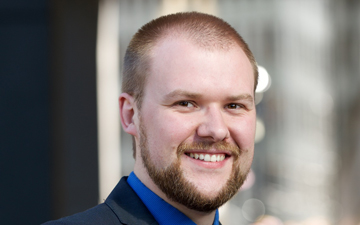 Learn first, then reduce your notes, says CPA PEP student Andrew Knapman  
Vancouver – How can you succeed, as an aspiring Chartered Professional Accountant, in the core modules for students in the CPA Professional Education Program (CPA PEP)? As a student who has already passed both the core modules with distinction — and in a relatively stress-free manner — I've learned a few key tips for success that I can share with you.
In my first column on the core modules, I suggested that students focus on the exam blueprint, because it will tell you exactly where your focus should lie. Core 1, for example, covers financial reporting (50-70%), assurance (10-30%), finance (5-10%) and tax (10-20%). But don't confuse focusing on the exam blueprint with focusing on the exam itself. The weighting of the exam tells you where to focus, not what to focus on.
Focus on knowledge, not exam preparation
A lot of students focus their efforts on exam preparation, particularly when it comes to things like the practice cases. They worry that if they can't answer the cases in the expected time prior to the exam, they will have no chance in the exam itself.
I understand the logic but for me this approach never worked. I'd much rather spend two to three hours on a one-hour practice case and do a good job than rush it in one hour just to replicate exam conditions.
Having the necessary knowledge, for me, was far more important than practising under exam conditions. I found that by simply knowing all the materials, as well as how to approach a case, I generally was fine to stay within the time frames provided, come exam day.
The exams actually give you more time than you need when it comes to case writing. Once you reach the electives, the exam time is four hours but the questions should only take three hours.
Consolidate your notes
Of course, by focusing on knowledge rather than exam preparation, you can overcompensate. If you're like me, you might print out all your notes or pile up your books for the four subject areas at the beginning of the course, and think "good God, I have no hope!"
What I found was, my notes were way too in depth and could be cut down considerably. A great way I found to study was to simply read all my notes and highlight the important parts. Then, once you've read them all, cut out any notes that aren't highlighted, as they're just filler.
You will be left with far fewer notes to study from after this. I'd say my study notes were reduced by at least 25 per cent immediately. Re-read these notes daily and repeat the process as the course progresses until the end, when your notes will be at their most concise level. These summarized notes will then be very useful for CFE preparation, too.
In my next column, I'm going to discuss the CPA PEP workshops, and how best to approach them. In the meantime, good luck with your studies on your journey to becoming a CPA.
Andrew Knapman lives in Vancouver, B.C. and is a student in the CPA Professional Education Program through CPA BC. The views expressed in this guest blog are his own. Connect with Andrew through his LinkedIn profile and follow him on his journey to becoming a Chartered Professional Accountant through future blog postings on Canadian Accountant.