Profession
Practice
Work/Life
Fun For All: This is how accountants are spending their summer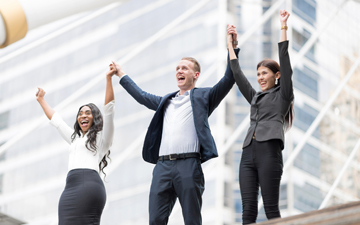 From vacations to regular hours to team-building getaways, this is how practitioners will spend the summer months
OTTAWA, June 7, 2018 – How are Canadian accountants working in small to medium-sized public practice firms spending their summer months. For some, as we reported in part one of this two-part series, summer is a time to review workflow management, to explore new technology solutions, and to brush up on skills and standards. But summer is also a time to wind down from tax season, take vacation time off and build team engagement.
While many CPA firms remain very busy during the summer months, there are compensating factors when compared to the frantic spring tax season, including a more standard length work week.
"On average our full-time staff are working an extra, close-to 20 hours a week, from mid-March to the end of April," says Jason Kingston, a principal with DSK LLP in Kitchener. "Most of them were coming close to working 60. And we have temporary staff as well that work full time, plus overtime hours." Kingston notes that the firm tries to restrict the weekly working hours to a more conventional 40 during the summer months.
Technology allows for vacation time, remote work
Vacation time is perhaps the biggest perk of all.
For Dawn McGeachy and her partner and husband, Everett Colby, of Colby McGeachy Professional Corporation in Almonte, Ont., "Summer is really our time to refuel. We typically take between three and six weeks, which sounds like a lot but we're never really 100 per cent off. We always still have to be available if there's a client crisis, or we have to answer questions from the staff. So we take as much of that in those weeks as we can for real vacation," she says.
Kingston also takes his vacation, with wife Elise and nine-year old son Alexander, during the summer months. "At the partner level, we'll each take three to four weeks off," he says.
Denise Wright-Ianni, a sole practitioner in London, is looking forward to going to Europe for a month this summer, as she did last summer, confident in the knowledge that technology allows for client interaction anytime, as may be needed, such as in an emergency. "I can work pretty much anywhere now," she says.
Team-building and engagement
Following the stress of personal tax season, members of CPA firms also like to relax as a group.
For example, Kingston's firm went on a camping trip one weekend last summer northwest of Toronto in the vicinity where he and his partners own a cottage. "It was a staff idea that we go up there. They brought their tents, and we catered in a meal and had a big bonfire. We're going to repeat that this year," he says.
The DSK partners have also done retreats at Niagara-on-the-Lake, and at the Deerhurst Resort just outside Huntsville, Ont.
McGeachy recalls a similar experience last year.
"We did something quite interesting. As part of our team-building day, historically we had done a fun day like a charity golf tournament. But [in 2017] we completely put it into the hands of the staff. We gave them a budget and we let them make the decision. They developed a day and it ended up being water rafting, an escape room, laser-in-the-dark tag, and a very nice lunch on the Ottawa River.
"They had an excellent day. We ended the day with some ice cream at a Dairy Queen and they really enjoyed themselves," she says.
"I don't know what magical things they have planned for this year yet. But they have alluded to the fact that it's going to be exciting," McGeachy adds.
Jeff Buckstein, CPA, CGA, is an Ottawa-based journalist.