Career
Advice
Presentation
How performance knowledge can drive your success as a CPA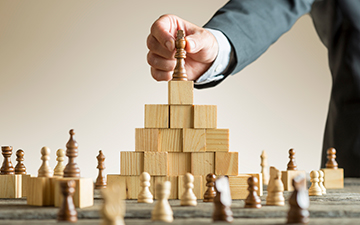 Part two of a series on achieving success from Robert Gagnon, CPA, CA
The Chinese philosopher Laozi said "A journey of a thousand miles begins with a simple step." Success is the culmination of many small successes rather than one huge leap of achievement. Small successes are less daunting, easily obtainable and help build a belief and attitude of self-confidence. I want to help you, as a fellow chartered professional accountant, to find your path to achievement.
The three principal factors of success are Motivation, Performance Knowledge and Self-Confidence. We covered Motivation in a previous article, "How motivation can drive your success as a CPA," in which I introduced the idea of using mental preparation techniques to help give "form and fuel" to your objective. These techniques have long been utilized by successful athletes and have gained the attention of business executives and a broader general community for their own use and benefit.
In this article, we look at Performance Knowledge techniques, which address the idea that you must know your path in order to achieve your objective.
The path of small, incremental goals
We begin with creating a series of goals that are layered and supportive in a pyramid-shape hierarchy. Your objective is the capstone of your pyramid. Let's use the objective we chose in our article on motivation: My intention is to deliver an informed, persuasive and polished presentation to the board of directors and convince them to approve the purchase of Olympia.
The three keywords in our objective — informed, persuasive, and polished — form the basis for developing the next layer of goals. For example, to be informed, you could set as goals: one, knowledge about the target company Olympia, including its history, ownership, leadership, markets, facilities, financials, and KPIs; and two, understanding of the deal, including purchase price calculations, purchase price range, financing, integration, projections.
Similarly, to be persuasive, you could set goals to identify the advantages and positive outcomes with the acquisition such as: one, financial advantages, such as profitability, balance sheet, post-acquisition EPS; and two, strategic alignment, such as new markets, new products, new customers.
Finally, to be polished, you would set goals to deliver a presentation that reflects your knowledge, confidence and preparation, such as tone, demeanour, pace, body language, and quality of materials. An informed, persuasive and polished presentation would result in your being successful in your primary objective.
The final layer of goals, forming the base of our pyramid, are the processes and activities required to achieve these secondary goals. For example, the work you have to do could be scheduled as follows:
Monday

Tuesday

Wednesday

Thursday

Friday

Schedule appointments/ meetings

Internal staff meeting

Calculations

Gather material

Rehearse

Review F/S, annual reports

credit agencies

Plant visit

Meet Olympia management

Brainstorm advantages + risks

Prepare Presentation

Rehearse

Website, customers, newsfeeds

Meet with external advisors

What ifs …

CEO briefing
The path of small, incremental goals begins with successfully completing your scheduled activities. As you check-off these items, you start to achieve the goals of being informed, persuasive and polished. Once they are achieved, then your primary objective is sure to occur.
In my next post, I will tackle the subject of Self-Confidence. But I highly recommend reading my article, "How the visualization techniques of athletes can help accountants succeed in business," to help with performance knowledge. Pro athletes use visualization techniques to gain competitive edge. You should, too.
Robert Gagnon CPA, CA, is a teacher and writer focusing on personal and professional development. Visit Robert's website at Human Becoming. He can be reached at essex@total.net.