Career
Advice
Work/Life
Let's Talk! About mental health and the accounting profession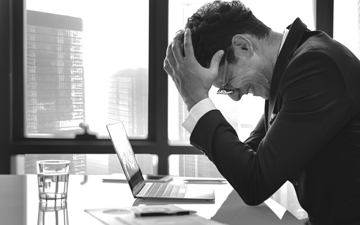 Canadian accountants taking steps to address mental health issues
TORONTO, Feb. 4, 2020 – Canadian accountants are taking steps to address mental health issues within the accounting profession at a time when mental health awareness is gaining prominence. The Big Four accounting firms were prominent on January 30th during Bell Let's Talk Day, a public awareness campaign created by the Canadian telecommunications company, to raise awareness and combat stigma surrounding mental illness in Canada. As a recent study of accountants points out, the public accounting sector can be a stressful and even "toxic" environment, especially for younger accountants.
The Bell Let's Talk Day is the single largest corporate commitment to mental health in Canada. High-profile companies and figures within the accounting profession were active on social media, promoting the #BellLetsTalk hashtag and their contributions to mental health awareness. Each of the Big Four accounting firms in Canada have taken a role in promoting mental health and awareness of related issues.
For example, KPMG Canada appointed accountant Denis Trottier to the position of chief mental health officer in October 2017. KMPG Canada CEO and senior partner Elio Luongo wrote an Op-ed in the Globe and Mail on business culture and mental health in 2018. Deloitte Canada recently published a Deloitte Insights report on the return of investment in workplace mental health programs. (It found that for every $1 invested in workplace mental health, the median yearly return was $1.62, a figure that rises to $2.18 for programs that have been in place for three years or more.)
According to CBC news, companies such as Deloitte have increased the amount that employees and their dependents can spend on mental health. Deloitte's offices in Toronto and Montreal include wellness centres, which include private reflection rooms. In 2018, EY Canada raised its mental-health benefits for all employees and their dependents from $900 to $5,000 a year, and included online cognitive behavioural therapy to its package. And PwC Canada has an employee program called DAWN, which "aims to raise awareness around physical and learning disabilities, mental health, and other wellness matters."
Stresses inherent in public practice?
The subject of mental health and the accounting profession is a delicate one, as public practice in particular is known to be a stressful industry, one which may dissuade younger generations from entering the workforce. In 2019, the Chartered Accountants Benevolent Association (CABA), the well-being charity founded by the Institute of Chartered Accountants in England and Wales, found that 55 per cent of chartered accountants surveyed deemed their workplace to be toxic.
Communication issues (18%), working unrealistic hours (17%) and cliquey colleagues (15%), jealous or competitive peers (13%), people sabotaging one another (12%) and a lack of accountability (12%) were among the reasons cited by respondents as contributing to toxic work environments. When asked if work had negatively affected them in the last 12 months, 76% answered in agreement.
"The issue of the 'toxic workplace' is certainly not confined to the accountancy profession, but it's worrying to hear that so many chartered accountants feel as though they work in such an unhealthy environment," said CABA Service Director Kelly Feehan. "It's recognized that this type of culture can take its toll on employees' mental health, leading to an unproductive and unmotivated workforce."
The younger generation (18-34) of accountants feel this more than any other. A staggering 80 per cent revealed they work in a toxic environment, with over one in four respondents believing it was due to people sabotaging one another. This compares to 60 per cent of 35-44-year olds, 35 per cent of 45-54 year olds and 29 per cent of those aged 55+, who think they work in a toxic environment.
"Leaders must recognize the signs, whether that's unrealistic expectations, a clear lack of communication or unsupportive colleagues, so that measures can be put in place to turn a toxic atmosphere into a productive and happy one," said Feehan. "It won't happen overnight, but it's important that both employers and employees are involved in stamping out toxicity within an organization. If it's not tackled head on, it could lead to increased absenteeism and high staff turnover which will be felt by the whole business."
Canadian accountants instrumental in mental health standards
In Canada, chartered professional accountants looking for ways to cut workplace mental health costs have been instrumental in the development of the National Standard of Canada for Psychological Health and Safety in the Workplace. As reported by Canadian Accountant, as part of a Mental Health Commission of Canada (MHCC) workforce advisory group, accountants helped identify 13 key factors that impact mental health at work.
While the MHCC was the national catalyst for the project, the Standard was the result of teamwork by employers, governments and regulatory authorities, service providers, policy and legal specialists, unions, and non-governmental partners. CPAs also serve in prominent roles on the board of directors and senior leadership team at MHCC.
CABA and MHCC have a number of resources available to the public on their websites. CPA Alberta runs CPA Assist, a CPA assistance and wellness program, that provides confidential 24/7 help to Alberta and Saskatchewan CPAs, and their immediate families.
By Canadian Accountant staff with files from CABA and MHCC.