Partner Posts
Career
Advice
Tax Season is over. Now's the time to pursue your master's degree in finance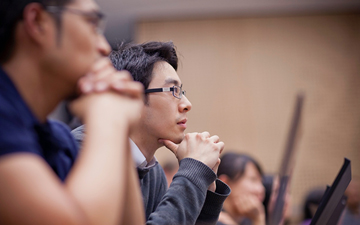 Fine-tune your accounting career with a Master of Finance (MFin) degree from the Rotman School of Management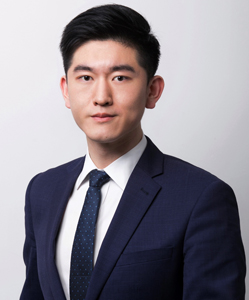 Jonathan Zhao, CPA, MFin is a senior consultant with the Operational Risk and Transformation team at Deloitte.
TORONTO – With firms looking beyond the traditional ways of business, now is the right time for accountants to pursue a Master of Finance (MFin) degree. The 20-month Rotman School of Management MFin program is beneficial for accounting practitioners who would like to expand their profile and knowledge on how numbers can drive business decisions.
Jonathan Zhao, CPA, MFin, is a prime example of bridging the gap between accounting and finance and merging two of his specialties into one role. With a Bachelor of Commerce Specialist in Accounting (BCom), a Master of Finance degree from Rotman School of Management, and his chartered professional accountant designation, Zhao is a consulting professional with a unique career trajectory.
A senior consultant with the Operational Risk and Transformation team at Deloitte, he helps major financial institutions transform the way they leverage their assets, people and technology. On a day-to-day basis, Zhao often uses skills gained in both the BCom and MFin programs, such as process optimization, organizational design, financial modeling, and accounting.
Working as a senior consultant at Deloitte, he helps clients assess their non-financial risk management infrastructure to identify and prioritize enhancement opportunities to leverage his client's people, process, and technologies.
"I want to keep expanding my skill sets and interests into multiple fields or areas, rather than being strong in just one."
As the Assistant Director, Recruitment and Admissions for the MFin program, Catherine Millar-Burt is frequently in touch with people thinking about the next step in their career. "I regularly speak to candidates with accounting backgrounds who are interested in joining the MFin program," explains Millar-Burt. "Some, like Jonathan, want to broaden their knowledge to be more effective at what they do now, while others are looking at whether moving into a finance role is an option for them."
"Coming from a BCom in accounting, choosing to pursue an MFin degree, helped me in expanding my profile and understanding all the key components required to advise my clients."
For Zhao, the MFin program at Rotman provided him with a solid understanding of finance, derivatives, asset pricing, investments, and financial risk management. He was able to have an immediate impact on his role and transform his future.
Why the Rotman MFin program is perfect for CPAs
Canadian accountants who hold the CPA designation do not need to take the GMAT in order to enter the Rotman MFin program, explains Millar-Burt. "We changed our admission requirements as we believe that CPAs already hold the foundation to be successful in the MFin program. This is why we hold it to the same regard as the CFA designation and have created a GMAT exemption for chartered professional accountants."
The Rotman MFin provides students with access to top-class professors and experts from various backgrounds, as well as an opportunity to work alongside peers who share the same interests and aspirations.
For example, courses such as the Machine Learning class offered by Professor John Hull provide students with a solid understanding of the concepts behind various emerging technologies and help gain a profound understanding of how these technologies can help financial institutions advance and excel in the current competitive market.
"The combination of both helps me bring in a unique value to the team as well as the industry, and I am looking forward to elevating my career to a higher level."
In his role at Deloitte, the MFin program helped Zhao become better equipped with the knowledge required to serve his clients. He has been able to drive more insights and provide well-rounded solutions to his clients with the incredible and rich knowledge he gained in his classes.
In a recent survey of MFin '22 students, 100% of respondents reported they would recommend the MFin program to their friends or colleagues. "Rotman MFin is truly the best in Canada," says Yanpu Liu, MFin 2021. "During this program, my knowledge, vision, and professionalism improved tremendously. It helped with my finance skills as well as personal development. Now I am more equipped in this ever-changing financial industry. And I am more confident about my future career development."
Eden Liu, MFin 2021, echoes this praise. "The program significantly improved my knowledge level and practical skill sets in Finance. The faculty is highly professional and mastered, such that I made tremendous progress in Finance under their effective teaching and instructions from this two-year study experience."
Learn more about Jonathan Zhao's unique journey merging two of his passions into one role. Download the Rotman Master of Finance program brochure.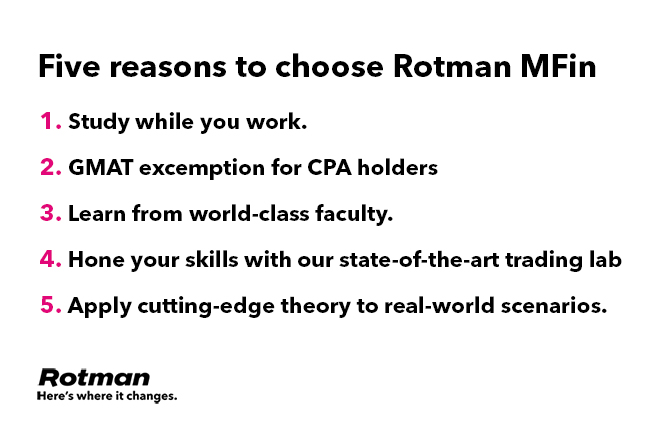 Rotman Master of Finance