Students
CFE News
Gevorg Grigoryan
CPA CFE writers successfully complete September 2022 accounting exam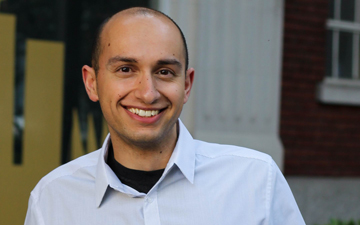 The September CFE returned to examination rooms. CPA program coach and mentor Gevorg Grigoryan, CPA, reviews this week's common final examination
VANCOUVER – The September 2022 CPA Canada Common Final Examination (CFE) is now complete, marking the end of diligent preparation by students in the CPA Professional Education Program. Unlike the prior three CFEs, this September 2022 CFE was written in examination centers, as opposed to the hotel room format, used during the COVID-19 pandemic, marking a return to normal setting used for the national accounting exam. After careful consideration of the COVID-19 public health risk, the Profession decided to offer this CFE in-person, following rigorous health and safety measures.
Day 1: This CFE's Day 1 cases were CanDo Fitness Ltd. (version 1) and Waste Disposal Inc. (version 3). CanDo Fitness case did not have many quantitative case facts, instead it focused on strategic direction of the company, cash flow constraint and EBITDA valuation analysis. The Waste Disposal case was lengthier, with five appendices, several strategic issues and an overarching issue of greenhouse gas (GHG) reduction. Day 1 of the CFE is linked to the Capstone 1 case, drawing upon both the content and skills candidates developed in Capstone 1.
Day 2: Known as the "marathon day," candidates found this Day 2 exam challenging. The GAAP standard was IFRS. Several complex, non-routine financial reporting "requireds" were tested: revenue recognition (IFRS 15), intangible assets (IAS 38), and operating segment (IFRS 8). There was a deep emphasis on data analytics and information services (DAIS). The requireds presented data charts and required the candidates to interpret and advise on implications. As reported by Canadian Accountant, candidates are encouraged to study more DAIS, as this is an emerging topic that CPA Canada will be testing more in upcoming exams. This was the first CFE where audit planning memo was not required for the assurance role.
Day 3: This "sprint day" has three to four cases testing on breadth of competencies. Day 3 of this CFE had similar assessment opportunities as in prior years, where same strategies and approaches that I teach in my CPA prep course should be applied.
Surpass (SecureClient): Candidates wrote this CFE using profession-supplied laptops loaded with the Surpass (SecureClient) software. Surpass was used prior to the COVID-19 pandemic and had caused a series of technology failures. The profession has since made several changes to the software and it functioned trouble-free. Surpass contains a word processor (similar to Word) and a spreadsheet (similar to Excel). Candidates reported that some shortcuts and functions in the text ("Word") and spreadsheet ("Excel") processors were missing, such as split screen, automatic bulleting and inserting second sheets. Other functions and formulas operated as expected.
Now is the time for CFE writers to rest and relax, as they have completed one of the most challenging exams of their lifetime. Congratulations to all writers of this year's September CFE on their journey to becoming a chartered professional accountant.
Gevorg Grigoryan, CPA, is an accounting manager and instructor, mentor and coach to students in the CPA program. Visit Gevorg CPA to learn more and subscribe to Gevorg's YouTube channel to access CPA program videos.