Students
CPA Program
CFE News
September 2022 CPA CFE results: Congratulations to 4,648 aspiring Canadian accountants!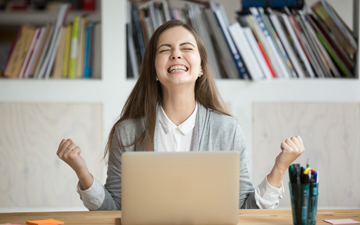 Size of one's public accounting employer no barrier to CFE success as 59 writers make national honour roll in journey to becoming Canadian accountants
TORONTO, Nov. 25, 2022 – CPA Canada has announced that 4,648 individuals successfully passed the September 2022 sitting of the Canadian accounting profession's Common Final Examination (CFE). The majority (1,903) of the successful writers are registered with CPA Ontario. Fifty-nine writers made the national honour roll, 23 of whom are in Ontario.
Candidates expressed extreme anxiety online in the weeks leading up to the release of the results at 10 a.m. EDT today. Some of those who made the national Honour Roll were informed by their employers prior to the release of the results that they had successfully passed the exam. At 10 a.m., some commenters expressed frustration with delays in the loading of CPA Ontario's results webpage, which Canadian Accountant confirmed, as thousands of students began looking for results.
Expressions of extreme joy and disappointent were posted online in less than one hour. Many fellow students expressed sympathy and offered advice to those who did not pass.
Gevorg Grigoryan, a chartered professional accountant and coach to students in the CPA Professional Education program (CPA PEP), says passing the CFE is "a monumental achievement, proving candidates' dedication, perseverance and hard hard work yields successful results. This was not an easy CPA exam. There were complex assessment opportunities, such as revenue recognition with discounts and data analytics."
Says Grigoryan: "Candidates can now relax, take the time to appreciate their success, and prepare for the congratulations that are sure to come their way. I applaud candidates for achieving this milestone in their journey to becoming Canadian CPAs."
Gold Medal Award and Honour Roll
Helen Liu of Vancouver, British Columbiais is the Governor General's Gold Medal winner for the September 2022 CFE. Liu works for D&H Group LLP, a full-service mid-market accounting firm in Vancouver that traces its history back more to 1951, when it was founded as Dyke & Howard.
CPA Canada also awarded regional Gold Medals to:
Brittany Harnum, Grant Thornton LLP, St. John's, NL (Atlantic Canada Region).
Aydan Schat, BLR LLP, Waterdown, ON (Ontario Region).
Camille Rhéaume, Mallette S.E.N.C.R.L., Québec City, QC (Quebec Region).
The honour roll always contains a few surprises and lessons for current students. One theme that has remained constant, however, is the September CFE writing is dominated by students who work at public accounting firms. While private sector students tend to take the May CFE, students at firms study during the summer, following tax season, so they can write in September.
One of the most notable aspects of the Honour Roll is that it once again proved that the size of one's public accounting firm employer is no barrier to results. Students from smaller, regional firms earned three of the four top spots on the honour roll, including the Governor General's Gold Medal winner.
That said, Big Four accounting firm Deloitte led the way with 13 students on the Honour Roll, with KPMG (7), PwC (7), and EY (6) all represented by multiple students. Students from mid-sized accounting firms such as BDO, Grant Thornton, MNP, and RSM also placed.
Just six of the Honour Roll students work at private sector firms, ranging from brand names such as Rogers, Manulife, and L'Oréal Canada, to the less well-known Wittington Investments in Toronto, which is owned by the Garfield Weston Foundation, and related to the Weston empire of Loblaw companies.
Unsuccessful writers, appealing the results
For writers who are unsuccessful, Grigoryan recommends re-writing past CFE exams. "Go as far back as possible, rewrite as many cases as possible, as this will give you the widest technical coverage of topics for the CFE," says Grigoryan. "The past CFEs are publicly available at CPA Canada's Certification Resource Centre (CRC)."
For unsuccessful writers considering an appeal of their results, we recommend that you read "Is it worth it to appeal the CPA CFE? Let's look at the stats," also written by Grigoryan. "When deciding to appeal the CFE, it's ultimately a question of costs vs. benefits. You really have nothing to lose except the appeal fees, which is a bit like playing a lottery. If you decide to appeal, keep in mind the success rates, the rigorous marking process and your exam results."
Congratulations to all the successful writers of the September 2022 CFE. For those who were not successful this time, be sure to read the many articles in the Students section of Canadian Accountant for advice from columnists such as Gevorg Grigoryan, CPA and Andrew Knapman, CPA.
Published by Canadian Accountant with files from CPA Canada.