Students
CPA Program
CFE News
Aspiring CPA accounting students nervously await results of the May 2022 CFE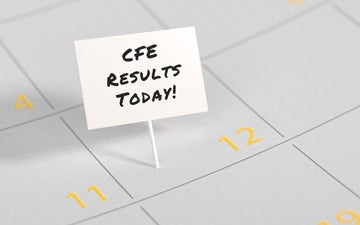 Results of the Common Final Examination available at 10 a.m. EDT today
TORONTO, August 12, 2022 – Accounting students in the CPA program of professional studies are waiting anxiously this morning for the results of the May 2022 Common Final Examination (CFE). Many report feeling nervous and losing sleep over their performance in the exam. While some look forward to the results because they are "sick of waiting" or "want this wait to be over regardless of the outcome," others report a fear of failure and even shame.
The May 2022 CFE was not an easy exam, says chartered professional accountant Gevorg Grigoryan, a mentor and coach to students in the program. "In my CFE exam debrief, I noted how the GAAP standard of Day 2 was IFRS. Complex topics such as IFRS 15 revenue recognition and joint venture accounting were tested. There was a heavy emphasis on management accounting as well, such as budgeting and variance analysis."
The May 2022 CFE was written nationally over a three-day period in hotel rooms across the country, due to the ongoing threats at the time of COVID-19. Day 1 featured one case study (Creative Toys Inc., version 1). Day 2, known as the "marathon day," focused more on management accounting concepts. Day 3, widely known as "sprint day," featured three to four cases testing on a breadth of competencies.
Results available at 10 a.m. EDT, 7 a.m. PDT
Results of the May 2022 CFE will be released on August 12 at 10 a.m. EDT. Students who achieved honour roll status were notified of their success at the beginning of August. CPA Ontario has a dedicated CFE webpage with a CFE results countdown widget.
For writers who are unsuccessful, Gevorg Grigoryan recommends re-writing past CFE exams. "Go as far back as possible, rewrite as many cases as possible, as this will give you the widest technical coverage of topics for the CFE," says Grigoryan. "For example, the joint venture topic on the May 2022 CFE was previously tested on the 2014 exam. Candidates who had done this past exam as part of their practice would had been more prepared." Adds Grigoryan: "The past CFEs are publicly available at CPA Canada's Certification Resource Centre (CRC)."
Canadian Accountant wishes everyone the best of luck on their results. Take the time to care for your mental health and wellbeing regardless of the outcome. We have a wide range of CPA program and CFE strategies in the Student section of our website.
By Canadian Accountant staff.