Profiles
CPAs
Business
How I built my business: Erica Willick of Sisters in Shape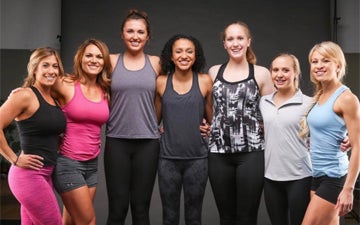 Erica Willick, CPA, CA, founded the online personal training business, Sisters in Shape, and fitness magazine, Gorgo
This is the first instalment in an ongoing series of profiles of entrepreneurial CPAs who have started successful businesses outside the traditional accounting and finance sectors.
In this instalment, Erica Willick, CPA, CA (far right, above), the president and founder of Sisters in Shape, an online personal training business, and Gorgo, a digital fitness magazine, describes "how I built my business."
London, Ontario-based Willick was working as a controller for engineering firm Dillon Consulting when, after the birth of her first child, in 2010, she embarked on a personal fitness journey. She entered a bikini competition in the fall of 2011 and won the Ultimate Fitness Events (UFE) Pro Bikini title in 2012 and 2013:
To continue, click on "NEXT" below or the black arrow to the right of the picture above.