Students
Gevorg Grigoryan
CPA Program
5 free study resources for CPA program accounting exams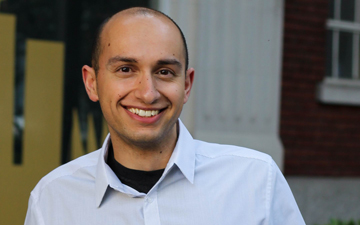 CPA program coach Gevorg Grigoryan, CPA, on supplementary study sources
VANCOUVER – Studying for CPA Canada's Professional Education Program (PEP) exams and the Common Final Examination (CFE) can be daunting. If you are a University grad who is just getting started with the program, you will be given a lot of — and I mean a lot of — learning materials. You may soon discover that these materials are very technical, lengthy and difficult to sort through. You may start looking for supplemental study resources for simplified explanations.
Similarly, if you are an international CA who is planning on becoming a Canadian CPA under CPA Canada's Memoranda of Understanding (MOU), you will need to prepare for the CFE with no resources available (albeit you are encouraged to, but not required to, register for Capstones 1 and 2 preparation modules). In both cases, having access to reliable, relevant and useful resources will help you make the process of passing the PEP and CFE easier and relatively stress free. Here are some of the most popular, free and useful supplemental study resources to add to your toolbox:
1. HTKAcademy
Priding itself as being Canada's largest source for free CPA technical notes, HTKAcademy (formerly HTKConsulting) has been around since the Uniform Evaluation (UFE) examination days. They provide easy-to-read, well-organized notes on Financial Reporting (FR), Taxation and Assurance. I recommend this resource to all my students because HTK's notes take the vast technical concepts from CPA Canada Handbook and break it down into small, bite-size pieces. HTK's notes are written in an easy-to-read language and tailored towards the CPA exam writers.
2. Reddit
Online communities are a great place to find answers. Reddit's r/Accounting is a community of about 147 thousand accountants who share and answer posts (in-between whimsical memes) to the most frequently asked questions. It's also a great place to vent after your exams, especially after exams such as the September 2019 debacle CFE. The community includes both U.S. and Canadian accountants, so it's best if you start your posts with [CAN] tags.
3. YouTube
This is another of my favourite go-to resources to find supplemental knowledge. CPA PEP studies are online and self-lead; you don't have a live instructor teaching you the materials and keeping you on track. This is a big change from university-level where you had lectures, seminars and class time. Though CPA Canada holds workshops at the start and midway of some of its modules, for the most part you are on your own. Head over to YouTube and search for lectures, technical accounting concepts, and study tips to make the mundane study more interactive. There are also dozen of webinars, such as the one I hosted, that explain the exam structure and how to best prepare for the CFE.
A word of caution when surfing social media sites: It is easy to be sidetracked and lose focus. Keep yourself in check and search for only what you came for. I find running a timer in my computer's background for 15-20 minutes lapses helps me to stay on track — when the timer beeps, I'm out no matter what.
4. CPA Canada Website
I find this to be an underutilized resource by candidates. CPA Canada's Certification Resource Centre (CRC) contains mock exams, exam reference schedules, blueprints and CFE reports. These resources help you better understand the exam structure and give an opportunity to practise past exams. Use the CRC to learn how the exams are marked and practice mock exams to be better prepared when the exam day arrives. CPA Canada website also posts the CFE pass rates, which helps you gauge the average performance of your peers.
5. Study Partner Portals
Like most things in life, teamwork is at the heart of great achievements. Why go through the gruelling program on your own when you can partner with like-minded peers? Some CPA regional schools, such as CPA Western School of Business (CPAWSB), offer Peer Studying portals that let you submit your name, email and location for an opportunity to be connected with a study buddy. If your regional school does not offer this resource, search for Facebook study groups, and exchange phone numbers with your classmates at the module workshops (if you are in the PEP program). You will be surprised how many are looking for a study partner but don't have a way to connect.
There you have it. I find the above five to be the most useful and active free resources. Use the above to supplement your studies and fill in your knowledge gaps. If the learning materials you currently have are sufficient, by all means use that, but if you find that you are missing knowledge, stuck on a problem, or can't study alone, the above resources will help you study smarter and move forward faster.
Gevorg Grigoryan, CPA, is an accounting manager and instructor, mentor and coach to students in the CPA program. Visit Gevorg CPA to learn more and subscribe to Gevorg's YouTube channel to access CPA program videos.