Thought Leaders
Partner Posts
Technology
How Canadian accountants will benefit from ChatGPT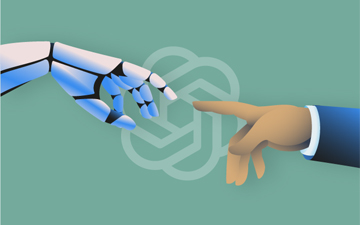 Why over 13 million users ask ChatGPT for answers daily. Randy Lasnick of Plooto explains how ChatGPT will shape the future of accounting automation
THERE is no doubt that the launch of ChatGPT has captured the attention and imagination of millions of users worldwide. ChatGPT set a record as the fastest app to reach 100 million active users, reaching that milestone in just two months.
The enthusiasm for the technology is palpable. Quote Box co-founder and CEO of Box Aaron Levie: "There's a certain feeling that happens when a new technology adjusts your thinking about computing. Google did it. Firefox did it. AWS [Amazon Web Services] did it. iPhone did it. OpenAI is doing it with ChatGPT." But how does this AI-driven technology alter the practice and business of accounting?
ChatGPT can automate routine manual tasks such as data entry, reporting, reconciliation, and record-keeping. By integrating ChatGPT into back-office operations, firms can streamline processes, increase efficiency, and improve accuracy. Furthermore, ChatGPT can scale to accommodate growth. All of this frees up accountants' time to focus on more strategic and value-added efforts.
But ChatGPT's value extends beyond creating more efficient systems. It changes our view of computing. Because ChatGPT can respond to our questions in natural language and analyze vast amounts of diverse data quickly, it can assist accountants in developing more effective solutions to complex problems. ChatGPT is not just about speed and efficiency. It's about helping the firm deliver deeper insights and more value to the client than ever before.
While there is enough excitement for GPT-4 to power a rocket to Mars, there are limits to what it can do. This column will explore the benefits and constraints of ChatGPT for accountants today and what the future might hold.
ChatGPT is a natural language processing tool driven by AI technology that allows you to have human-like conversations. ChatGPT can understand and respond to questions. While the technology behind ChatGPT is "quite complex, the user interface is quite easy and straightforward. Its ability to communicate is what sets ChatGPT apart from other technology.
Accounting firms can use ChatGPT to automate and streamline operations, enhance services, and transition into an advisory role in working with clients. Here are a few examples:
Automate Client Customer Support
24/7 client support:

Among the customer service tasks ChatGPT can handle are answering frequently asked questions, summarizing services, and assisting with basic accounting requests.

Tax support:

This could include calculating basic tax liabilities, researching and providing explanations of tax laws, and making suggestions on how to adhere to their requirements, as well as generating tax returns based on financial data.

Audit support:

ChatGPT can assist with auditing, identifying errors, discrepancies, and flagging potential issues for further investigation.

First-draft email and proposal writing

: ChatGPT could produce first drafts that proposal team members could customize.
Advance Data Analysis
Evaluate company performance:

ChatGPT could analyze large sets of financial data to evaluate a client's performance, identify problem areas, opportunities for improvement, cost savings, and develop strategies to reduce risk.

Budget and forecast:

ChatGPT can generate more accurate financial forecasts by training it on historical data, market conditions and predicting future trends.

Perform market research and analysis:

ChatGPT can quickly analyze market data and provide insights into industry trends, competitor activity, and other key information.
The key point is that access to real-time financial information and insights enable accounting professionals to make more informed decisions in less time.
Will ChatGPT replace accountants?
Innovative payment and workflow solutions like Plooto have advanced and added value to the work of accountants. ChatGPT has the potential to transform the practice and business of accounting and shape the future of accounting automation, but there are several reasons why it is unlikely to fully replace human accountants. When asked by CPA Canada what is the biggest challenge with accountants using ChatGPT, Malik Datardina, CPA, governance, risk, and compliance strategist with Auvenir in Toronto, replied: " When using ChatGPT, you have to be very careful to vet the output yourself. You also have to ensure you are asking the right questions, or you may get incorrect responses … it's still up to the CPA to pull the picture together and then ensure that the employer, client, or stakeholder's needs are met. Generative AI, as it is right now, can't do that."
Many others in the industry echo similar comments that ChatGPT cannot quite grasp the nuances and context of complex financial situations, regulations, and cross-border differences. It also lacks the personal touch and emotional intelligence crucial to building strong client relationships. Two other significant limitations of ChatGPT:
Misinformation and incorrect responses:

ChatGPT's data sources include the Internet, and we know that not everything online is true.

Obsolete information:

OpenAI developed and launched ChatGPT in 2021, so its current knowledge is limited.
As ChatGPT evolves, accounting will continue to experience advances in speed, accuracy, and quality of work. ChatGPT will help accountants offer advisory services and become integral to the client's business by delivering the right insights at the right time. Thinking forward: Bringing powerful computing capabilities to nontechnical users, ChatGPT can spark innovative thinking.
Randy Lasnick is the Content Marketing Manager at Plooto. He has written numerous articles on business, finance, and technology. Advertising feature produced by Plooto. The Canadian Accountant editorial department was not involved in its production. Image courtesy, Plooto.