Partner Posts
Technology
Strategy
How digital solutions turned finance from cost to profit at Sleep Country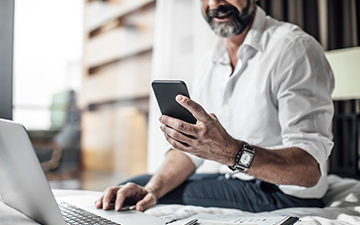 The impact of digital transformation on accounting and finance teams
TORONTO, December 18, 2018 – It's no surprise that many of Canada's businesses are leaning on digital tools to increase efficiencies and compete in the digital economy. Technology like big data, automation and artificial intelligence are becoming commonplace in the corporate world and many organizations are looking to harness their power to run better. Canadian accountants in senior corporate management can learn from those who have gone first — Sleep Country Canada is just one example of a successful Canadian business adapting to market demands.
As part of its digital transformation, Sleep Country had moved to a number of leading platforms to better handle various tasks, including payroll, reconciliations, product information management systems, lease management systems and more. These changes have helped the business remain relevant, open new stores and consistently grow for years.
Chartered Professional Accountant Prajakta (Praj) Raut, Sleep Country's vice-president of corporate accounting, has been the primary champion of this change in spend management. She saw the opportunity to streamline her invoice and expense process and partnered with SAP Concur, a global spend management leader, for its Concur Invoice and Concur Expense solutions. "We needed a solution that wouldn't just work for our immediate needs but would grow with us," said Raut.
The surprising impact of financial automation
Automation can completely change how businesses manage accounting processes. According to SAP Concur's 2017 AP Automation Study, finance decision makers estimate that automation could save on average 47 per cent of the time spent going through the payment cycle and 60 per cent of the time processing invoices per week. Across the board, companies can expect to have greater accuracy, visibility and control — but there are often more unexpected outcomes like greater employee satisfaction.
For Sleep Country, automating its invoice and expense process allowed it to have better control over the entire process, which includes processing about two thousand invoices per month, with a total value of approximately $10 million. Before, it was difficult for the accounts payable team to prioritize activities, and it often felt like they were reacting to problems rather than proactively managing their deliverables. "Because processes were manual, they were chaotic," said Raut. "If an invoice was lost or wasn't approved on time, we really had no control."
Now, Raut's team has the data they need at their fingertips, which has resulted in better relationships with vendors and more visibility and accuracy for the team. What's more, the accounts payable team has less stress and more breathing room to get through their work.
One of the more exciting aspects of digital transformation is that businesses are finding ways to creatively apply the benefits to their own organizations. For example, Raut has been able to turn the finance function — traditionally a cost centre — into a profit centre by leveraging the financial benefits of loyalty-based credit cards. With a system in place that allows for greater visibility, Raut's team has been able to create a controlled process around credit cards, which has led to an estimated $100,000 in annual revenue and is poised to grow even more. This benefit is purely driven by sound visibility into cash flow.
Reports such as Building Success in a Digital Economy, from IDC Canada, suggest Canadian firms are at risk of falling behind on digital transformation. But companies like Sleep Country Canada — and corporate accounting decision makers like Chartered Professional Accountant Praj Raut— are standing apart from their competition by embracing digital technology.
The finance function today is more than just balancing the books. It can drive innovation for the entire organization. Digital tools and automation are streamlining daily tasks, giving greater visibility, and providing the right data — helping management accountants and their finance teams to get back to what's most important to their job function, and drive growth for their business.
Kevin Craig is the managing director of SAP Concur Canada.

Sleep Country Canada partnered with SAP Concur, a global spend management leader, for its Concur Invoice and Concur Expense solutions. (SAP)