Career
Practice
Management
Seven reasons why you should attend Accountex Canada 2023 this week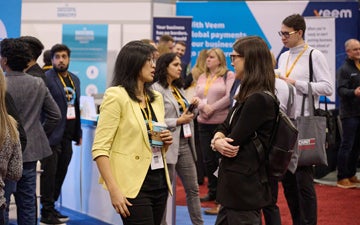 There's still time to attend one of the premier accounting conferences of the year, taking place this Wednesday and Thursday at the Metro Toronto Convention Centre
TORONTO, Nov. 13, 2023 – Accountex Canada 2023 is just two days away but there is still time to attend one of the premier accounting and bookkeeping events of the year. After a successful Canadian launch last year, Accountex returned this year. Advance your career, learn about new technologies, make connections, and earn CPD hours all at the same time.
If you have never heard of Accountex, the event is the premier accountancy and finance conference and expo in Europe. Over 10,000 attendees visited Accountex London in May 2023 and the event continues to build its presence in Canada. In many ways, Accountex may remind some readers of the old CGA and CMA legacy conferences, where the emphasis was on practical knowledge, networking and fun — whether you were a public practitioner or management accountant.
If you haven't signed up for Accountex Canada 2023, there's still time to register for the event, which takes place on Wednesday and Thursday of this week (November 15-16) at the Metro Toronto Convention Centre.
Here are seven additional reasons why you should go:
1. A stellar lineup of guest speakers.
It's hard to know which speaker to name first, but let's start with Jamie Golombek, the popular financial columnist, who will be speaking on hot tax issues for accountants. Then there's Randy Johnston, the co-founder (with the late Alan Salmon) of K2 Enterprises, on top technology trends in CPA firms.
For practitioners, there are sessions on marketing strategies, practice management platforms, firm culture and recruitment, and more. For management accountants, there are sessions on cash flow strategies, current and emerging payroll issues, and cybersecurity. With more than 30 sessions in total, there's something for everyone.
2. Exhibitors from A to Z.
Want to learn more about software platforms, career opportunities and more? With more than 75 exhibitors, Accountex Canada has you covered from A to Z — or ACCA to Zoho. We recognize a lot of FOCAs (friends of Canadian Accountant) among them: Dext, Intuit, Loop, Payworks, Plooto, Wagepoint, and Xero.
Learn more about the latest products and services related to analytics & reporting, cash flow, cloud technology, data management, expense management, finance & banking services, mobile apps, payroll, and practice & projects.
3. Meet old friends and make new ones at the networking reception.
After a day of learning and growing your business, join your peers at the Networking Reception, where you can relax and shoot the breeze with friends old and new. If you're a little shy about meeting new people, read The five questions you need to ask at a networking event, published by CPA Canada.
4. Visit the new, interactive Cyber Zone.
Whether you're an accountant in public practice or corporate management, you are the target of cyber criminals who see you as the obstacle to their cybercrimes. Visit the new, interactive Cyber Zone and learn the tips, tricks and mitigation to keep your organization safe from cyber attacks. In this interactive space, you can live-test your password's security, participate in games, earn giveaways and prizes.
Make sure you set some time aside on the 15th to attend Why Hackers Love Accountants and on the 16th to attend Enhance Your Hacker Defences. The Cyber Zone is included in your conference pass.
5. Drop by the Flash Meetings Zone
Flash Meetings will be happening during both days. Each Flash Meeting is 20 minutes and will give you a sneak peek at today's hottest products, services and innovations. Improve your business performance by sourcing the latest technology. See software demonstrations and ask questions in person. No need to pre-register — just drop by and join any Flash Meeting — anytime!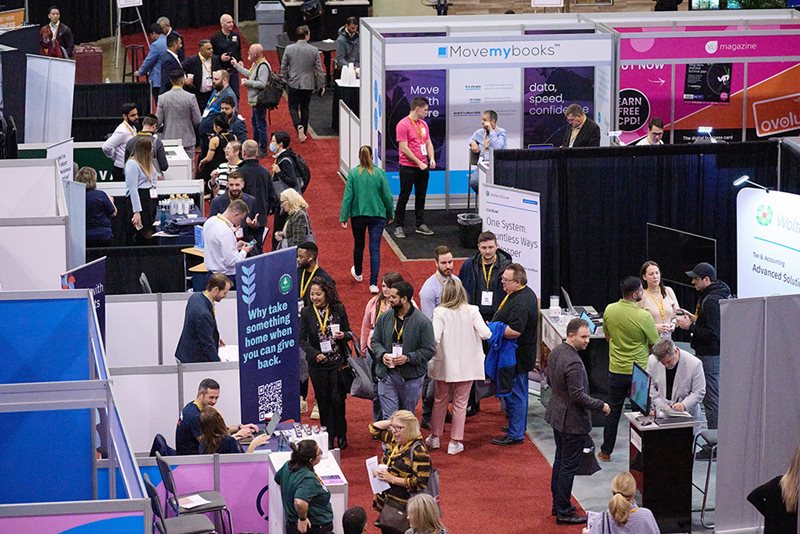 With more than 75 exhibitors, Accountex Canada 2023 offers products and services from A (ACCA) to Z (Zoho). (Click on image to register.)
6. Get your corporate photo taken at the professional photo booth.
Every career-minded accounting professional needs a professional headshot, right? Visit the Career Zone for your free professional headshot at the LinkedIn headshot station — included with your conference pass. Engage with peer accounting and finance professionals and learn about the latest tools & services to sharpen your skills, explore new opportunities, and advance your career path for the future.
7. Pick up some freebies along the way.
In addition to a free professional photo, Accountex says it's offering free neck and shoulder massage,
free morning and afternoon coffee, and free popcorn. (But maybe not at the same time.) But the big attraction is the Passport Program — participate in the "Account-opoly" game while visiting exhibitors to earn your "stickers" and qualify to win an Amazon gift card.
Colin Ellis is a contributing editor to Canadian Accountant. Images courtesy Accountex Canada.