Profession
Practice
Standards
Vancouver accounting firm Smythe LLP censured again by audit watchdogs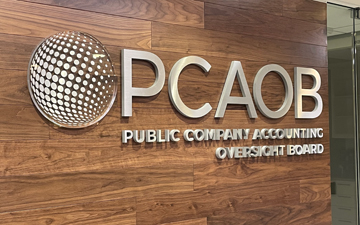 Months after Canadian regulator censured Smythe over audit quality, US audit watchdog censures Smythe for using unregistered overseas firms
TORONTO, October 29, 2023 – Vancouver accounting firm Smythe LLP has become the subject of enforcement actions on both sides of the border in 2023. This past week, the Public Company Accounting Oversight Board in the United States censured Smythe and imposed a six-figure fine on the firm, for violations of audit quality standards. In its disciplinary order, the PCAOB singled out Smythe's use of two public accounting firms in foreign countries, whose work was used "in a substantial role" in four audit engagements.
Earlier this year, Smythe became the first firm to be publicly censured by the Canadian Public Accountability Board, under new disclosure rules for enforcement transparency, for deficiencies found in four audits inspected over two years in 2021 and 2022. It is impossible to know whether the enforcement actions on both sides of the order concerned the same companies ("reporting issuers") because, inlike its American counterpart, CPAB does not disclose the names of companies in its orders.
The PCAOB enforcement action does, however, give substantial insights into the engagements. Smythe was engaged to audit two companies. Scully Royalty, a miner of iron ore in the Maritimes, is incorporated in the Cayman Islands, yet its office is in Hong Kong. Tower One Wireless is more straightforward — it's a Canadian communications company based in Vancouver. Scully Royalties and Tower One Wireless, both penny stocks, are listed on both Canadian and American stock exchanges.
Smythe's use of unregistered accounting firms
Smythe knowingly used the work of two public accounting firms not registered with the PCAOB. In its audit of Scully Royalty, Smythe used the work of PricewaterhouseCoopers Malta for two years, as there were three Scully subsidiaries located predominantly in Malta and Germany. Similarly, Smythe used PKF Audisur SRL, which is headquartered in Buenos Aires, Argentina, to audit three Tower One subsidiaries in Argentina and Mexico.
The enforcement action points out that, although Smythe was the principal auditor, a substantial portion of the audit work was conducted by the unregistered firms. According to the PCAOB, Smythe reasoned that its performance of additional audit procedures would somehow serve to "overcome" the substantial role participation of the unregistered firms.
The enforcement action notes a subsantial disparity between audit hours and audit fees. PwC Malta performed almost half (on average) of the total audit hours but received roughly one-third of the audit fees in the engagement. The disparity is starker with PKF Audisur. It audits of Tower One averaged roughly seventy per cent but its audit fees were less than one-third.
The PCAOB charged Smythe with failing to adequately plan its audits and failing to modify its plan once the work began.The PCAOB also found that, in addition to instructing overseas accounting firms to use International Accounting Standards, Smythe did not establish adequate quality control standards.
Outcome of the enforcement action
In May 2023, CPAB announced that, in addition to increased regulatory oversight and monitoring, Smythe was banned from accepting new reporting issuer audit clients, including those resulting from initial public offerings, reverse takeovers or other transactions.
The PCAOB imposed a fine of $175,000 on Smythe. In 2021, according to Scully Royalty's financial statements, Smythe earned aggregate fees of $442,000 for auditing the company's finances in 2020. The PCAOB also imposed a schedule of remedial actions, including monitoring and review, of the Canadian accounting firm. Noncompliance would result in a disciplinary action. The PCAOB, however, has not imposed a similar ban on new audit engagements by the firm.
"Improper use of unregistered firms puts investors at risk, and the PCAOB will take action to hold firms accountable," said PCAOB Chair Erica Y. Williams in issuing its order.
"When an audit of a public company involves multiple audit firms, the principal auditor must plan on not only using PCAOB-registered firms if they play a substantial role, but also on coordinating appropriately with them," said Robert E. Rice, Director of the PCAOB's Division of Enforcement and Investigations. "As today's order shows, when firms fail to do so, we will take action."
In a report by the Globe and Mail, Smythe managing partner Bob Sanghera is quoted as issuing the following statement: "We have since clarified and addressed this issue moving forward. We respect the importance of our regulators, and have implemented several measures in the last 18 months to improve the quality of our public company audits."
By Canadian Accountant staff.