Profiles
Technology
Software
Faye Pang: Building a cloud accounting hero at Xero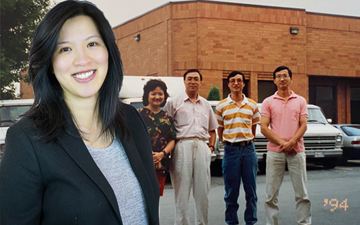 Daughter of immigrant entrepreneurs wants to help small business owners
TORONTO, July 19, 2021 – Faye Pang admires small business owners. The recently appointed Canada Country Manager at Xero is the daughter of immigrant entrepreneurs. "Watching my parents work six days a week, ten hours a day to build a successful small business had a huge impact on me," she says.
Xero, the global small business accounting platform widely used by Canadian accountants and their clients, established Toronto as its North American hub in July 2020. The move marked a major commitment to the Canadian market and Xero's accelerating investments in North America. Pang, who is based in Toronto, intends to advance Xero's North American market position as a leading cloud accounting software provider.
She describes her family history as a classic Canadian immigrant story. "My parents came here from China when I was just two, with a couple of suitcases and the clothes on their back," explains Pang. "My father began by working odd jobs but quickly realized he would rather work for himself. He launched a wholesale meat distribution company that he ran for 23 years out of Mississauga."
What the family business taught Faye Pang
Her father's business started small. "Before he could afford a delivery truck, my father was making deliveries by hand on public transit to Chinatown in downtown Toronto. Over 23 years, he grew the business to a fleet of seven trucks and a staff of 10 before eventually selling the business," Pang says.
Pang was immersed in a culture of entrepreneurship at an early age. "Saturdays were me riding around in a truck with my dad doing deliveries. My brother and I loaded boxes. I can still make peameal bacon and I'm pretty mean with a deboning knife," she adds proudly.
Her mother became the company's bookkeeper. She used paper ledger books and would balance the books by hand. "I remember her staying up late, trying to get the books to balance, not having any formal training, just taking that DIY mentality," Pang recalls. "If she'd had a tool like Xero, how much more efficient, how much more time could they have gotten back, and how many more insights could they have generated to run their business better," she asks rhetorically.
While technology is important, Pang knows that relationships are at the core of any small business. "My father has a photographic memory," says Pang. "He could walk into any kitchen in Chinatown and he would know every single person's name, their family and their interests." As she tagged along on deliveries, Pang could see how her father connected with other entrepreneurs. "It gave me a sense of how to maintain relationships and build your business, customer by customer," she says.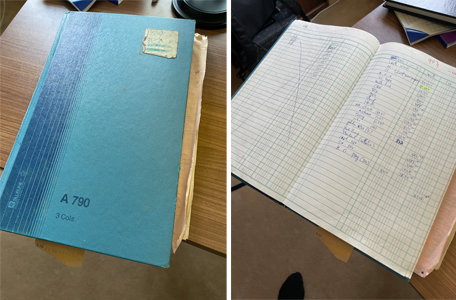 The Pang family business ledger books. Pang's mother would balance the books by hand. "How much more time could they have gotten back?", says Pang, if they had used an accounting platform like Xero.
An uber-career in brand building leads Faye Pang to Xero
After graduating with a degree in commerce from Queen's University, Pang embarked on a marketing career with a focus on brand building. Prior to joining Uber in 2015, she held steadily progressive leadership positions at Cadbury, McDonald's, and the Mark Anthony Group (spirits and specialty beverages) respectively, before joining an icon of disruptive technology: Uber.
She was an original member of the team that launched Uber Eats in Toronto and oversaw its growth in Canada. In 2020, she launched Uber Freight into the Canadian market, then interviewed for the position at Xero, all in one year. "I was attracted to this role precisely because of the Xero brand," says Pang.
She sees similarities — on many fronts — between the early adoption stages of Uber and Xero. Pang points to the relatively low rate of technology adoption in the restaurant business before the arrival of Uber Eats. Most restaurants had grown accustomed to the cost of running their own delivery services and the risk of employing their own drivers. Indeed, they had no other choice.
"I equate this with the use of spreadsheets in the accounting world today," says Pang. "We have heard very similar objections from accounting firms as we once heard from restaurants: 'We've been using this desktop software for forever. We're using spreadsheets. We're whizzes at Excel. We don't necessarily see the benefit of moving to the cloud and what that can offer.'"
Change is coming. "We're in the early stages of cloud adoption (in small business and professional practice) in the same way that, in 2015, we were in the early stages of food delivery apps, which have completely exploded over the last six years," says Pang.
If only her parents had the benefits of technology that small businesses have today. "My parents did not love tax reporting and compliance," says Pang. "That is not why they got into business. If they had worked with an accountant, if they had outsourced the things they weren't good at, that would have given them more time to focus on the things they loved."
Pang is determined to ensure that, through Xero and its partnerships with Canadian accountants and bookkeepers, today's entrepreneurs will have opportunities her parents never had.
Colin Ellis is a contributing editor to Canadian Accountant.