Profession
Business
Standards
Sunday News Roundup 23.07.02: ISSB, CSSB, sustainability and more Canadian accounting news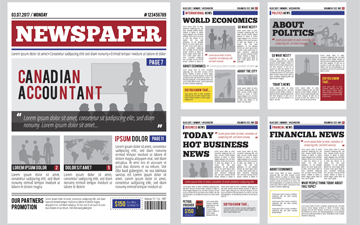 Wrapping up the odds and ends from the past week in Canadian accounting news
Subscribe to our weekly newsletter and get all the week's stories. Click here to sign up.
TORONTO, July 2, 2023 – This past week, the International Sustainability Standards Board released its first two measures for reporting on sustainability issues that may impact the balance sheets of companies. Less than two years after its formation, the ISSB has released standard one, General Requirements for Disclosure of Sustainability-related Financial Information, and standard two, Climate-related Disclosures.
As a member of the Global Accounting Alliance, CPA Canada applauded the efforts of the ISSB, though the statement stopped short of any commitment to mitigating climate change. As the Globe and Mail reported, the standards "won't automatically be mandatory in Canada, or in other parts of the world." The new Canadian Sustainability Standards Board is already looking at how the rules can be "adapted to the Canadian context."
The new rules were purportedly designed in part to stop greenwashing but may in fact do just that. The CSSB announced its newest appointees this past week and they read like a who's who of polluters — energy, mining, and fertilizer companies — in addition to the energy sector investors previously reported by Canadian Accountant. Not a single sustainability advocate in the bunch. (Corporate Knights, which published Meet the women warrior accountants pushing the envelope on climate action, may disagree with us.)
As CPAs across Canada question the value of funding CPA Canada, which in turn uses member fees to fund standard-setters like the CSSB, one wonders how regulatory capture and greenwashing might affect the reputation of the profession in the future. And now, on to the rest of the news from the past week in Canadian accounting.
KPMG just says no to cannabis company Canopy
In the early years of the Canadian cannabis market, the valuations were frothy and the audit fees huge. In 2019, we reported that the cannabis companies helped KPMG Canada to acquire not only the highest number (by far) of net new audit clients in Canada but big audit fees as well.
KPMG clients Aurora Cannabis and Canopy Growth had market caps of $12 billion and $13.1 billion and audit fees of $350k and $1.67 million respectively. Companies like this helped make KPMG the second most profitable Big Four firm in Canada, while accounting critics such as Al Rosen blamed IFRS for allowing flawed financial reporting — and some cannabis company insiders even agreed.
Now it's all gone up in smoke. Aurora Cannabis , once worth $164 a share, is now a penny stock. And Canopy Growth announced this week that KPMG had resigned as auditor and its new auditor is PKF O'Connor Davies LLP of New York State. According to Canopy, the company is "the subject of an investigation by the SEC and an ongoing informal inquiry by regulatory authorities in Canada," and has acknowledged material misstatements.
Deloitte. Now a private equity investor?
Did you know your auditor invests in start-ups? Sure, that may be a gross oversimplication, since the audit and consulting sides of the business are separate and independent. But a few days ago, Consulting.ca announced that Deloitte Ventures closed six deals in first year of operations. Deloitte Ventures, in case you were wondering, is the "consulting firm's venture capital initiative focusing on Canadian technology startups."
First Deloitte Digital. Now Deloitte Ventures. No wonder Deloitte is the biggest of the Big Four in Canada. According to Consulting.ca, Deloitte Ventures invested in four companies in its first year (Certn, Protexxa, Plooto, and Optable) and became a limited partner in two venture funds (StandUp Ventures and Framework Venture Partners).
That kind of news is unlikely to please one "Gus Carlson," whose Op-ed, Mixing accounting with consulting is simply a recipe for conflict of interest, was published in the Globe and Mail. Carlson uses the sale of PwC Australia's consulting basis for "a measly one Australian dollar" as the starting point of an age-old debate that dates back to Arthur Andersen (and beyond). The most interesting part of the screed was its mention of CPAB and ongoing deficiencies in Canadian audit quality.
And, in late-breaking news, PwC Australia announced on Monday morning (Sunday night in Canada) that it had fired eight partners who had "enabled poor behaviours to persist with no accountability," including former Australian chief executive Tom Seymour, according to Barron's.
Quick Hits: Articles of Interest
Canadian
KPMG to cut 5% of US jobs in fresh round of layoffs (Reuters)
'Corporations have been using inflation as cover': NDP calls for grocers to be subject to windfall tax (Toronto Star)
International
Accounting firms question the partnership model (Financial Times)
By Canadian Accountant staff.