Thought Leaders
Profession
Strategy
To mandate or not to mandate? Why hybrid work should be favoured, not feared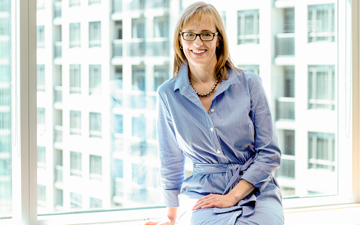 Pamela Steer, president and CEO of Chartered Professional Accountants of Canada, on why CPA Canada has adopted a hybrid work environment
ONE year ago, I stepped into my role at CPA Canada as a pandemic-era CEO expecting the unexpected. Looking back, 'unexpected' may have been the understatement of the year. My first day on the job started with a positive COVID-19 test and a virtual introduction to more than 400 new colleagues from my kitchen table.
I think it is human nature to create plans and draw on experience as brave attempts to outsmart the unknown. But more often than not, leaning into change is the best path to success.
Fast forward three years from the initial COVID lockdowns, and one of the lingering uncertainties that preoccupies employers and employees alike is the future of the office. To mandate a return, or not to mandate? That is the question.
To me, the idea of trying to bring back the old normal is a non-starter — reality and expectations have changed.
The pandemic proved that remote work can work, in many professions. It shone a spotlight on the undisputable value of employee health and wellbeing. It exposed the systemic inequalities that plague our society and can manifest in workplace dynamics. Quite simply, the pandemic demonstrated that the way we were doing things can be upended and that, most importantly, we are resilient creatures.
But – and there is always a 'but' – while we survived, it cannot be argued that we thrived during this time — not as a society, nor as individual organizations.
As businesses continue to solidify their new work arrangements, we as leaders have a responsibility to take the positive outcomes from the past three years and combine them with what we've learned over the previous century to build a sustainable foundation for the future.
Tailored approach
At CPA Canada, we have adopted a hybrid environment and have worked team-by-team to truly grow and tailor our approach. Our organization has seen firsthand, the benefits of embracing remote work for empowering our staff with greater autonomy and for facilitating a country-wide recruitment approach that reflects the national presence of the accounting profession we serve.
With the right policies in place, remote work has the potential to foster greater trust, engagement and inclusivity.
It is no secret that the pandemic and its economic fallout has had a disproportionately adverse impact on women and minority populations in the labour market. Remote work has helped those who find it difficult to get onsite — whether they have a disability, caregiving obligations or live in more affordable areas outside of the big city core — to maintain access to a large job market.
As technology grows more advanced, it will only continue to bring us closer together — with a minimal environmental footprint — as we connect across provinces and time zones.
By the same token, there are undeniable benefits to physically bringing teams together. Those magical collisions that spark ideas and conversations that would never happen without face-to-face contact. Those pre- and post-meeting chats that anchor your relationships at work, and bolster understanding and camaraderie. Those meaningful mentor-protégé relationships that afford new employees on-the-spot feedback and opportunities to learn through osmosis.
Changing world of work
It is these organic and collaborative exchanges that I am confident will be increasingly common in workplaces that do not mandate a full return to work but prioritize a hybrid environment that sharpens employees' anticipation for the office.
A CEO's job is to prepare a company for what is to come, not to latch desperately onto the past or what is comfortable. The changing world of work, including shifting demographics, talent wars and labour shortages are affecting the accounting profession, as it is many others. The Canadian CPA profession needs to embrace and lead in this era of uncertainty to attract more people to the accounting space.
We've started reimagining our certification program and exploring new pathways to the profession, including innovative forms of learning and assessment that will help ensure we continue to nurture competent and ethical CPAs who remain relevant in today's ever-changing and data-driven world.
There is no playbook for reshaping the nature of work. There will never be one definition of the ultimate work model. In fact, our current understanding of hybrid work will likely be very different in a mere few years given the pace at which technology and society continue to evolve.
But — and there is that 'but' again — hybrid work is here to stay. Short of finding a crystal ball, balancing the needs of an organization with employees' best interests is the clear choice for creating a productive and resilient workforce that can withstand future challenges. Businesses need to get on board or get left behind.
Pamela Steer is the president and CEO of Chartered Professional Accountants of Canada (CPA Canada), one of the largest national accounting bodies worldwide, with more than 220,000 members. Together with the provincial, territorial and Bermudian CPA bodies, CPA Canada champions best practices that benefit business and society.