Students
CFE News
Gevorg Grigoryan
2020 CPA CFE successful despite hotel room exam setting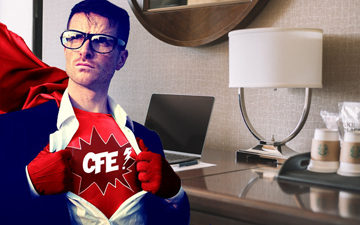 Few issues reported with unique exam, says CPA program coach Gevorg Grigoryan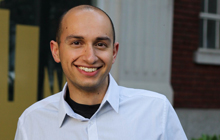 The exam format is generally the same year-over-year and similar exam strategies could be used despite the hotel room setting, says CPA program coach and mentor Gevorg Grigoryan, CPA, of Gevorg CPA.
TORONTO, Sep. 11, 2020 – This year's unique version of the CPA Canada Common Final Examination (CFE) is finally complete, bringing relief to candidates who have been waiting to write the accounting exam since the May 2020 exam cancellation, due to the COVID-19 pandemic and following the troubled September 2019 exam. To ensure both social distancing and academic integrity, the CFE was held in hotel rooms across Canada.
CPA candidates were not allowed to sleep in the rooms but could book the rooms in the same hotel. While they were anxious about this new format and possible technological problems, the three-day exam appears to be a success. "It was amazing, I got the corner suite" one student enthused. "I think better when I talk to myself, so I loved having a room to myself instead of shutting up in an exam hall" commented another.
Though there were reports of technical issues with Microsoft Word software switching from English to French and vice versa, as well as the distraction of construction noise occurring outside some hotels, the exam was facilitated successfully.
In a webinar earlier this summer, I forecasted the 2020 CFE to be more challenging than prior years and encouraged students to prepare more rigorously than before. I based this on the following reasons:
The May 2020 CFE was cancelled, which gave students four additional months to prepare.
Students are restricted to staying at home due to COVID-19 social distancing and used that time to prepare.
The September 2019 CFE had technical problems that resulted in free re-writes to unsuccessful candidates. This means the number of writers would be higher than in prior years.
Candidates from public practice prefer to write in the September offering because it is the furthest from the busy tax season. This means there were more candidates writing this exam, increasing the average performance.
These four factors could mean that the exam passing standard, which is determined by the Board of Examiners of Chartered Professional Accountants of Canada, could be higher this year than in prior CFEs. The profession has yet to announce when the exam results will be released but typically it is at the end of November. The historic pass rates for the CFE range from 68.7% to 77.6%, as previously reported by Canadian Accountant.
The exam format is generally the same year-over-year and similar exam strategies could be used despite the hotel room setting:
Day 1: This year's Day 1 cases were Marmani Inc. (version 2) and Distinct Hotels Corporation (version 1). Both cases had a mix of strategic and operational issues similar to prior CFEs.
Day 2: The Day 2 is known as the "marathon day." Candidates are presented with one five-hour case. This year's Day 2 was similar to prior years with requireds testing depth of technical knowledge.
Day 3: This "sprint day" has three to four cases testing on breadth of competencies. This CFE had similar assessment opportunities as in prior year, where same strategies and approaches that I teach in my CPA prep course should be applied.
Students who struggled during some parts of the exam should take comfort in knowing that they are not alone. The exam, however, is assessed on the demonstration of competencies and average performance, so some struggling students may pass the CFE, as the marks are curved.
Now is the time for CFE writers to rest, relax and catch up with life, as they have completed one of the most challenging exams of their lifetime. Congratulations to all writers of this year's CFE on your jounrey to becoming a chartered professional accountant.
Gevorg Grigoryan, CPA, is an accounting manager and instructor, mentor and coach to students in the CPA program. Visit Gevorg CPA to learn more and subscribe to Gevorg's YouTube channel to access CPA program videos. Image based on photo by Justin DoCanto on Unsplash.