Students
CPA Program
Technology
Thought Leaders
Gevorg Grigoryan
More data analysis training needed for CPA PEP accounting students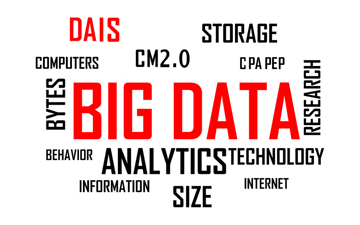 CM2.0 DAIS changes to the Competency Map are welcome but students in CPA PEP need help now, says CPA program coach and mentor Gevorg Grigoryan, CPA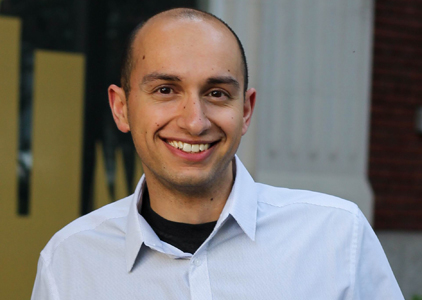 Gevorg Grigoryan, CPA, is an accounting manager and instructor, mentor and coach to students in the CPA program. Visit Gevorg CPA to learn more and subscribe to Gevorg's YouTube channel to access CPA program videos..
VANCOUVER – Big data. Data mining. Blockchain. You have likely heard these terms in the news, social media and around the office. Emerging technologies, such as the internet of things and augmented reality, are rapidly growing and becoming part of our daily lives. They are also playing a greater role in our profession as chartered professional accountants, as business stakeholders are looking for rapid, data-driven and innovate approaches to improve their organizations' data governance and financial analysis capabilities.
Despite the wide stakeholder demand and decades of growth, data analytics and information services (DAIS) has not been part of the CPA Canada's Professional Education Program (PEP), until recently.
In 2019, the profession revised the Competency Map to include new DAIS competencies by incorporating them in each of the existing six technical competency areas. This was the right move forward by the profession but it was not timely. For more than a decade, thousands of newly designated CPAs have entered the Canadian accounting profession and rapidly changing business world equipped with little knowledge of data analytics. The current resources and training provided to candidates are still very limited. Although data analytics matters more than ever, there are no major changes expected in PEP in the immediate future.
PEP and DAIS resources
Despite being added to the Competency Map in 2019, CPA PEP does not include sufficient data resources that provide candidates with the toolset to strengthen their partnership with modern business leaders. For example, PEP's main learning resource, the CPA Canada Learning Ebook, has not been updated with learning materials and exercises on DAIS. The weekly practice cases (PCs) and integrated problems (IPs) do not test on DAIS, except for a few Power BI exercises. I receive daily emails from candidates asking how and where they can learn DAIS to better prepare for the module exams. It seems unfair to candidates that DAIS is currently being evaluated in the PEP module exams and the Common Final Exam (CFE), yet candidates are not provided with sufficient resources.
Why data analytics matters for CPAs
CPAs make excellent data scientists. We are used to analyzing and aggregating information to create a picture of an organization's financial state. With our strong quantitative skills, we pivot and sort information to understand the full business impact, enabling us to provide a balanced recommendation to key decision makers.
As natural-born data solvers, CPAs are becoming more involved with data and business process automation. I have been observing this in my professional experience and this has been backed up by a recent Institute of Management Accountants (IMA) report. The report, which explores the impact of Big Data on the role of accounting and finance professionals, indicates that our involvement is likely to continue in the future as cutting-edge technologies are replacing outdated and manual accounting processes.
In addition, according to Future of Jobs Report 2020, by the World Economic Forum, the top roles increasing in demand are data analysts, machine learning specialists and Big Data specialists. On the other hand, the demand for data entry clerks, accountants and auditors are expected to decline.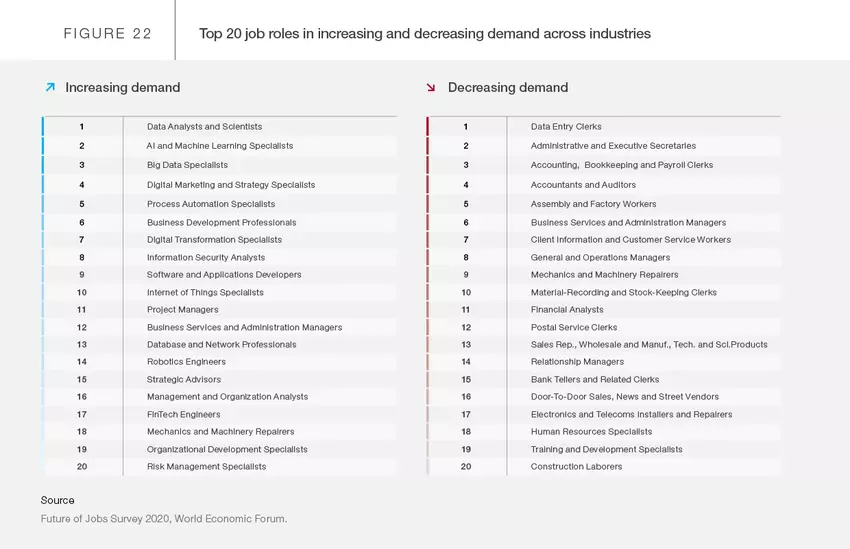 CLICK ON IMAGE TO ENLARGE: Top 20 job roles in increasing and decreasing demand across industries. (WORLD ECONOMIC FORUM)
Consequently, CPAs need to need to embrace data analytics to remain competitive. To help achieve this, the CPA education program should be changed to centralize these emerging skills.
CM2.0 and the way forward
In 2020, CPA Canada created the Competency Map Task Force to re-imagine and re-build the Competency Map to prepare more future-ready CPAs. According to an update from the profession, the Competency Map 2.0 (CM2.0) will help prepare future-ready CPAs at the pre-certification level by:
Ensuring that pre-certification CPAs continue to bring rigour, structure and trust to the decision process even as the environment continues to change;
Fostering human skills and values that are more resilient to automation;
Creating future-focused pre-certification CPAs who understand complex and interconnected systems and are tech savvy in order to take advantage of technological and other innovations;
Laying the foundations for evergreen learning and future specialization in existing and emerging areas;
Focusing on a foundational common core for all pre-certification CPAs which will facilitate collaboration with other experts;
Embedding an ethical mindset with an emphasis on integrity and ethical decision making; and
Embracing the higher calling of the profession in an increasingly complex, diverse and global environment.
CM2.0 is currently at the feedback phase and it is estimated to go live in 2024. This will be one of the biggest updates to the Competency Map in a long time and I am excited to see the results. However, the lengthy timeline of three or four years leaves thousands of aspiring CPAs learning the outdated Competency Map.
As an interim solution, I suggest including more DAIS-related practice cases, updating the Learning Ebook, and adding more DAIS learning materials to the program. This will ensure candidates are developing these emerging skills and remaining competitive, as we wait for CM2.0 to be finalized.
Conclusion
To be value-added CPAs, it is no longer enough to have a good grasp of accounting knowledge, time management and communication skills. As strategic advisors of an organization, CPAs need to develop their data skills and become more data-savvy. The core competencies taught at the current PEP are focused on financial reporting and management accounting, lacking any major data analysis components.
The Competency Map is undergoing a major change and CM2.0 will make DAIS a central competency of CPA candidates' education. It is estimated to be released in 2024 but, in the meantime, students in the CPA program are in need of additional resources and training on DAIS.
Gevorg Grigoryan, CPA, is an accounting manager and instructor, mentor and coach to students in the CPA program. Visit Gevorg CPA to learn more and subscribe to Gevorg's YouTube channel to access CPA program videos.