Thought Leaders
Business
Standards
Alberta election: Is the province's energy regulator acting in the public interest?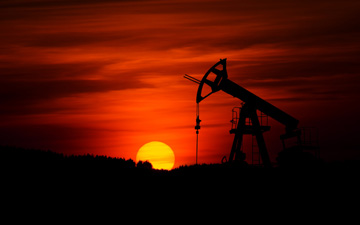 Canadian accounting firms like Grant Thornton and PwC Canada have had trouble in Alberta with environmental liabilities when acting as receivers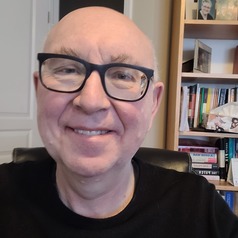 Robert L. (Bob) Ascah is a research fellow at The Parkland Institute, University of Alberta.
EDMONTON – Alberta's claims that it's a responsible energy producer are increasingly ringing hollow.
Efforts by oil and gas companies to restore old mines and wells so that the land around them is returned to its original form — known as reclamation — have been sorely lacking, and they're failing to pay municipal property taxes.
Premier Danielle Smith lobbied for oil and gas companies to have their royalty payments forgiven to compensate them for cleaning up dirty wells — something they were already legally obligated to do.
Industry regulations are ineffective.
All of these failures could influence voting preferences in the May 29 provincial election.
As a political scientist with a public finance background, I have been studying the impact that environmental contamination can have on government finances. Environmental liabilities are the future costs assumed by licensed oil and gas companies to remediate the extraction site to its previous state.
Reclamation
The question of how conventional oil and gas wells are reclaimed has been a big issue since oil prices fell dramatically in 2015. The price plunge resulted in a steady increase in the number of wells owned by companies that were financially incapable of reclaiming and cleaning up contaminated sites to meet soil and groundwater standards.
What's known as the "polluter pay" principle in Alberta law requires all licensed and operational oil and gas companies to adhere to the remediation and reclamation practices of the Alberta Energy Regulator (AER).
Since 2015, financial hardship has resulted in a number of court decisions with significant ramifications for those who could ultimately be stuck with the reclamation bill — taxpayers rather than company shareholders.
In 2022, the AER estimated the total bill to reclaim and clean up oilsands and coal mines would be about $33 billion. But only $1.55 billion in financial security has been pledged by oil and gas companies to the AER to cover these costs.
Financial security is defined as cash or letters of credit that ensure funds are available to the regulator for reclamation costs if companies go bankrupt and fail to meet their obligations.
As of January 2023, only $281 million in security is held against total estimated liabilities of $30 billion.
Freedom-of-information requests made by the National Observer, however, revealed an internal estimate of a much higher total bill — $260 billion. This was immediately disavowed by the AER.
Two key court cases
The first court case on this issue began in May 2015 after ATB Financial, an arm of the Alberta government, pushed Redwater Resources into bankruptcy. Taking such action is always a last resort for a creditor, especially for a public institution like ATB.
The case pertained to the actions of the court-appointed trustee, accounting firm Grant Thornton, to take possession of Redwater's assets and recover ATB Financial's loans.
Grant Thornton requested only the licences of Redwater's producing wells, but the AER refused — and also refused to assume the company's environmental liabilities.
When the case made it to the Supreme Court of Canada, the polluter pay principal was upheld. The creditor — ATB — was responsible for both assets and liabilities. Redwater's environmental liabilities exceeded its productive assets.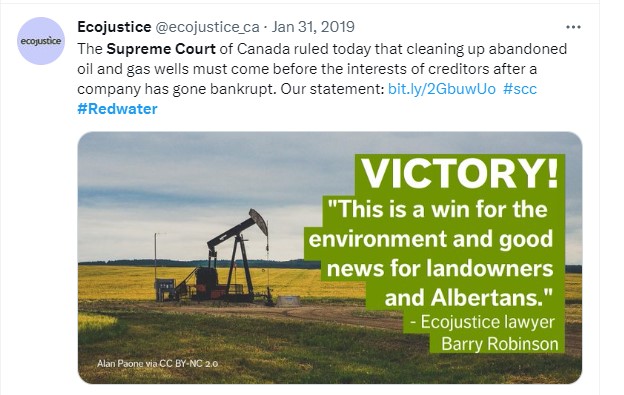 In upholding the principle of "polluter pays," the Supreme Court of Canada's Redwater decision was a win for taxpayers, regulators and the environment, but a loss for Grant Thornton Canada, which wanted to allow Redwater creditors to disclaim abandoned oil and gas wells that required clean-up.
In a second case, PwC is suing Perpetual Energy Inc. and the company's chief executive officer, Susan Riddell Rose, in an attempt to overturn the sale of company.
The purchasers were two entities that operated the wells for 17 months under the name Sequoia Resources before going bankrupt with no assets. If the sale is overturned, it would make Perpetual and Riddell Rose liable for Sequoia's environmental liabilities.
In short, it seems companies, creditors and sellers want to walk away from their polluter pay legal obligations.
Unpaid municipal taxes
Oil and gas companies operating in rural Alberta municipalities are also neglecting to pay their property taxes.
Rural Municipalities of Alberta (RMA) says that as of December 2021, $253 million in unpaid taxes had accrued. The RMA is particularly galled that the provincial government allowed companies to avoid municipal taxes on new wells drilled until 2025.
The RMA has called on the AER to shut down delinquent taxpayers, but this still hasn't happened.
In March 2023, the Alberta government announced that changes to the Responsible Energy Development Act would require companies to provide the AER with evidence they've paid their property taxes before they receive licence transfers or new licences.
But this process would only apply to companies meeting a threshold determined by the AER in consultation with two relevant government ministries. Furthermore, it would only apply to 41 per cent of unpaid taxes owed by companies that are currently operating.
Smith's royalty lobbying
Smith's support of the oil industry's efforts to receive royalty payment breaks, meanwhile, is an embarrassment to the sector.
The premier's proposed royalty deferral program, RStar, was previously rejected by then Energy Minister Sonya Savage, who was soon moved to the Environment and Parks department. Her replacement, Peter Guthrie, supports the program.
Investment analysts have been scathing in their criticism of the proposal, arguing private companies should take full responsibility for the risks they willingly take on.
Despite the negative public and industry reaction, Smith could implement the project if she wins the election.
Kearl Lake spill
Recently a toxic spill at Imperial Oil's Kearl Lake oilsands mine has led to a House of Commons environment committee inquiry.
The AER and Imperial Oil failed to notify affected First Nations or the federal government. Heartbreaking testimony from First Nations and evasive testimony from chief executives of both Imperial Oil and the AER reveal continuing indifference to the environment.
A tool of the industry
While recently scanning the AER's website, I stumbled upon a program inviting oil and gas companies to apply for a 50 per cent reduction in reclamation costs.
A request to the AER for an explanation hasn't yet received a response.
Reclamation liability amounts are used to determine a company's license liability rating. This rating system has been criticized as too lax and has resulted in licences being transferred to companies like Sequoia that lack sufficient resources to meet their reclamation obligations.
All of these developments suggest the Alberta Energy Regulator is controlled by the industry and has lost the public's trust, particularly First Nations.
A powerful book, Hidden Scourge by ecologist Kevin Timoney calls for a dismantling of the regulator, given it apparently acts on behalf of the industry and not the public.
As Albertans head to the polls, voters should consider carefully whether Alberta's energy regulator and its government are acting in the public interest.
Robert L. Ascah is a research fellow at The Parkland Institute at the University of Alberta. Read the original article with full hyperlinks on The Conversation (Canada). Top photo: iStock. Author photo: The Conversation (Canada).