Career
Culture
Work/Life
Professional accountants stressed out by workplace pressures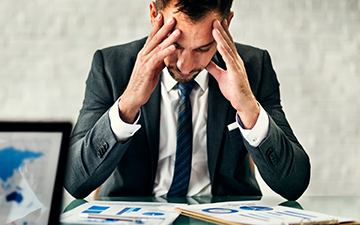 Survey says stress affecting personal relationships, health and more
TORONTO, May 13, 2019 – One in three professional accountants feel stressed on a daily basis, according to a new study by a wellbeing organization supported by the Institute of Chartered Accountants in England and Wales (ICAEW). The accounting profession is in the grip of a mental health crisis, with professional accountants grappling with workplace pressures and rising industry stress levels. Just two per cent of respondents surveyed reported no stress at all.
The Chartered Accountants' Benevolent Association (CABA) is a charity that provides lifelong support largely to past and present members and their families, including emotional and physical wellbeing. It was established in 1886, six years after the formation of the ICAEW, in 1880. Whilst CABA works in partnership with the ICAEW, it is independent and all communication is confidential.
Nearly two-fifths (37%) of survey respondents said their job was the main cause of their stress, while a third (29%) cited the difficulty of trying to maintain a work-life blend. Driving this issue home, two-fifths (38%) check their emails outside work every day, and a third (33%) even check their emails while sick or on annual leave.
Kelly Freehan, service director, CABA, explains: "While a certain degree of pressure can help with motivation, if stress levels are excessive, we risk becoming less productive or burning out. With our research finding that many chartered accountants feel their workloads are so severe that they need to constantly check their emails outside work, it's clear that firms should be actively encouraging their staff to maintain a healthier work-life blend."
Mental health and wellbeing has been the focus of several articles in Canadian Accountant. Chartered professional accountants looking for ways to cut workplace mental health costs have been instrumental in the development of the National Standard of Canada for Psychological Health and Safety in the Workplace. We have also published articles on mindfulness and meditation for accountants.
Some CPA organizations provide health and wellbeing resources to their members. CPA Alberta, for example, offers CPA Assist, Alberta's CPA Assistance and Wellness Program.
CABA's new "mental wellbeing" campaign, however, is unique in its scope. Featuring a dedicated microsite, the campaign will provide support and advice to empower members of the ICAEW chartered accountant community to take greater care of their mental wellbeing.
According to CABA, there are various pressures within the workplace itself, which many accountants are grappling with on a regular basis and are sure to contribute to the rising industry stress levels. The research found that the most commonly felt workplace frustrations include:
being overworked (41%)
office politics (33%)
feeling undervalued (29%)
failure to increase pay or rewards (29%)
having to attend too many meetings (28%)
A fifth (21%) of respondents cited money as the main cause of stress, though this was of greater concern to younger and middle-aged respondents than it was to their older colleagues. A quarter (24%) of 18-34-year-olds and a third (32%) of 35-44-year-olds report money being their main source of stress. This was in comparison to just 1-in-10 (10%) 45-54-year olds and fewer than a fifth (17%) of those aged over 55.
The research actually found that younger and middle-aged chartered accountants are likely to feel more stressed overall than their older colleagues. More than two fifths of 18-34-year-olds (43%) and 35-44-year-olds (45%) report feeling stressed every day, compared with just 13% of 45-54-year olds and 15% of those aged over 55.
Says Freehan: "It's particularly concerning to see that so many young people within the industry are wrestling with stress, with our research showing that they are the most likely to take work home, stay late in the office and work on days off. Business leaders must provide tangible support that helps staff to form healthy working habits at the start of their careers, if we're to avoid the risk of fewer young people seeking opportunities in accountancy."
Whatever the root cause, it's clear that stress is having a major impact on accountants. Three-quarters (76%) claim that work has negatively affected them in the past 12 months, with a particular strain being placed on their social lives. Some of the most common effects include:
a close relationship being damaged (61%)
being unable to partake in hobbies (37%)
feeling unable to concentrate on non-work-related issues (28%) 
being unable to see friends (27%)
putting on weight due to a lack of work-life blend (27%)
Colin Ellis is managing editor of Canadian Accountant. With files from CABA. Image from rawpixel.com.