Practice
Taxation
Work/Life
Tax D-Day: As April 30 comes to a close, no extension for accountants despite 75k petition, CRA service disruptions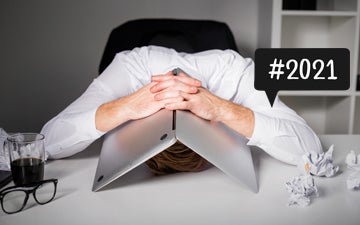 A tax season like no other is finally coming to a close. CPAs won't soon forget it
TORONTO, Apr. 30, 2021 – Despite a petition with more than 75,000 signatures from stressed-out Canadian accountantants and taxpayers — and despite online service disruptions at the Canada Revenue Agency on the day before the 2021 tax deadline — a "tax season like no other" is coming to a close as today's Tax Season D-Day concludes. Many Canadian accountants expect to work through the weekend and beyond in order to file the 2020 T1 tax returns of their clients. Feelings of stress, exasperation and anger abound and are directed at the CRA.
The day began with news from the Canada Revenue Agency admitting that "some users may have experienced technical difficulties while accessing Represent a Client and My Business Account." A routine update to temporarily affected access to CRA portals. While the CRA resolved the issue it did not explain why a technology update to the Agency's portals would be scheduled or even permitted on the day before Tax Deadline Day.
Tax professionals working late into Thursday night frantically messaged one another on social media, asking for confirmation that other preparers were experiencing the same issue. "I spent 7 hours and 3 minutes on hold yesterday for CRA to try to get info on my clients files," said one Edmonton accountant.
"Got hung up on 4 times. How can i file if i can't get through to CRA. Today the website won't download, it's saying my browser might be out of date but it's right up to date and i can't download slips. Extremely frustrated!!!."
An accountant in Hamilton seemed to sum up the general feeling of tax preparers: "Client's missing information, people locked out of their myaccounts, length of time trying to get through on the phone lines — trying to meet with client's safely that you have to see to properly do their taxes — nightmare this year."
CRA ignores calls for deadline extension from petition, politicians
The Canada Revenue Agency refused to extend the April 30 deadline but would not say why. As of Thursday, April 29, a Change.org petition requesting an extension to the tax deadline, which was first reported by Canadian Accountant, had surpassed 75,000 signatures.
When we were first contacted by Hugh Woolley, an independent income tax consultant with Lewis & Company Chartered Professional Accountants in Vancouver, the early petitioners were dismayed that "we failed to garner any media attention. I am uncertain why, despite our best efforts, the media did not believe that our plight was newsworthy."
Following the story in Canadian Accountant, however, media coverage of the petition picked up steam, with reports on the CBC, CTV,Postmedia Network (including individual reports on the Vancouver Sun, Ottawa Sun, National Post), Ottawa Citizen, and Globe and Mail.
Politicians waded in as well. "These are tough times for a lot of ppl," said NDP Leader Jagmeet Singh on Twitter. "Many Cdns are struggling - they're anxious about their jobs, families and the health of the ppl they love. I asked Justin Trudeau to extend today's tax deadline, as one small way to help alleviate the stress Cdns are feeling. He refused." The Opposition Conservatives asked the government to extend deadline until the end of June.
Chartered Professional Accountants of Canada were also active in advocating for a deadline extension. "Despite our efforts and those of others, the personal tax deadline remains April 30 for most individuals. We continue our discussions with government, including how best to reverse penalties and interest for those who file late due to the pandemic."
Not all Canadian accountants were in favour of a deadline extension, however. Some felt that an extension would only allow tardy clients to procrastinate further in providing tax preparers with the usual documentation. Said one CPA: "No extension. Any last minute person who hasn't already brought their information in will just leave it to the last week on whatever the new deadline is."
Canadian Accountant wishes everyone a safe and speedy conclusion to "a tax season like no other." We hope that you have scheduled a day of rest and relaxation in the near future.
Colin Ellis is a contributing editor to Canadian Accountant.