Profession
National
Business
Sunday News Roundup 21.11.21: Sustainability standards, Xmas shopping, Xero psych, and more
Wrapping up the odds and ends in this week's Canadian accounting news
Subscribe to our weekly newsletter and get all the week's stories. Click here to sign up.
TORONTO, Nov. 21, 2021 – The biggest news story of the past week was the environmental disaster in British Columbia. Cascading natural disasters due to climate change have cost lives, displaced thousands and destroyed key infrastructure, and they will cost Canadians billions of dollars. The accounting profession will be affected in many ways, not the least of which are growing calls for nationwide risk assessment and mitigation strategies, as well as sustainable reporting.
While Canadian accountants were thrilled with the awarding of an office of the new International Sustainability Standards Board (ISSB) to Montreal, some Canadian accounting stakeholders want a voice in new standard setting. The Independent Review Committee on Standard Setting in Canada, which is reviewing the governance of the big three Canadian accounting standards boards (AcSB, AASB, and PSAB), recently issued a press release calling for a Canadian Sustainability Standards Board.
A new Canadian Sustainability Standards Board "will also liaise with the new ISSB, ensuring that the Canadian perspective is part of international decision making."
The Chair of the Independent Review Committee, Edward J. Waitzer — a retired partner at Stikeman Elliott and current professor of corporate governance at the Osgoode Hall Law School, said in the statement that, "Growing demand for disclosing sustainability information has led to environmental, social, and governance (ESG) reporting initiatives worldwide. This is all well and good, but the diversity and even conflicting guidance isn't getting us to where we need to be. After years of too few standards, there may now be too many."
That would appear to conflict with the purpose of the ISSB, which, under the IFRS Foundation, is to consolidate ESG standards and issue prototype disclosure standards. Waitzer, however, asserts "Our goal is to ensure that Canadian standard setting continues to be relevant and responsive, as well as independent and internationally recognized. As a result, we think it is critical to establish a Canadian Sustainability Standards Board that works alongside Canada's existing accounting, auditing, and assurance standards bodies."
And now, on to the odds and ends of more news from the fascinating world of Canadian accounting.
Xero: Why don't more SMBs adopt new tech?
Cloud accounting platform provider Xero released an interesting study this past week. Its One Step report shows that a dismal 21% of Canadian small businesses are actually tech adopters. Xero worked with a team of behavioural scientists to figure out why small businesses across Canada and the globe are or are not adopting technology.
The proprietary research suggests that for these companies it's not a lack of information or choice that's holding them back but that the idea of change feels deeply uncomfortable and even anxiety inducing.
There's an opportunity there for Canadian accountants who can smooth the way for SMB tech adoption: Small businesses that readily adopt new technology see 120% higher revenue on average.
The best gift of all this holiday season? Optimism.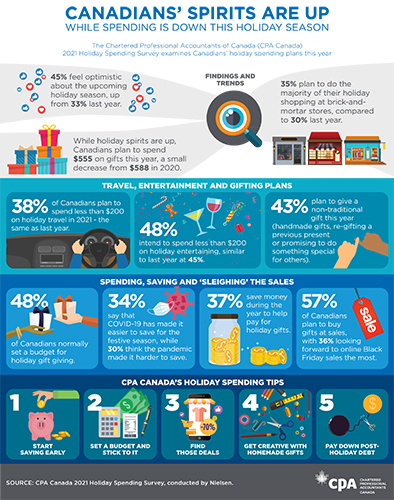 Click on image to enlarge. Courtesy: CPA Canada.
CPA Canada released its annual prognostication of holiday spending habits this past week. Spending will be down but spirits up as Canadians return to bricks and mortar shopping as pandemic restrictions loosen and vaccination rates increase.
"For those heading out to shop in person, we recommend starting early," says Doretta Thompson, CPA Canada's financial literacy leader. "The pandemic has created supply chain issues that may affect holiday retail shopping this year. To get the gifts you want at the best price possible, we encourage Canadians – particularly the nine per cent who say they are last-minute shoppers – to join the 21 per cent who plan to start their shopping early and get it done as soon as possible."
Sage partnership with Zapier brings more apps to SMBs
Good news for SMBs and their Canadian accountants as Sage announced a partnership with Zapier this past week. Zapier is a workflow automation platform for business with millions of customers. "In today's digital-first world, small businesses use an average of 72 different apps to streamline processes, eliminate errors and gain real-time insights on their business performance." The partnership seamlessly connects Sage Accounting with 4,000 workflow apps.
MNP offers Family Office professional services
It's always interesting to watch the marketing campaigns of accounting firms. Many firms are using content marketing strategies to put advertorials into media outlets like the Globe and Mail. MNP LLP, for example, is advertising its Family Office Services, part of the Private Enterprise practice at MNP, which seems particularly timely in light of the "Succession" scandal going on at Rogers Communications.
"The MNP clients served by this specialized service include families with businesses that involve several generations and families that have created a substantial amount of wealth that is now being shared among a number of family members." Presumably that would include any advisory services on the changes wrought by Bill C-208.
Quick Hits
Practice Ignition raises $50M (Accounting Today)
Tax the rich? How about not taxing the poor? A guide to inflation, central banking and Elon Musk (Toronto Star)
'Flaw in the system' costs frustrated Orillia senior big bucks (Orillia Matters)
By Canadian Accountant staff.