Students
Andrew Knapman
CPA Program
Secrets to reducing stress in the CPA professional education program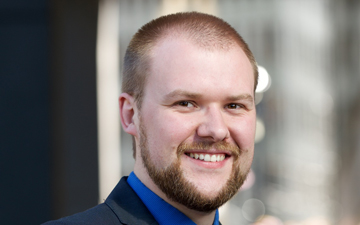 A few final thoughts on succeeding during Core 1, from student Andrew Knapman
VANCOUVER, Mar. 19, 2018 – Stress management is one of the most important factors for success on your way to becoming a Chartered Professional Accountant through the CPA professional education program (CPA PEP). Fortunately, this gets easier as you progress through the program.
As a student who has already passed both the core modules with distinction — and in a relatively stress-free manner — I've learned a few key tips for success that I can share with you. I want to close out this series on succeeding in Core 1 with a few last thoughts.
At the beginning of Core 1, I remember feeling like I wasn't cut out to become a CPA. The stress was overwhelming. Over time though, through focusing on knowing the content, getting good grades, asking questions about what to expect and effectively managing my time, I went into the Core 1 exam feeling confident.
Ever since then, my stress has reduced considerably to a level where I'm not really stressed at all come exam day. Learning what stresses you out and finding effective ways to combat it is extremely important.
Manage your time
The number of students I see stressfully trying to complete an assignment on the day of the submission deadline is crazy. I found being ahead of the schedule by up to a week was super helpful. CPA PEP gives you access to D2L about a week before the official module start date. Use this week to get ahead. Don't just slack off!
There is nothing worse than being rushed when trying to learn, so being ahead is always a calming place to be. This will also provide an extra week of study at the end of the module for the exam.
Write professionally and eloquently
It may seem like a minor point, but the CPA program puts a lot of focus on writing professionally, especially using proper English, grammar and formatting. Writing in a professional, corporate tone will go a long way to making your overall responses much better.
Formatting your work with headings, subheadings, tables, bullet points, bolding and underlining makes your work far more legible and will only help to improve your overall performance. While I wouldn't focus my learnings toward writing style too much, it is certainly something you might want to try and improve if you find your marks in this area are lacking.
Follow the CPA way in every case
Finally, as much as you might think passing CPA PEP is about knowing accounting topics very well, that's really only half the battle. The program, in my opinion, is about ticking boxes; it's about following their way of doing things.
The CPA way is the same general process for every module and can be found on D2L. Learn it, understand what they want and apply it to every single case you write.
I hope you've enjoyed this series on my experience during Core 1. I hope you'll follow my path through the program — and read my earlier blog posts as well.
Andrew Knapman lives in Vancouver, B.C. and is a student in the CPA Professional Education Program through CPA BC. The views expressed in this guest blog are his own. Connect with Andrew through his LinkedIn profile and follow him on his journey to becoming a Chartered Professional Accountant through future blog postings on Canadian Accountant.