Students
Gevorg Grigoryan
CFE Strategy
Is it worth it to appeal the CPA CFE? Let's look at the stats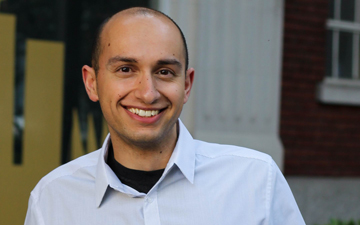 It's ultimately a question of costs vs. benefits, says Gevorg Grigoryan, CPA
Editor's Note: We are pleased to welcome Gevorg Grigoryan, CPA, as a regular columnist on Canadian Accountant. Gevorg will write on aspects of the CPA Professional Education Program (CPA PEP) and the Common Final Examination (CFE).
VANCOUVER – With the recent release of September 2019 CFE results, the Chartered Professional Accountants of Canada reported that 76 per cent of writers passed the 2019 CFE. This pass rate was down by one per cent compared to both 2018 and 2017, despite it being plagued by series of technology failures. Although unsuccessful candidates have been granted a free re-write in 2020, many candidates wonder if it's worth appealing their September 2019 results.
CPA Canada has been candid about the appeal success rates. They released the newest 2018 statistic (PDF), which states that 667 candidates requested an appeal in 2018 and only eight of them were successful. This means the chance of success is mere 1.2%! Despite these odds, many still try their luck and proceed with the appeal. Understanding the CFE pass rates, the CFE marking model and the appeal process is crucial before undergoing this process.
Consistent Pass Rates
The CFE pass rates have been somewhat stable since the merger of the legacy CA, CGA, and CMA bodies in 2014. In fact, only the first two offerings of the CFE had abnormal rates, with the remainder of results hovering around 76 to 77 per cent.

CFE Pass Rates, source: CPACanada.ca
This consistency is partly due to the rigorous marking and evaluation process by the Board of Examiners (BOE). For example, CFE marking takes gruelling 12-hour marking days, non-stop for two weeks. On top of that, BOE takes high measures to ensure each paper is marked consistently and fairly; Day 1 failing and marginal failing responses are marked a second time by a marking leader, and each Day 2 paper is marked by two different markers.
So why bother with an appeal?
Unlike the module exams, which are partially composed of objective-format multiple choice questions (MCQs), the CFE is entirely case-based. This means that instead of being graded on "one-correct answer," you are graded on displaying competencies in cases. To display competencies, you must demonstrate both depth and breadth of knowledge.
As such, there is some leeway and subjectivity in the CFE responses. This is why you will see candidates both shocked and surprised when they find that they failed. "I was sure I passed," wrote one Reddit user recently. "I'll be reaching out to CPA over the next few days to determine what happened," another Reddit user wrote. In fact, CPA Canada states in the CFE blueprint (PDF) that Day 1 of the CFE tests on "enabling skill … a candidate's ability to apply critical thinking, decision-making skills, professional judgment, and integration." These concepts are subjective and can be demonstrated in many different forms.
This sounds simple, but there is one big caveat: The concept of displaying competence has been systematized, standardized and made uniform by the BOE for many years. It has developed a marking model ("Passing Profile") to measure and compare competencies against the standards required of an entry-level CPA. Each day of the CFE is unique and is marked on displaying different competencies.
So, as you can see, having a successful appeal is very challenging because displaying competencies requires you to write specific quantitative and qualitative analysis – it is not about writing an abstract essay. If you miss these specific competencies, then your response does not meet the minimum standard.
What if you still want to appeal?
The process is straightforward. First, you view your detailed CFE results in the National Candidate Portal. The results will be split between Day 1 and Days 2/3. The results for Day 1 will be either pass or fail, there will be no further details. For Days 2/3, you will see the four CFE passing levels and it will show which level you didn't pass:
Level 1 - Was the aggregate competency demonstrated sufficient
Level 2 - Were the Financial Reporting (FR) and Managerial Accounting (MA) competencies demonstrated deep enough
Level 3 - Were the role competencies demonstrated deep enough
Level 4 - Was the competency demonstrated broad enough
For Level 1 only, you will given a decile ranking (sufficiency grouping), which is a statistic on what percentile of unsuccessful responses you fell into. For example, a decile ranking of 1 means you were in the top 10% of unsuccessful responses, which means you were close to passing. On the other hand, a decile of 8 means you were on the bottom 80%, so you were far from passing. Chartered Professional Accountant Andrew Knapman, the former student columnist at Canadian Accountant, wrote a comprehensive article on these four levels, which I suggest you read to understand how the levels come into play in CFE Days 2/3.
Once you find your results and your decile ranking, you may submit an appeal request by logging into your regional CPA school portal. There are fees associated with the appeal, which range from $225 to $725, depending on the CFE Days and the CPA regional school you appeal with. If your appeal is successful, the fees will be refunded.
Your appeal is likely to succeed if:
The Level 1 sufficiency grouping is 1 or 2
You were unsuccessful in only one of the levels (ie, you failed at Level 1, but passed through Levels 2, 3, and 4).
Your appeal is unlikely to succeed if:
Your Level 1 sufficiency grouping is 3 or more
You failed at multiple levels
Finally, you wait until the appeal process is complete, which, according to CPA Canada, could take up to two months (PDF).
A Final Word on Appealing
That's about it. When deciding to appeal the CFE, it's ultimately a question of costs vs. benefits. You really have nothing to lose except the appeal fees, which is a bit like playing a lottery. If you decide to appeal, keep in mind the success rates, the rigorous marking process and your exam results.
On the other hand, if you decide not to appeal, it's important that you take the time to analyze what your weaknesses are, what CFE Day you struggled with the most, and what Day you excelled in. You have to make the decision of re-attempting the exam or taking time off.
As a coach to students in the CPA program, I highly suggest that, if you do rewrite the CFE, you approach it differently: Have a thorough understanding of the CFE structure and build a solid strategy for each of the days. These two elements are keys to passing. Keep in mind that you have three attempts, so, given the appeal stats, your best bet is to learn from this experience and re-attempt the CFE with a new and more robust mindset.
Gevorg Grigoryan, CPA, is an accounting manager and instructor, mentor and coach to students in the CPA program. Visit Gevorg CPA to learn more and subscribe to Gevorg's YouTube channel to access CPA program videos.