Business
Global
Practice
KPMG global revenue surpasses expectations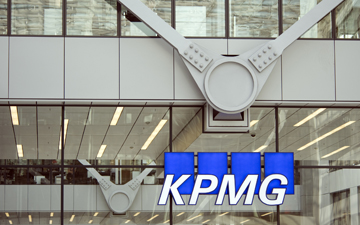 Advisory services outpace audit revenues in 2018
TORONTO, December 14, 2018 – Global revenue at Big Four accounting firm KPMG International rose 7.1 per cent to a record $29 billion for the fiscal year ending Sept. 30, 2018. The exact number, $28.96 billion, surpassed Canadian Accountant's prediction of $28 billion for FY 2018, in a banner year for all the Big Four.
Due to its later fiscal year-end, KPMG is typically the last of the Big Four to disclose its numbers. In 2017, the firm reported revenue of $26.4 billion, an increase of 4.8 percent over the prior fiscal year. As private partnerships rather than public companies, the Big Four do not disclose profits, only revenue.
Advisory services revenue grew at the fastest rate, climbing 9.9 per cent in 2018 to $11.47 billion, surpassing the six per cent increase reported in FY 2017. KPMG attributed the spike to strong growth in areas such as business transformation, cybersecurity, M&A deal advisory and accounting advisory services.
Audit revenues grew 4.8 percent to $11.15 billion, up from $10.39 billion and 3.1 percent growth in fiscal 2017. Audit growth in the Europe, Middle East, Africa and India (EMA) region was the strongest in a decade at 5.7 per cent.
"Audit quality remains our absolute priority, and we continue to invest in our smart audit platform — KPMG Clara — as well as our methodology and, most importantly, our people. KPMG Clara helps drive quality and consistency while integrating powerful technologies, including artificial intelligence and predictive analytics, to deliver real-time insights with information arising from the audit process and communication with the audit team," said Bill O'Mara, Global Head of Audit, KPMG International.
Regional and labour growth
The KPMG Asia Pacific region experienced strong growth with revenues increasing 8.7 percent in fiscal year 2018, an increase over the 8.1 percent reported in fiscal 2017. The Europe, Middle East, Africa and India region saw revenues increase 7.3 percent in fiscal year 2018, up from 4.0 percent in FY 2017. Revenue in the Americas grew 6.2 percent in fiscal 2018, up from 4.4 percent in fiscal 2017.
KPMG reported more than 55,000 new hires, including 39,000 new graduates and other entry-level professionals, creating almost 10,000 new jobs, bringing its global workforce to a record-high of 207,000 people. The firm also stressed its continued focus on building "an inclusive and diverse culture, increasing female diversity among our leadership ranks to 24 per cent of partners and directors, while broadly maintaining gender parity across our total workforce."
On November 30, 2018, a class-action lawsuit brought by thousands of current and former female KPMG tax and advisory professionals, was dismissed by a New York federal court judge. The suit alleged gender, pay, and promotion discrimination dating back to 2008. In the U.K., KPMG recently disclosed that in the past four years, seven of its partners left the firm due to inappropriate behavior.
Canada and corporate social responsibility
KPMG highlighted that its members have spent more than 500,000 hours of volunteering in the past 12 months, including approximately 100,000 hours of pro bono professional services. Reputational challenges, however, sullied the KPMG brand in 2018.
The executive chairman of KPMG SA recently penned an open letter to South Africans acknowledging the failures of the firm and announcing a donation of the 47 million in rand it received from auditing entities belonging to the Gupta family. The audit work of KPMG UK on Carillion and Ted Baker has been criticized by regulators. And, in the U.S., the year began with charges of conspiracy against former KPMG partners, regarding audit inspections by the Public Company Accounting Oversight Board.
KPMG International Chairman Bill Thomas, FCA, FCPA, served as CEO and senior partner of KPMG Canada from 2009 to 2016. Canada figures prominently in the firm's global review, which emphasizes trust, quality, leadership and accountability.
The review includes the winning work of Team Canada and Project One Seed, which are highlighted in the firm's corporate social responsibility partnership with non-governmental organization Enactus. Dan McKellar, senior manager, audit at KPMG in Canada, discusses his work with the firm's cloud-based smart audit platform, KPMG Clara. And the KPMG Canada's advisory work with Metrolinx and its ambitious "Big Move" transportation plan is featured.
"We are making record investments in our business to help clients capitalize on the unprecedented transformation they are going through," says Thomas. "We are committed to continuously improving the quality of every service we provide, recognizing the vital role we perform for clients and capital markets."
By Canadian Accountant staff.