Taxation
National
CPA? Have your say with the CRA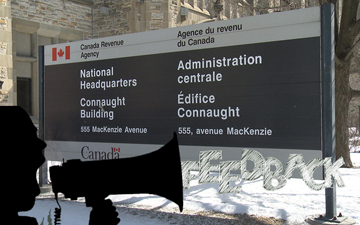 Canada Revenue Agency promoting national consultations and newly appointed chief service officer
TORONTO, November 1, 2018 – Following complaints from Canadian accountants and members of the public regarding significant service delays, the Canada Revenue Agency has launched a national consultation tour and touting the appointment of a new chief service officer.
"The CRA is listening to Canadians, changing how it operates, and improving its services with the goal to be trusted, fair and helpful by putting people first," explained a CRA spokesperson to Canadian Accountant.
While noting the introduction of a "new suite of services … leading to real results for Canadians," the CRA admitted it "still has much to do to achieve its goal. Canadians' expectations are changing, and the CRA must keep improving to serve its clients."
The CRA appointed its first chief service officer, Mireille Laroche, in March 2018. Laroche is a longtime civil servant with academic background in economics who began her public career in the Department of Finance. She will hold the titles of Assistant Commissioner of the Service, Innovation and Integration Branch, as well as Chief Data Officer.
The Minister of National Revenue, the Honourable Diane Lebouthillier, has visited a number of remote locations over the past year to discuss service issues. Over the coming year, the CRA will deliver a number of service improvements such as opening Northern Service Centres in territorial capitals, enhancing the CRA's digital services, and implementing a new call centre platform.
"These service enhancements will address many of the frustrations Canadians have experienced when they interact with the CRA," said the CRA spokesperson. "While they will be of significant benefit to Canadians, they are really just the beginning of the CRA's client-focused approach to service."
In addition to launching both online and in-person public consultations, the CRA is holding a series of "design jams," which, according to the CRA spokesperson, is "a collaborative brainstorming activity used to solve design problems. It is part of the 'design thinking toolkit.' Design jams produce prototypes, pitches, or proposals; it is the equivalent of a 'hackathon' but for designers. The focus is on stakeholder and participant empowerment. Rapid ideation is done with all stakeholders involved."
The CRA would not provide details as to feedback or the number of attendees thus far at its consultations, but there are six remaining consultations in 2018 specifically for Canadian accountants, held in conjunction with provincial Chartered Professional Accountant regulatory bodies. Register here to attend the consultation. If you can't attend, you can provide feedback online.
| | | |
| --- | --- | --- |
| Winnipeg, MB | Monday, Nov. 12, 2018 | CPA Manitoba |
| Yellowknife, NT | Wednesday, Nov. 14, 2018 | CPA NWT NU |
| Red Deer, AB | Thursday, Nov. 15, 2018 | CPA Alberta |
| Sydney, NS | Thursday, Nov. 15, 2018 | CPA Nova Scotia |
| Regina, SK | Thursday, Nov. 22, 2018 | CPA Saskatchewan |
| Montreal, QC | Friday, Nov 23, 2018 | CPA QC |
By Canadian Accountant staff with files from the Canada Revenue Agency.