Profession
Practice
National
RSM Canada adds Ontario firms, launches Alliance brand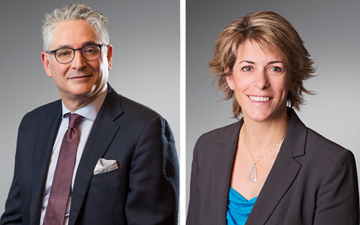 RSM Canada Alliance firms to maintain independence and entrepreneurial culture
TORONTO, December 7, 2018 – Two Ontario accounting firms are the first to join the newly launched RSM Canada Alliance, a national affiliation of independent accounting and consulting firms, effective December 1, 2018.
Durward Jones Barkwell & Company LLP (DJB) has offices in Burlington, Grimsby, Hamilton, St. Catharines and Welland. NVS Chartered Accountants Professional Corporation (NVS) is located in Markham.
According to the Canadian Public Accountability Board, NVS boasts such audit clients as DataWind, the Canadian computer manufacturing company; NTG Clarity, the Markham-based global telecom services company; and Pesa Corporation, a video solutions company with offices in Canada, China and the U.S.
The RSM global brand made its entry into Canada one year ago when it acquired Collins Barrow Toronto and rebranded as RSM Canada. According to the national firm, the RSM Canada Alliance is the first of its kind in Canada's accounting profession. Member firms will gain access to the resources of a national firm, while still maintaining their independence and entrepreneurial culture.
"The Alliance model is a new concept to Canada, but it is especially suited for our marketplace," said Harry Blum, managing partner, RSM Canada LLP. "The realities of our geography and our business landscape mean that small businesses are at the heart of our country's economic engine.
"When these firms join this program, they will be able to stay true to their Canadian roots while enjoying the benefits and resources of a global firm," says Blum.
The RSM Canada Alliance is modeled after the RSM US Alliance program, which is celebrating its 30th anniversary next year and boasts more than 75 members in 38 states, the Cayman Islands and Puerto Rico.
Blum has appointed Terri Ellis to lead the RSM Canada Alliance program. Ellis has 16 years of experience working with audit, tax and consulting firms. She joined Collins Barrow Toronto in December 2013 as vice-president, market development.
"In her previous role as growth & market development partner, she acted as a strategic growth advisor to the RSM Canada leadership team, helping to grow the firm from $35M to $60M in four years," according to RSM Canada. Ellis worked as a project lead on an external rebranding video produced by Arc + Crown Media in Toronto that won a 2018 AVA Digital Award in the corporate image category.
By Canadian Accountant with files from RSM Canada.