Profession
Practice
Business
Accounting firms on holiday shopping spree for consultants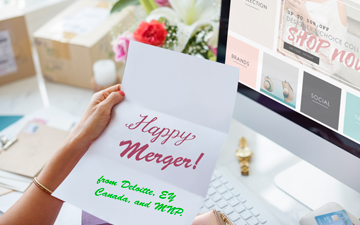 Deloitte, EY Canada, and MNP LLP buy Canadian consulting firms
TORONTO, Dec. 23, 2019 – Canadian accounting firms have gone on a shopping spree this holiday season, snatching up consulting companies to add to their advisory services. As reported by Canadian Accountant, consulting in Canada is a growth industry, and the Big Four accounting firms are leading all professional services companies in market share.
Ironically, the buying season began on Black Friday, with the November 29th announcement that Deloitte had acquired Mississauga-based Cannabis Compliance (CCI), establishing CCI Deloitte. In a measure of how critical the cannabis sector has become to Canadian auditors, CCI Deloitte enables the Big Four firm to offer expertise in licensing and compliance as well as audit services to the marijuana sector.
"Canada has quickly become a global leader in the cannabis industry," said Anthony Viel, CEO, Deloitte Canada. "As legislation evolves in other countries, it's important for businesses to understand and prepare for unique risks and challenges. Businesses will need to continue innovating to secure a healthy, sustainable competitive position. By putting Canadian values at the forefront, we can shape the future of responsible and competitive cannabis business growth to help the industry mature in Canada and around the world."
Indicative of another trend in the accounting profession, Deloitte made three CCI executives partners of the Big Four firm, as it absorbs 75 CCI employees in its downtown Toronto headquarters. "This is an exciting chapter for our business, our team, and the entire cannabis sector, as the power of CCI and Deloitte's combined resources will offer leading client service and capability," said Dale Hooper, President and CEO of CCI, now a partner at Deloitte. "We're looking forward to joining the Deloitte team and continuing to make a positive and lasting impact on the industry and those it serves."
MNP Buys Mobilis Strategic Advisors
On December 12, homegrown accounting firm MNP LLP snapped up Montreal's Mobilis Strategic Advisors, which specializes in helping businesses "accelerate strategic thinking and execution and develop strategic clarity in the face of disruption. Mobilis also builds leadership capacity, aligns teams and helps embed cultures that foster collaboration, trust and outstanding execution."
The Mobilis team of nine consultants will transition to MNP's Montreal office and the consulting company's two founders will be made partners. Sean Murphy, MNP's regional managing partner, consulting, Eastern Canada, said, "We are delighted to have Mobilis join our team, with the support that they provide to business leaders in the areas of strategic thinking and execution. This merger will allow us to build on our existing strengths and offer new solutions, particularly in the areas of leadership and culture, which will bring great additional value to our clients."
The move expands MNP's consulting practice. The Calgary-headquartered company is the largest mid-market-focused consultancy in Canada and has 5,000 employees in more than 75 locations across the country. Earlier this year, MNP acquired Kelowna accounting and consulting firm Chun & Co, Deloitte's Prince George office, and Mississauga-based ERP consultancy Mantralogix.
EY Canada Wraps Up Financial Services Consultant
And just in time for the holidays, EY Canada has acquired Pivot Strategy, a Montreal-based boutique consulting company focused on the financial services industry. Pivot Strategy supports asset managers, institutional investors, insurers, and banks with consulting in corporate and investment strategy, product development, distribution, operations, and business design innovation.
"We're very excited to welcome our new team members," said Linda Williams, EY Canada managing partner, advisory services. "Together, we'll be even better able to assist our Insurance and Wealth and Asset Management clients to redefine their strategic positioning and design transformative solutions that deliver long-lasting value."
While the three acquisitions focus on different consulting sectors (i.e., cannabis, culture, financial services), a common theme among the consultants is transformation, whether technology or market-driven. As consulting now drives the highest growth among professional services firms in Canada and around the world, the Canadian "Big Five" continue to diversify into more lucrative areas than audit, acquiring Canadian consulting companies and their respective books of clients.
By Canadian Accountant with files from Deloitte, EY Canada, and MNP.