Profession
Practice
National
Big Four accounting firms dominate Canadian consulting market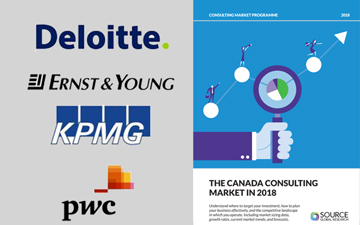 Market share and growth of auditors outpacing all other consulting firms
TORONTO, June 27, 2018 – The Big Four are dominating the Canadian consulting landscape, competing "neck-and-neck" with technology firms in the lucrative digitization space, according to "The Canada Consulting Market in 2018," a new report from Source Global Research.
The Big Four had a big year in 2017. They dominate the group classified by Source as Type A: firms that provide consulting services alongside audit, tax, and corporate finance services.
At a 6.5 per cent growth rate, Type A firms outpaced the overall market, earning $1.5 billion out of the $3.91 billion Canadian market (all figures in U.S. dollars), and beating overall market growth of 4.9 per cent. (The Source report refers to the "big consulting" market only, representing 75 per cent of the overall market in Canada, estimated at $5.22 billion.)
Linda Williams, a partner at EY Canada's advisory services, says the "opportunity for us is to continue to have a very inclusive and integrated service offering to take to our clients. This is what we at EY want to live by to bring the most value to our clients. We want to work across all of our service lines in unison, from tax to audit to consulting."
Breadth of service is an advantage of the firms. According to the report, the ability of the large firms to offer a wide and deep solution set makes them a safe choice for clients unsure of where best to turn for support.
"Looking five years ahead, I'd say that the market will be led by those who can truly see the bigger picture and connect the dots," says Tim Christmann, managing partner of Deloitte Canada's consulting practice. "Problems and ecosystems are getting more and more complex, so the real value-add will be in helping clients navigate through that complexity."
Perceived risks to Big Four consulting services
The Source report cites audit rotation as "an area of challenge for the Big Four, forced to make difficult choices between tendering for the audit business of very large clients and a highly lucrative consulting business."
This perceived risk is overstated. According to the latest annual inspection report from the Canadian Public Accountability Board (CPAB), the Big Four firms audit approximately 98 per cent of all Canadian reporting issuers by market capitalization. Audit rotation is not mandatory is Canada as it is other jurisdictions around the world.
More likely is the perception that, as lucrative consulting services begin to dwarf traditional audit and assurance work, auditor independence will be compromised and lead to a series of accounting scandals and regulatory scrutiny, as is occurring currently in the U.K.
Continued growth forecasted for Big Four consulting
The report forecasts growth of six per cent annually for the Big Four over the next two years, as companies continue to spend on digital solutions across all sectors. In 2017, growth was strongest for consultants working with healthcare clients, but financial services clients remained the biggest consulting buyers.
The Big Four firms, through the acquisition of tech companies and product development, have benefited from the growing popularity of asset-based consulting solutions, advising on tools and products rather than human capital, as part of a "mature suite" of services to clients.
"I'd predict significant spend on digital transformation and customer interfaces in 2018," says Georgina Black, national leader of management consulting at KPMG. "Clients are focusing on back and middle-office technology implementation, which in turn drives benefits through to the front office."
Colin Ellis is the managing editor of Canadian Accountant. "The Canada Consulting Market in 2018" is available for purchase and download from Source Global Research. Access the firm's other reports here.