Profession
Practice
Business
Big Four accounting firms fell short of net new client gains in 2020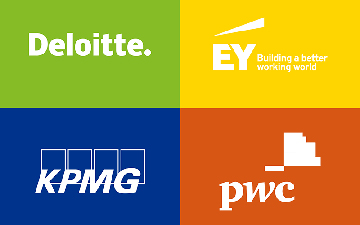 But PwC Canada emerged a clear winner in SEDAR filing data crunched by Audit Analytics, in our annual review of audit client gains and departures
TORONTO, Apr. 14, 2021 – With the COVID-19 pandemic roiling the Canadian economy, the Big Four accounting firms in Canada (Deloitte, EY, KPMG, and PwC) struggled to gain new audit clients among publicly traded companies in 2020. As a group, the Big Four fell slightly short of breaking even in terms of net new client gains and departures, according to SEDAR analysis provided to Canadian Accountant by Audit Analytics, an independent research provider based in the United States.
While EY Canada led the group with a net gain of two new audit clients, PwC Canada was the runaway winner in its number of new clients, new clients by market capitalization, and net new audit fees, demonstrating resilience in the face of economic turmoil.
2020 marks the fourth consecutive year that Audit Analytics has provided its annual analysis of auditor changes in Canada exclusively to Canadian Accountant prior to publication. Each year, Canadian Accountant reports on Big Four clients gains and losses, with a subsequent report published on mid-tier accounting firms such as BDO, Grant Thornton, MNP, and RSM. 2020 marked the first time that, with the support of Audit Analytics, Canadian Accountant has published a mid-year report (2020 H1) on new audit client gains and losses among Canadian accounting firms.
The COVID-19 pandemic affected the entire accounting profession in 2020, including the public practice sector in general and the Big Four accounting firms specifically, despite the reputation of accounting as recession-proof. Multiple sources reported reduced compensation for partners and layoffs throughout the year at the Big Four.
Despite these significant challenges, EY Canada and PwC Canada managed to post net gains of two clients and one client respectively, KPMG Canada broke even, while Deloitte Canada — despite winning six new audit clients — fell into negative territory in net gains and losses.
Firm

Gain/Loss

Net

Deloitte Canada

6

-5

11

EY Canada

12

2

10

KPMG Canada

17

0

17

PwC Canada

18

1

17
PwC led the pack in net new audit fees
PwC Canada was the runaway winner in net new client audit fees in 2020, just surpassing $3M (all figures in Canadian dollars). Its $7.86M figure in overall new audit fees was largely generated from two companies: software maker BlackBerry ($3.4M) and First Quantum Minerals ($2.2M). First Quantum was actually a client of PwC UK but changed it auditor to PwC Canada in April 2020. The company is headquartered in Vancouver.
KPMG Canada came in second place at $1.7M in net new audit fees. Almost half ($2M) of its $4.8M in overall new audit fees came from one client, Turquoise Hill Resources, a subsidiary of global mining giant Rio Tinto. The Big Four firm had a very diverse roster of new audit clients in 2020, including companies such as executive recruiter Caldwell Partners, vegan meats maker The Very Good Food Co., esports company Enthusiast Gaming, and a smattering of mining and cannabis companies.
The Big Four accounting firms and their foreign affiliates audit about 98 per cent of all Canadian reporting issuers by market capitalization. When a change of auditors occurs at a large cap company, it almost always occurs from one member of the Big Four to another. While EY Canada led its competitors in net new audit gains (two) and boasted $3.9M in overall new audit fees, the departure of one client, BlackBerry, led to a loss in net audit fees for the year.
The exception to the rule occurred at Deloitte Canada. The audit division posted a loss in net new audit fees, mostly due to a change of auditor by multi-national gold miner Endeavour Mining. In 2020, Endeavour completed a series of high-profile business transactions, announced its plans to pursue a secondary listing in London on the FTSE 100, and changed its auditor to BDO UK. (Similarly, PwC Canada client First Quantum maintains a secondary listing on the London Stock Exchange.)
A loss in net new audit clients should be placed into perspective. As reported by Canadian Accountant ("Long Read: Why the Deloitte Canada – MNP deal makes sense for both firms"), 2020 was a banner year for Deloitte in Canada. The professional services firm scored lucrative technology contracts with the federal and provincial government that far outstripped the new audit fees of the Big Four combined. Just one contract — a $16 million deal to provide the federal government with a COVID-19 vaccine logistics platform — almost equalled the combined new audit fees ($17M) of the Big Four in 2020.
Read Regional accounting firms gained new publicly traded audit clients in 2020, our 2020 audit client gains and losses report for the mid-tier market. The full data on audit client gains and losses will be published next week by Audit Analytics. We will inform Canadian Accountant readers through social media when it becomes available. Read the 2020 H1 report from Audit Analytics here, our Big Four report here, and our mid-tier market report here.
Click on the image below to enlarge.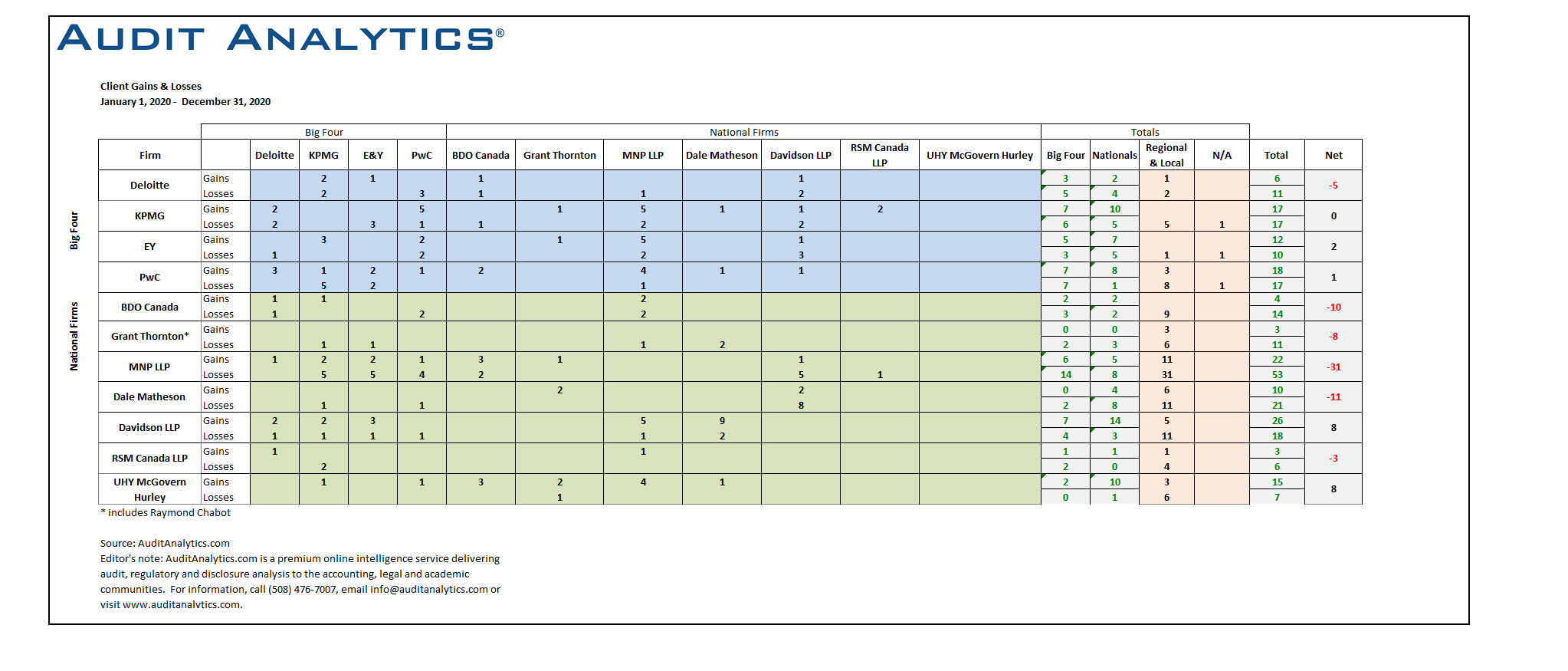 2020 Audit Client Gains and Losses Matrix (courtesy Audit Analytics).
2020 Client Gains and Losses are provided by Audit Analytics, which provides insight into the Canadian audit marketplace through market intelligence, due diligence, compliance monitoring and trend analysis. Its Canadian databases provide detailed research and expert analysis on nearly 4,000 companies filing with SEDAR. Contact them through 508 476.7007 or info@auditanalytics.com.
Read analysis from Audit Analytics (published April 15, 2020) on Auditor Changes in Canada: 2020.
Colin Ellis is a contributing editor to Canadian Accountant. Read Regional accounting firms gained new publicly traded audit clients in 2020, our 2020 audit client gains and losses report for the mid-tier market.