Profession
Deloitte Canada hires Craig Alexander as chief economist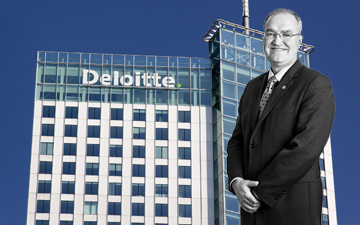 Appointment of former TD Bank chief economist signals larger role in public policy
Toronto, May 24, 2018 – In the latest sign the Big Four have moved beyond their traditional audit roles into advisory services and public policy, Deloitte Canada has appointed prominent economics expert Craig Alexander as its first chief economist. A familiar face in the business media and economic forums, Alexander has served as chief economist at TD Bank Financial Group, vice-president economic analysis at the C.D. Howe Institute and most recently as senior vice-president and chief economist at The Conference Board of Canada.
While the hiring of chief economists by large accounting firms is common practice in many countries, particularly the United Kingdom, the appointment of Alexander is a high-profile hiring. "Craig is a highly sought after thought leader on issues affecting the future prosperity of Canada," according to Frank Vettese, managing partner and chief executive of Deloitte Canada. "And we think it's a big deal that he's chosen Deloitte to further his contributions to the country."
Alexander describes the new position as "the opportunity of a lifetime." Under Alexander's leadership, according to Deloitte, the firm will produce economic insights that will help clients plan for the future, respond to macro forces affecting their business, and understand how changes in economic policy will impact them.
"I feel very privileged to be joining Deloitte," says Alexander. "I spent the bulk of my career in banking using economics to support all divisions of the bank and its clients. I look forward to similarly using economics to support all Deloitte services and clients."
Alexander's hiring follows another high-profile appointment by Deloitte Canada last year. In October, the firm announced that David Johnston, the 28th Governor General of Canada, was appointed as an executive adviser, "to further his work on key issues of importance to the future of Canada."
Both appointments appear positioned to raise the voice of Deloitte in public policy during a period of transformational economic change. Says Alexander, "I strongly believe that Canada needs more and louder private sector voices contributing to the national conversations about our country's future. Certainly Deloitte is a leading voice and I am excited by the opportunity to contribute."
Vettese adds, "Together we share a belief that Canada can stand head and shoulders above the rest as the best place in the world to live and work — but there are challenges ahead. Craig's expertise will enhance our firm's analytical capabilities and help inform our clients as they consider the courageous actions needed to propel our country forward."
Colin Ellis is managing editor of Canadian Accountant. Image: iStock/Illustration: Canadian Accountant.