Profession
Practice
Multi-generational firms: Why the Big Four are recruiting millennials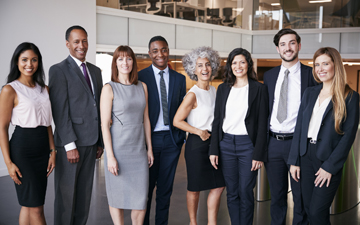 Part two of a series on multi-generational accounting firms
OTTAWA– Chartered Professional Accountant Jason Kingston believes that older accounting professionals, by virtue of their having had to solve issues in the past by relying more on a manual application, rather than the computer assistance available today, sometimes have a better grasp of the accounting fundamentals than others in a multi-generational accounting firm. "The inherent understanding is sometimes they're a little quicker, and we can then pass that on to the younger generation," says Kingston, a principal with DSK LLP in Kitchener.
Dawn McGeachy, a partner with Colby McGeachy Professional Corporation in Almonte, Ont., offers another observation on what older generations can offer younger cohorts. "We are more plugged into social cues, I think, than they are, because we grew up interacting directly with people, whereas they are much more comfortable interacting using technology as a medium to communicate. So we might be more sensitive to a person's mood or reading between the lines," she says.
Moreover, "our focus is more about work and then play, whereas they are much more balanced. We provide them with that example of 'if you want to succeed, this is what is necessary.'" Nevertheless, "I think their philosophy, and the way they guard their personal time — the way they feel about work-life balance — is a healthy thing," McGeachy concedes.
The value of multi-generational audit and accounting teams
"People working inter-generationally will always result in a good thing," says Norma Kraay, managing partner of talent at Deloitte Canada in Toronto. "There are definitely synergies in terms of bringing together expertise and experience, along with innovation and different approaches," says Kraay. She recalls working on projects where the team benefited from having a junior person offering a fresh perspective on how to solve a specific technical problem, and to help deal with it using technology and analytics, enhancing an approach based on knowledge and experience.
Deloitte Canada has nearly 11,500 employees, approximately 64 per cent of whom are millennials, 24 per cent are Generation X, with baby boomers and traditionalists comprising about eight per cent and four per cent of the firm, respectively.
"Our research at Deloitte shows similarities and differences between the employees across the generations, in terms of how they work, and even at how they look at the workplace. They actually have very similar values, and seek the same types of things for the work environment. The generations are looking to add value to being part of a greater organization. They want to connect with colleagues in a meaningful way," says Kraay.
Big Four adding millennials from the STEM stream
Stephen Shea, managing partner of talent at EY Canada in Toronto, notes that EY Canada's baby boomer employees came of age during the era of the traditional accounting apprenticeship model, which relied on a hierarchy and required several years of experience before starting to climb the ladder to senior positions. In recent years, EY Canada has begun hiring proportionately more students from the science, technology, engineering and math (STEM) stream, who are providing specific expertise in technology and data analytics, which tends to lead to finding more efficient ways of doing things.
"For example, in the auditing profession, they are coming up with technical, data driven solutions because they are very bright and capable. They are technologically savvy and innovative, and as a result expect to get ahead based on their ability to innovate, not only on years of service. That fundamentally changes the way you work," says Shea. The younger generations expect to move farther and faster but are willing to work hard in pursuit of their careers, he adds.
In fact, there is now more tailoring to the recruiting process as employers, including EY Canada, have a much keener understanding today about what the new generations coming into the workforce bring in terms of skill sets, attitude, and other attributes. Training methods have also been altered, as the younger generations both communicate and consume information differently.
Shea, a baby boomer, recalls how, "in the old days, I would sit down in a course, and they would give me big binders and you would have to read your binders. Well, that's not how you're going to train a millennial. You can't possibly train them that way. They're into interactive gaming, all of that simulated learning — that's how they consume information," he says.
The relationship that younger employees have with social media is also very different, McGeachy observes. For example, they are more likely to check their phones during the day, which the older employees would be more likely to wait until off hours to do. But McGeachy says she accepts that as a non-issue, so long as they are managing their professional time in the office properly.
Next: How millennials are helping to shape the future of the accounting profession.
Jeff Buckstein, CPA, CGA, is an Ottawa-based business journalist.