Profession
Practice
Business
Sunday News Roundup 23.04.23: PwC Canada sues KPMG and more Canadian accounting news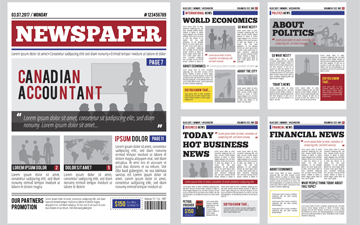 Wrapping up the odds and ends from the past week in Canadian accounting news
Subscribe to our weekly newsletter and get all the week's stories. Click here to sign up.
TORONTO, April 23, 2023 – Public allegations of bad audit practices are rare in Canada for a variety of reasons. As we have reported previously in Canadian Accountant, not even national audit regulator CPAB can name the accounting firms it inspects, and even the Supreme Court has been wary of assigning liability to auditors. Which is why the news that PwC Canada is suing KPMG for $1.4-billion over its audits of Bridging Finance was especially jarring this past week.
Bridging Finance is a private lender based in Ontario that was placed in receivership following one of the largest collapses of an investment fund in Canadian history. The Ontario Superior Court of Justice appointed PricewaterhouseCoopers in 2021 as receiver and manager over the lender's affairs. Acording to court documents, obtained by the Globe and Mail, PwC alleges that "throughout KPMG's tenure, the Bridging funds materially misrepresented the value of their assets and financial performance. KPMG negligently failed to detect and report on these misstatements."
Sure, the insolvency folks are not in audit and assurance at PwC, but it's hard to imagine there wasn't some talk at the highest levels about one member of the Big Four calling out another in public. If we know anything, it's that the Supreme Court has blessed the notion of court-appointed receivers going after auditors, as in Livent. In this case, the receiver just happens to be another Big Four professional services firm, which also provides audit and assurance. For its part, KPMG denies responsibility for any losses.
And now, on to the rest of the news and links from the past week in Canadian accounting.
CRA tax workers playing hardball in negotiations
As the national public strike enters its second week, tax preparers are taking stock of the fallout. As we predicted in our April 9 report, the impact has been somewhat limited thus far, though we do not want to minimize the stress it may be causing CPAs. Call centre employees are mostly on strike and even the Tax Court of Canada has said that its administrative service personnel are on strike.
We may see this strike drag on well past the tax deadline. Why? Well, members of the Public Service Alliance of Canada say they won't be returning to the bargaining table this week. They had warned management during negotiations that they would not meet if workers (including Union of Taxation Employees) were on picket lines. So they won't cross picket lines to negotiate, but cannot negotiate if they can't cross picket lines.
Also, PSAC feels that, at least for now, they have the support of most Canadians. According to an Angus Reid poll, a majority of Canadians support their demands for remote work, as well as extra money for overtime and night shift. Interestingly, most Canadians, according to the poll, don't believe workers should get extra money for speaking an Indigenous language.
Accounting Dealbook: Clara? Meet Mindbridge AI
This past week KPMG International announced it had struck a deal with Mindbridge AI, the Canadian artificial intelligence company, to incorporate Mindbridge into the accounting firm's auditing software, Clara. The Canadian company was founded back in 2015 as an AI startup that might eventually help auditors detect fraud and other accounting anomalies.
You can see where this is heading, of course. Yes, artificial intelligence may indeed improve audit quality, which has been under scrutiny worldwide for the past few years. But if software helps the Big Four save a few bucks on staffing, that will help the bottom line. A 2022 academic study concluded that, "investing in AI helps improve audit quality, reduces fees, and ultimately displaces human auditors."
Try using that as a slogan in the next college recruitment campaign.
Quick Hits: Articles of Interest
Canadian
How buying an EV may save you thousands at tax time (Globe and Mail)
International
Are the "big four" too big for their own good? (The Economist podcasts)
PCAOB reveals priorities for 2023 inspections (Journal of Accountancy)
By Canadian Accountant staff.