Business
National
Strategy
Part Two: Pensions, planes & profits (the EETC market)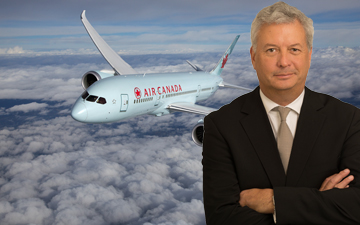 In the second of a three-part series, CFO of the Year Michael Rousseau details the financial strategy behind the national airline's rebound
Michael Rousseau, executive vice president and chief financial officer of Air Canada Corporation in Montreal, was recently selected Canada's chief financial officer of the year for 2017. In the second of a three-part series, Rousseau details the financial strategy behind the national airline's fleet.
OTTAWA – Michael Rousseau, CPA, CA, executive vice president and chief financial officer of Air Canada Corporation in Montreal, has presided over a remarkable financial turnaround at Air Canada since 2007. Aircraft fleet flexibility, including effective and cost efficient financing, are key objectives for Air Canada, says Rousseau.
"We have a fleet of a couple hundred aircraft, and presently about 50 per cent of those planes are leased, and 50 per cent are owned and debt financed. There are advantages to both approaches. If I buy a plane, the cost of financing is lower, currently roughly four per cent to four and a half per cent, through some very efficient markets in the United States," says Rousseau.
"But in that case, I can only finance roughly 80 per cent of it, so Air Canada uses its existing cash reserves to finance the remaining 20 per cent," he adds.
Leasing offers the advantage of not having to fund with an upfront cash payment. Then, at the end of the lease term, the plane can be returned to the lessor, providing a cost-efficient way of reducing capacity if the economic environment has changed.
"The disadvantage is typically the interest rate built into a lease is higher than [the] four and a half per cent we can debt finance at, because the lessor has to make a return on their investment. That's why we like being 50-50, because it provides us a good blend of flexibility, risk management and cost efficiency," he explains.
Air Canada gained access to the Enhanced Equipment Trust Certificate (EETC) market in 2013. This is a U.S. based financing source used to finance aircraft and collateral assets such as engines and spare parts. It is a secured market, with the assets being financed acting as security for the loan. Structural enhancements to the loan result in a much higher credit rating for the asset than would otherwise be available on general debt, Rousseau explains.
The airline has issued approximately U.S. $2.3 billion in three deals in the EETC market over the past four years, financing seven Boeing 777, and 12 Boeing 787 airplanes, and saving approximately U.S. $80 million per year as a result, says Rousseau.
Bruce Waterman, a former CFO of the Year winner in 2008 and currently chair of Canada's CFO of the Year selection committee in Calgary, praised Rousseau and Air Canada's "innovative" use of the EETC market.
"He scored well in all the categories," Waterman says. "But if I had to pick the one where he really was quite outstanding, it would be in that whole vision and leadership area. That's why Air Canada [is] where they are right now in terms of their financial turnaround," he adds.
Jeff Buckstein, CPA, CGA, is an Ottawa-based business journalist. Michael Rousseau image courtesy Michael Rousseau. Air Canada Boeing 787-9 Dreamliner courtesy Air Canada media photos.