Partner Posts
Technology
Software
Best tools for accountants to grow their practice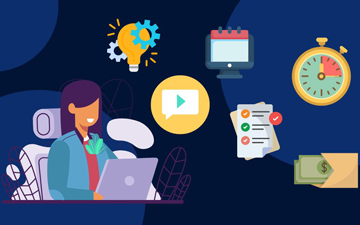 You're a busy accountant. In order to manage your practice, you need to have a handle on the myriad tasks and workflows that help make your firm successful
ACCOUNTANT TOOLS have gotten some incredible upgrades over the last decade, with no sign of stopping. These technological advances have improved productivity, fostered collaboration, increased the speed of invoicing, payments and more.
Beyond your traditional accounting software like QuickBooks, there are tools available now that can help you project manage better, track time, schedule online and automate common accounts receivable and payable tasks.
In this article we're going to look at some of the best tools available to accounting firms in 2023 and how they can help you level-up your accounting game.
Accounting practice management solutions
You're a busy professional. In order to manage your clients and your accounting firm, you need to have a handle on the myriad tasks and workflows that help make your business successful. A solid management solution is essential for any accountant who wants to improve their performance, stay organized, and provide the best experience for their clients. These tools can help you can save time and money by streamlining processes and eliminating the need for tedious, manual data entry. Additionally, you can better manage your team with automated task assignments, shared documents, and budget tracking.
Recommendations: Karbon, Senta, Teamwork
Time-tracking solutions
Whether you bill by project or by the hour, time-tracking tech can be extremely useful in helping you maximize your team's productivity and keep track of time spent on tasks. With detailed time tracking, accounting firms can quickly identify where resources are being allocated, what activities are consuming the most time, and where they can better optimize processes. Having access to this valuable data helps you better understand how much your team can take on, which clients are the most profitable, and helps you determine what the ideal amount is to charge for your services.
Recommendations: 17Hats, Harvest, Timely, Toggle Track
Online scheduling solutions
"Are you available Monday at 2pm?" — "No. How about Tuesday at 10am?" — "That doesn't work either." Don't get caught in scheduling purgatory again.
Online Scheduling Solutions provide a convenient way for accounting firms to stay organized, improve communication with clients, and reduces unnecessary back and forth. With features like automatic appointment reminders, real-time availability displays, and integrations with your calendar and email, you can reduce the tedious task of manual scheduling all together and make the process a little more self serve.
Recommendations: Acuity Scheduling, Appointy, Calendly, Setmore
File-sharing solutions
Email should be avoided altogether for sharing sensitive data if possible as it poses a significant security risk. File-sharing solutions are essential for accounting firms to securely and effectively store, share, and collaborate on sensitive client information. With secure file-sharing technology you can easily store files, documents, and data in a cloud-based platform that is accessible from anywhere. It makes it super easy to track changes, set permissions and access levels, and securely share documents with clients.
Recommendations: Dropbox, Google Drive, Microsoft OneDrive
Video messaging solutions
Do you remember a time when we used to only dream of video calling and messaging? Well the future is now and you can save time on longer, more complex communications with simple video messaging. With video messaging, accounting professionals can have more personal interactions with their clients and provide detailed explanations in less time — especially with tools that allow you to record your screen. Not only does this save time by eliminating long back-and-forth emails, but it also helps to boost customer satisfaction by providing a more convenient, personalized experience.
Recommendations: Loom, Vidyard
Billing and invoicing solutions
Manual processing of bills and invoices is a thing of the past. Now you can use automated solutions to help improve your cash flow by sending invoices on time, track receivables in real time and give you notification updates around status changes in your payments and automated summary emails that will include this information as well. Additionally, many of these systems also offer reporting features to help business owners get a better understanding of their finances, with data on payments, expenses and more.
Recommendation: Plooto Capture was built to help Plooto provide an automated end-to-end cash flow experience to its customers. Holistically, Plooto Capture is made to automate the input and creation of the bills that will then be paid through Plooto, with the convenience of having this entire experience live within the Plooto system.
Plooto Capture allows you to upload/manage documents, edit document information, and publish those documents to your accounting software. When you upload a bill, the contents are extracted and then displayed in the Plooto Capture UI for review and publishing. Once the bill has been created in your accounting software, you can pay it through Plooto's existing payment workflow.
Whether you are uploading your bills through email or directly in Plooto, you can view and manage all of your bills in a single platform whilst making payments effortlessly. Plooto automatically reconciles with your accounting software and attaches your bills and payments, so your books stay reliable and up to date.
Payment processing solutions
If you make paying easier, you will get paid faster. Integrating a payment processing solution allows accounting firms to quickly, securely and easily process payments from their clients. This reduces paperwork since payments are automatically recorded, eliminating the need for manual invoices and checks. Payment processing solutions can also be used to accept payments from multiple sources, such as credit cards, debit cards, eChecks, PayPal and ACH payments.
Recommendation: Plooto is a payment processing platform specifically designed for accounting and bookkeeping firms. It integrates seamlessly with QuickBooks Online and Xero to manage day-to-day payments with a high degree of control and transparency.
Payroll solutions
Payroll solutions can save accounting firms time and money by streamlining their payroll processes – because everyone is looking forward to payday. It allows for the entire payroll cycle to be automated, from tracking employee hours and running accurate reports to calculating taxes and preparing payments. It also simplifies the onboarding process for new hires, which helps reduce paperwork and improve accuracy. By eliminating manual, time-consuming processes and providing access to real-time payroll data, payroll solutions help accounting firms become more efficient and reduce the risk of errors.
Recommendations: Gusto (US), PaymentEvolution (Canada)
How automation software can be leveraged to grow your accounting practice
With every advance in new technology comes a new normal — and these advances are going to continue. We're able to process accounting workflows more rapidly than ever before, leading even the most seasoned of accounting professionals to leverage on tools and automation to make their job easier and more efficient.
Automation at its core will help you grow your firm by saving you time, saving you money and making everything in your workflow a little easier than it currently is.
Can one accounting tool do it all?
The short answer is no. No single application covers every feature and app your clients need, but getting all of your clients using multifunctional software like Plooto that covers several categories above will streamline your tech stack, reduce costs, and save time.
Then you can select other cloud-based add-ons and integrations that work together seamlessly to eliminate redundant data entry. In the end, you'll free up your clients' time (and yours) to focus on growth and other business opportunities.
Richard Gawlas is a freelance writer who has written on numerous technology topics. Advertising feature produced by Plooto. The Canadian Accountant editorial department was not involved in its production. Images: courtesy, Plooto.