Profession
Advice
Work/Life
5 savvy spending goals for the holidays from CPA Canada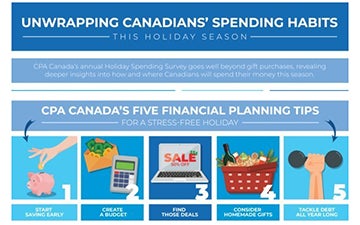 Holiday tips, survey part of profession's financial literacy program
TORONTO, Nov. 20, 2019 – As Black Friday approaches and the holiday spending season descends like a blizzard of cash register receipts, the Canadian accounting profession is gifting consumers with five savvy spending goals. "With more than half of Canadians living paycheque to paycheque, even small financial miscalculations can have significant consequences," says Doretta Thompson, CPA Canada's Financial Literacy Leader. "The good news is, it's never too late to start planning and monitoring your spending — it can go a long way to providing some peace of mind."
A CPA Canada survey shows Canadians plan to spend an average of $583 on gifts this holiday season, down from $643 last year, and almost half — 46 per cent — anticipate doing most of that shopping the "old-fashioned" way: in stores. Forty-two per cent of those surveyed did not set a budget for holiday spending, so sticking to those spending goals could be a challenge. This could also explain why one-in-five respondents anticipate overspending this year and nearly half say they experience added stress during the holidays.
"It's reassuring to see that Canadians have seasonal spending goals in mind," says Thompson. To ensure everyone enjoys the magic of the season, here's a list of five quick and easy tips for a stress-free holiday. Stick to these simple rules and you'll be feeling merry, even after the decorations have been put away!
1. Start saving early.
No one wants to worry about their finances over the holidays. Avoid financial stress this season by starting NOW and prioritizing saving throughout the year for next season. Only 39 per cent of Canadians save all year for their holiday purchases but thinking about and planning for these expensive periods in advance will set you up for financial success all year long.
2. Create a budget (and stick to it!).
This year, 42 per cent of Canadians admit they don't have a holiday budget. Whether they have a holiday season budget or not, 65 per cent say they do not plan to overspend this season. Creating a budget doesn't have to be as daunting as it sounds. Set spending targets for gifts, travel and entertaining; write them down and keep track of your spending as you shop.
3. Find those deals.
Savvy shoppers know that finding a good deal is all about research and timing. 36 per cent of Canadians plan to take advantage of Black Friday deals online, while 32 per cent plan to brave the crowds in-store. Only 28 per cent of Canadians plan to shop on Cyber Monday, despite online shopping giving consumers more options than ever to find that must-have toy, best-selling novel or latest gaming console.
4. Think outside the gift box.
Almost half of Canadians plan to give a non-traditional gift. Whether it's festive food or a caring and thoughtful gesture, thinking outside the box when it comes to gift ideas is a great way to save money and express your creativity during an expensive time of year. Remember, there's no shame in re-gifting!
5. Tackle debt all year long.
The best way to stay on budget and stress-free over the holidays is by paying down debt and sticking to an annual budget. The good news is that 27 per cent of Canadians expect to have no holiday debt and 59 per cent say paying down their debt is a medium to high priority in 2020. Good news because getting into the habit of your tracking spending paying down debt will ensure everyone can relax and enjoy the festive season to the fullest.
The survey and spending goals are part of CPA Canada's ongoing financial literacy program, the mission of which is to deliver unbiased objective financial literacy education and information to improve the overall state of financial literacy in Canada.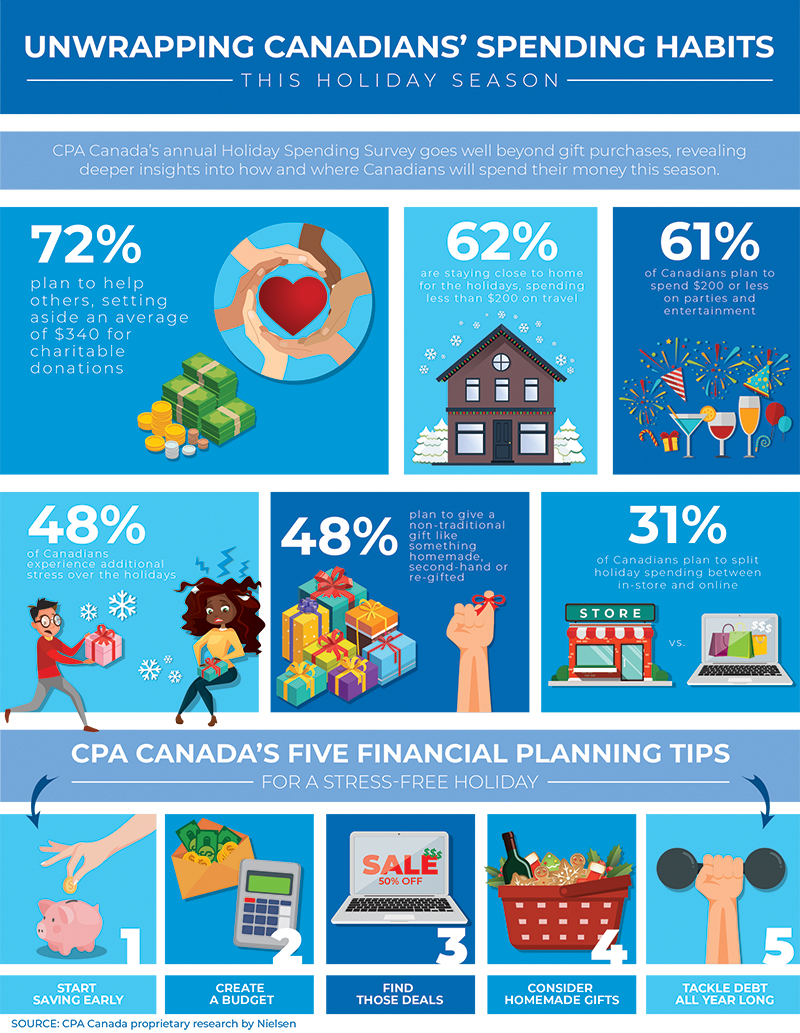 By Canadian Accountant staff from files provided by CPA Canada. Read more details about the survey.