Profession
National
CPAs
2021 Election Poll: Conservative support slips among Canadian accountants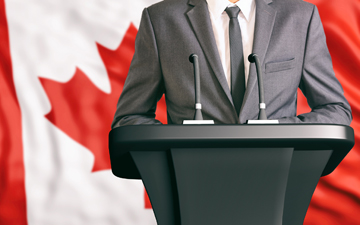 CPA loyalty leaks to Liberals, PPC over pandemic restrictions, financial supports
TORONTO, September 19, 2021 – Canadian accountants are showing less enthusiasm for the Conservative Party of Canada in the 2021 federal election than in 2019. While the majority of chartered professional accountants traditionally vote Conservative, pandemic restrictions may hold clues as to why Conservative support has slipped among Canadian accountants.
A poll conducted by Canadian Accountant reveals that 57 per cent of professional accountants will vote Conservative on Election Day. That number is six points lower than in 2019, when 62 per cent of CPAs said they would vote Conservative. In both cases, the numbers are influenced by the responses of Ontarians, who accounted for 54 per cent and 52 per cent in our 2021 and 2019 polls respectively.
If chartered professional accountants are wavering in their traditional support, to which party has the loyalty leaked? Three out of 10 (30%) of CPAs say they are willing to vote Liberal in this election. That number was just 20 per cent in 2019. Support for Justin Trudeau (25%) is far higher in 2021 than in 2019 (9%), indicating some appreciation for the Liberal approach to the pandemic. CPA support for Jagmeet Singh has been halved in the past two years.
Yet a significant percentage (4.08%) of CPAs intend to vote for the People's Party of Canada (PPC) and its leader Maxime Bernier. The majority of these voters are male CPAs who have traditionally voted Conservative in the past. Support for Andrew Scheer in 2019 is was higher (37%) than support for Erin O'Toole in 2021 (31%). Twelve per cent of CPAs say they would vote for Maxime Bernier if it had no influence on party status or election outcome.
Pandemic restrictions, financial support hold clues to voter support
In our 2021 election poll, we asked three questions regarding the pandemic that revealed suprising trends in voter loyalty among Canadian accountants. Six out of 10 CPAs say that government-mandated Covid-19 business and social restrictions been "reasonable" considering the circumstances.
One-quarter of CPAs say they have not been restrictive enough. CPA supporters of the PPC say that government-mandated measures have been too restrictive. While all CPAs rated "Economy (e.g., job creation, trade, etc.)" as the issue that mattered to them most, PPC supporters were the only group to rate "Pandemic/Vaccinations" as the second issue that mattered most to them.
CPAs split on government monetary support to individuals, business
During the past two years, the governing Liberals have provided a range of monetary support to individuals and businesses. According to our survey, Canadian accountants view businesses as far more deserving of government largesse than individuals. Seven out of 10 CPAs say the government has been too generous to individuals during the pandemic. Three out of 10 say government support was reasonable given the circumstances.
CPAs feel differently about business support. Almost seven of 10 CPAs (67%) say support was either reasonable or not generous enough. Just 32 per cent of CPAs said monetary support to Canadian business was too generous — a number skewed by PPC voters, 100 percent of whom said support was too generous.
Canadian accountants — except for PPC voters — feel strongly that employers have the right to implement mandatory vaccination policies. Six of 10 (67%) of CPAs fully support the idea while two of 10 (19%) say it depends on the employer.
Issues that matter most to CPAs
In the 2019 election, the majority of CPAs voted Conservative, and found out that they were starkly out of step with fellow Canadians. In this election, it appears that the pandemic has coloured the thinking of many Canadian accountants. In 2021, CPAs believe the economy and the debt/deficit are the two most important issues respectively — in 2019 the same two issues were reversed in importance.
However, whereas in 2019 the third most important issue was the Environment/Climate Change, the third issue of importance in 2021 is Pandemic/Vaccinations. Environment/Climate Change was the fourth most imortant issue this year behind Leadership. (The Environment/Climate Change continues to be an issue of low importance to Conservative-voting CPAs.)
We thank everyone who participated in the Canadian Accountant 2021 Federal Election Survey. We have kept the survey open for the next 24 hours for readers to add their responses.
Published by staff at Canadian Accountant.