Business
Global
Profession
How accountants can help bridge the global infrastructure gap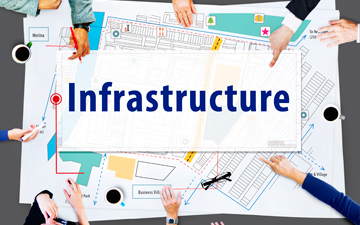 ACCA and CPA Canada publish joint infrastructure report
TORONTO, August 12, 2019 – Accounting professionals should be given greater responsibilities as key members of teams that are attempting to tackle a global infrastructure gap that grew by more than U.S. $400 billion in 2018, and is expected to aggregate to U.S. $14 trillion by 2040, say the Chartered Professional Accountants of Canada, and Association of Chartered Certified Accountants (ACCA).
Their recently published joint report, How accountants can bridge the global infrastructure gap: Improving outcomes across the entire project life cycle, surveyed 3,611 accountant respondents in practice as well as in the corporate and public sectors, across 118 countries.
"This report was an opportunity for us to work with another partner, so that we could understand an issue around infrastructure not just from a Canadian landscape, but a holistic global landscape," says Davinder Valeri, the Toronto-based director of strategy risk and performance for CPA Canada, and the report's co-author, in an interview.
"The successful provision of public infrastructure requires governments to have the right professional team in place. And yet, a clear message resounded from the international roundtable discussions: a key player is often missing from the infrastructure project table — the accountant," the report said.
"The accountant must be brought to the centre of the decision-making process on the selection, financing, building and operation of infrastructure — where the particular skills and perspective of the finance professional can mean the difference between success and failure," it stressed.
The surveys conducted by CPA Canada and the UK-based ACCA addressed the gap between the investment required and resources made available in several infrastructure categories, including: power and energy; water and sanitation; roads and highways; other modes of transport (for example air and sea); railways; information and communications technology; and core public service infrastructure (for example, involving hospitals and schools).
The following recommendations were made to promote the competencies of accountants and their ability to assist professional infrastructure teams throughout the entire process:
• Increase awareness of the accountant's qualifications as a strategic business adviser and as an essential member of the professional infrastructure team, alongside the engineers and architects;
• Equip accountants to voice arguments that are compelling both to political leaders and to the general public;
• Offer elected officials the opportunity to gain financial training from accountants so that they understand the true costs and are better equipped to act as financial ambassadors;
• Establish an accountant-informed certification process for project selection;
• Develop and implement clearer governance structures and decision-making processes that involve the finance function; and
• Institute whistle-blowing protection legislation for accountants internationally.
The report detailed two approaches to understanding the global infrastructure gap — as a notional, quantifiable investment gap, and as a subjective, needs-based service gap.
"Countries have different needs in that service gap, and some of them are not necessarily being recognized over focusing so much on the investment gap. I believe that accountants can play a role in both spaces by transforming agreed national visions into reality," explains Valeri.
For example, the report cited how, in Japan, project planning and selection considers the effect of infrastructure investment on achieving regional equity, over simply selecting projects expected to obtain the highest direct economic return.
Accounting pros need to be in on the ground floor
Although some infrastructure teams consist of accounting professionals working alongside other professionals, such as engineers and architects, they are usually brought in too late, says Valeri.
"We found in our surveys that you need to bring them to the table at the beginning when you're actually thinking about a project," she says, noting how accountants can apply their professional judgment to determine the need and priority for a proposed infrastructure project.
For example, accountants have the expertise to build climate change risk and sustainability needs into long-term planning, which is an area that CPA Canada is very much engaged in. "These risks need to be brought into the discussion when the project is being selected, and that's where I strongly believe that accountants have a big role to play," stresses Valeri.
CPA Canada and ACCA noted in their report that the planning and selection process for the appropriate infrastructure project is particularly difficult given long asset lives and significant sunk costs that increase risk and uncertainty. Only 16 per cent of respondents reported that their respective governments chose infrastructure projects that provide the most value to its taxpayers on at least a frequent basis.
This leaves clear room for improvement for how infrastructure projects are selected. At least 60 per cent of survey respondents prioritized the following four variables when asked how their governments could make the best decisions when selecting infrastructure projects:
1. Removing political decision-making, and making the process more technocratic.
2. Applying standard assessment tools to evaluate projects during selection.
3. Putting in place mechanisms to reduce corruption.
4. Quantifying the total life-cycle costs of potential projects.
Supporting the Selection Process
Two methods of need assessment were discussed. The benefit measurement method, which is often used for smaller or less complex projects, compares a project under consideration with a competing project. This method is based on the present value of estimated cash flows, and it uses techniques such as benefit/cost ratio, economic models, payback period, discounted cash flow, internal rate of return, and opportunity cost.
The constrained optimization method, which is usually reserved for larger, more complex projects, uses a cost-benefit analysis to assess whether or not the project is financially viable. It attempts to locate the minimum or maximum for a cost function where the cost changes, depending on varying factors.
The report noted that "Alongside the technical methods available for isolating need and priority, accountants can produce a broader range of metrics to improve the projection selection process."
The report made three recommendations for how the accounting profession can assist in the selection process to initiate the right infrastructure projects around the globe:
1. Take the lead in applying standard selection tools to determine the need for, and priority of, a project;
2. Advise on the distributional impact, and regional growth outcomes, of selecting particular projects; and
3. Embed adaptation and resilience into the project-selection process.
This is the first of a three-part series on the accounting profession and the infrastructure gap by Jeff Buckstein, CPA, CGA.