Business
National
Management
RSM Canada: Pandemic's unintended consequences may slow economic recovery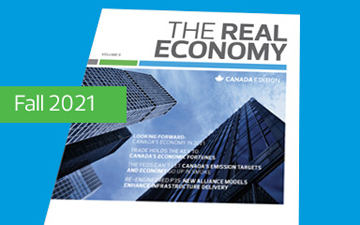 Global supply chain disruptions, labour shortage challenge middle-market firms
TORONTO, Oct. 28, 2021 – The Liberal government is counting on robust economic growth as Canada emerges post-pandemic but unintended consequences may slow the nation's economic recovery. According to the Fall 2021 edition The Real Economy: Canada, from accounting firm RSM Canada, supply chain disruptions, housing affordability, and uneven pandemic responses pose risks to the debt-to-GDP ratio and the activist agenda of the Trudeau Liberals.
Supply chain disruptions have dimmed Canada's economic prospects according to the report. Disruptions due to port closures, factory shutdowns, product halts and labour shortages will likely delay return of full production until mid-2022. In addition, the property sector crisis in China, the showdown over the raising the debt ceiling in the United States, and disruptions to the global supply chain have all contributed to volatility in global financial conditions.
Canadian businesses will face higher international shipping costs and depleted inventories for foreseeable future. Imports from China — Canada's second biggest trading partner — dropped 30.9% to $3.9 billion in July, from the record high of $5.6 billion in March. The average price to ship a container from Asia Pacific — which accounts for 68% of all monthly shipping volume to North America — increased by 63% in the March-July period, while the same cost from Europe increased by 79%.
This is good news for Canadian production, however, as many Canadian businesses have been forced to look for alternative domestic suppliers that are now more able to compete in terms of pricing. "Firms that remain nimble, and make smart investments to improve their productivity, will emerge from the current challenges in a stronger position."
Labour shortages and a legal exodus
Declining labour force participation rates and labour shortages will become a more acute problem over the next year, according to RSM. There was a significant increase in job vacancies this year, from 550,000 in the first quarter of 2021 to 730,000 in the second quarter. The positive impact of Quebec's child-care program — especially on women labour participation rates — suggest that a national program would be in the best interests of the Trudeau government.
Among the occupations facing labour shortages? Lawyers. According to the RSM report, Canadian law firms are losing talent to more lucrative positions in the United States. Business and professional services, which would include both lawyers and accountants, have enjoyed extremely high growth, job-switching, and wage growth in the past year, which is attracting Canadian legal talent.
While the report does not explore whether similar trends are occuring in the Canadian accounting profession, its provides insights into the rationale for crossing the border, as well as retention strategies for firms.
Business opportunities in climate activism
There is potential for growth in Canada's green industries, according to RSM. The Trudeau government is expected to accelerate its climate change plan post-election, further embracing an activist approach. The carbon tax — coupled with government incentives — is creating the foundation to encourage the development of green industries and projects nationally.
"We expect Trudeau to go further and accelerate Canada's climate change plan, which will include industrial policy-related actions that encourage the development of green industries and decarbonize high-polluting industries," states the report, adding that "if Trudeau can continue to set Canada on a path to meet its climate change objectives, that would cement his legacy."
Published by Canadian Accountant with files from RSM Canada. Download the Fall 2021 edition The Real Economy: Canada.