Profession
Global
Practice
Canadian accountants sign global climate change statement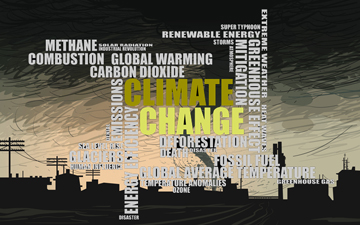 CPA Canada aligns with global accounting bodies to address climate change
TORONTO, Feb. 26, 2020 – The Canadian accounting profession, represented by the Chartered Professional Accountants of Canada (CPA Canada), has joined other 13 major accounting bodies in signing a call to action in response to climate change. Leaders of the accounting profession were united in their call for accountants around the world to "play their part" in addressing climate change that is "consistent with net zero emissions and climate change adaptation goals."
Joy Thomas, the president and CEO of CPA Canada, joined counterparts at major accountancy bodies such as the AICPA, ICAEW, and ACCA in signing the statement, which was also supported by Kevin Dancey, the former president of the Canadian Institute of Chartered Accountants (CICA), who is now the CEO of the International Federation of Accountants (IFAC).
"CPA Canada is already making positive contributions to help its members, governments and the business and investment communities adapt to a continuously evolving operating landscape," said Gord Beal, the organization's vice-president, research, guidance and support. "Canada's professional accountants are well positioned to assist the country in meeting its national environmental goals but, if there is to be a just transition to a net-zero emissions economy, the needs of all sectors must be considered."
Beal added: "Sustainable growth and social development must go hand in hand; political leaders and regulators must pledge to not only protect the environment but also commit to growing the economy by addressing the concerns and hurdles faced by some sectors."
The statement points out that the "profession can play a significant role in achieving both climate change mitigation and adaptation at the individual business, industry sector and economy-wide levels." It follows recent scrutiny, however, of the audit profession's commitment to corporate disclosure of climate change risk.
Investors critical of climate change disclosure
In late 2019, a group of European investment funds managing assets of more than a trillion dollars pressed the Big Four accounting firms (Deloitte, EY, KPMG, and PwC) in an open letter to take urgent action on climate-related risks. Investors expressed concern that climate change was being ignored as a risk in accounting and audits. They wanted auditors to challenge assumptions about the long-term risks of climate change and a low-carbon future.
"The overarching thing is that we don't want another financial crisis, and this could be a lot worse," said Natasha Landell-Mills, head of stewardship at asset manager Sarasin & Partners, which spearheaded the campaign. (The International Accounting Standards Board has said IFRS does address issues related to climate change risk, even if they are not addressed explicitly.)
Mark Carney, the outgoing Bank of England governor (and former head of the Bank of Canada), also warned companies they could go bankrupt by ignoring the implications of climate change. According to the Guardian UK, Carney urged companies to use their next two annual financial reports to "road-test how they represent climate risks in their accounts."
Last week, the Financial Reporting Council in the UK warned companies and their auditor could face tougher disclosure rules for UK to assist investors to identify climate risks. Sir Jon Thompson, the FRC's chief executive, said company reports and accounts were "essential to understanding how the corporate world is responding to the challenge of climate change."
In 2019, IFAC made several statements in recognition of the serious consequences of climate change, and Dancey has stated that "professional accountants must influence and enable the transition to a low-carbon society." IFAC is committed to to speaking out on climate action on behalf of the accounting profession and building the knowledge and capacity of accountants to meet the UN's Sustainable Development Goals.
"The action plan is a collective approach to have the profession adopt a greater sense of attentiveness about climate change and a keenness to address the issue," stresses Beal. "It represents an opportunity for the profession to be proactive, collaborative and play a leading role in the development and execution of long-term strategies aimed at climate-change mitigation and adaptation."
The full statement is available online. The signatories to the statement are:
Rick Ellis, CEO, Chartered Accountants Australia and New Zealand
Barry Melancon, CEO, Association of International Certified Professional Accountants
Mark Farrar, CEO, Association of Accounting Technicians
Klaus-Peter Naumann, CEO, Institut der Wirtschaftsprüfer in Deutschland e.V. (IDW)
J Bruce Cartwright, Chief Executive, ICAS
Christine Lundberg Larsen, CEO, Regnskap Norge/Accounting Norway
Helen Brand OBE, Chief Executive, ACCA
Francesca Maione, CEO, CNDCEC - Consiglio Nazionale dei Dottori commercialistie degli Esperti Contabili
Masahiko Tezuka, Chairman and President, The Japanese Institute of Certified Public Accountants
Joy Thomas, President and CEO, CPA Canada
Andrew Hunter, CEO, CPA Australia
Barry Dempsey, Chief Executive, Chartered Accountants Ireland
Michael Izza, Chief Executive, ICAEW
Supported by:
Kevin Dancey, CEO, International Federation of Accountants
Colin Ellis is a contributing editor to Canadian Accountant. With files from CPA Canada.