Profession
National
Practice
Collins Barrow National announces big BC merger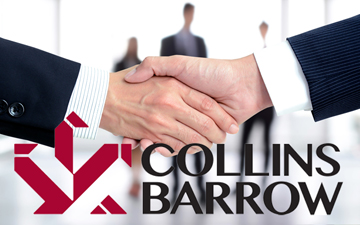 Three firms in Toronto and Vancouver to form Wolrige Mahon Collins Barrow
TORONTO, September 14, 2018 – Collins Barrow National has announced the merger of three Canadian accounting firms with offices in Toronto and Vancouver. The new firm, Wolrige Mahon Collins Barrow (WMCB), comprises Collins Barrow Vancouver, Wolrige Mahon (Toronto, Vancouver) and CW Group (Toronto). According to Collins Barrow, the merger will result in a "a single, powerhouse audit, tax and specialty services firm ... [that] will further enhance Collins Barrow's long-standing coast-to-coast presence."
As reported by Canadian Accountant, Collins Barrow is expanding its presence across Canada as part of its 2020 Vision strategy, which is championed by Grant Galbraith, FCPA, FCA, the new chair of the board of directors, Collins Barrow National Cooperative. "Wolrige Mahon Collins Barrow is a fantastic addition to the Collins Barrow network and represents the latest evolution of our network as we continue to reinvent and adapt for tomorrow," said Galbraith.
In January 2018, as reported by Canadian Accountant, Wolrige Mahon LLP expanded to Ontario by launching a Toronto office led by Collins Barrow Toronto partners John Sinclair and David Kemp. The new WMCB will serve as a key pillar in the Western-Canadian mid-market, becoming one of British Columbia's largest independently owned and operated firms. By combining their resources and expertise to offer even more comprehensive audit, accounting and advisory services, their 20 partners and 160 professionals are well positioned to adapt to the ever-changing financial climate and, most importantly, enhance client value.
"These mergers were specifically initiated to build and deliver even greater value to our clients," said Paul Websdale, CPA, CMA, managing partner of the new Wolrige Mahon Collins Barrow in Vancouver. "Collins Barrow allows us to continue to provide transformational advice and attention to clients, via our entrepreneurially minded and ethically motivated expert advisors, accompanied by the support of national resources, a trusted brand and international platform. As well, we will continue to attract the best talent in the industry, simultaneously providing authentic company culture and game-changing career opportunities."
"The addition of WMCB to our network is a significant milestone in our efforts to strategically expand Collins Barrow in key geographies across Canada," said Ken Tammadge, FCPA, FCA, who leads firm recruitment initiatives at Collins Barrow National. "Our newest firm's dedication to transnational collaboration and the ensuing elevation of client access is in keeping with our shared brand philosophy of acting as the true mid-market service providers coast-to-coast."
As always, while celebrating its newest member, Collins Barrow continues to actively seek firms across Canada who are ready to 'punch above their weight class,' join an established brand and access unique advisory offerings.
By Canadian Accountant staff. With files provided by Collins Barrow National.