Profession
Practice
Standards
Multiple deficiencies cited by US audit watchdog in two Canadian firms' inspection reports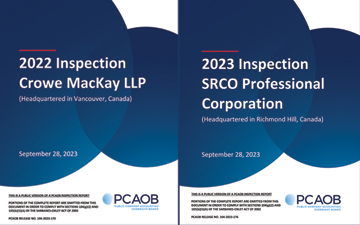 The Public Company Accountability Board has released inspection reports for two accounting firms, Crowe MacKay LLP and SRCO Professional Corporation
TORONTO, Nov. 10, 2023 – The Public Company Accountability Board in the United States has released inspection reports for Canadian accounting firms Crowe MacKay LLP and SRCO Professional Corporation. The inspection reports, which were completed this past September, were published earlier this month.
The PCAOB inspected three audits conducted by Crowe MacKay, which is based in Vancouver, and found deficiencies in all three (100%). The PCAOB also inspected two audits conducted by SRCO, which is based in Richmond Hill, and found deficiencies in half (50%). In all five cases, the firms were the principal auditors, and both firms had undergone inspections in previous years.
The PCAOB focused on two audit areas common to both firms: cash and cash equivalents, and revenue and related accounts. In Crowe MacKay's inspection report, the PCAOB singled out multiple deficiencies in the audit engagement of an industrials company ("Issuer A"), related to revenue from finance leases, as well as inventory deficiencies, apparently related to vehicles.
The PCAOB inspection report of SRCO Professional Corporation noted more than one deficiency in one of two audit engagements. The reporting issuer was a health-care company, and the PCAOB identified a deficiency in the financial statement audit related to revenue, for which the firm identified a fraud risk. The regulator also noted: "For certain revenue, the firm did not perform any substantive procedures to test whether the performance obligations had been satisfied when revenue was recognized."
The inspection report for both firms also noted deficiencies related to communications with audit committees, a common theme recently across multiple inspection reports of Canadian firms. Neither firm had audits with an incorrect opinion on the financial statements or internal control over financial reporting (ICFR).
Both firms provided a written response to the inspection reports and expressed their commitment to audit quality. Both firms also stated that they had taken appropriate actions to comply with PCAOB standards.
This brings to five the number of inspection reports of Canadian accounting firms issued this year by the PCAOB. Last year, the PCAOB issued 18 reports, including four enforcement orders.
Colin Ellis is a contributing editor to Canadian Accountant.