Business
National
Strategy
Economic Roundup: Federal Budget commentary, RSM Real Economy report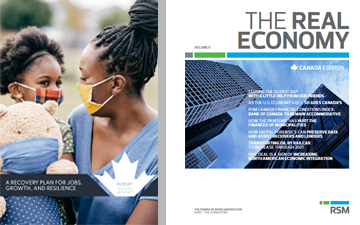 Links to Budget 2021 analysis from Canadian accounting firms, plus highlights from The Real Economy, Volume 9, from RSM Canada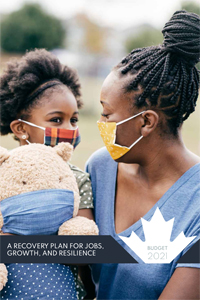 Budget 2021 is the first federal budget in more than two years, during the COVID-19 pandemic.
TORONTO, Apr. 22, 2021 – Monday's release of the first federal budget in more than two years has and will generate a tremendous amount of coverage and analysis. Canadian Accountant will publish selective analysis in the coming days and weeks but we have provided information and links below to analysis by key parties in the accounting profession, beginning with Chartered Professional Accountants of Canada (CPA Canada).
In it general statement on Budget 2021, CPA Canada stated that: "The federal government's continued focus on the immediate short-term remains essential as the country faces alarming pandemic numbers in certain regions. We applaud the extension of current support programs, including CEWS and CERS, with additional investments in creating jobs, supporting the most affected sectors and the digital transformation of small- and medium-sized businesses."
CPA Canada also published three focused statements addressing the issues of tax, building back better and sustainability, available with analysis and a video commentary: https://www.cpacanada.ca/en/the-cpa-profession/about-cpa-canada/key-activities/public-policy-government-relations/federal-budget.
Analysis and commentary from accounting firms
The Big Four and a number of medium-size accounting firms in Canada all published their own analysis and commentary on the Budget 2021. Here are the links to their Budget webpages:
Deloitte Canada
https://www2.deloitte.com/ca/en/pages/tax/articles/2021-2022-federal-budget-highlights.html.
EY Canada
https://www.ey.com/en_ca/tax/federal-budget-2021
KPMG Canada
https://home.kpmg/ca/en/home/insights/2021/04/2021-federal-budget-focus-on-asset-management.html
PwC Canada
https://www.pwc.com/ca/en/services/tax/budgets/2021/federal-budget-analysis.html
Baker Tilly Canada
https://www.bakertilly.ca/en/btc/budget-2021
BDO Canada
https://www.bdo.ca/en-ca/insights/tax/federal-and-provincial-budgets/2021/2021federalbudget-main/
Grant Thornton Canada
https://www.grantthornton.ca/insights/budgets/2021/
MNP LLP
https://www.mnp.ca/en/insights/directory/2021-federal-budget-highlights
RSM Canada
https://rsmcanada.com/our-insights/budget-commentary/2021-canada-federal-budget-detailed-commentary.html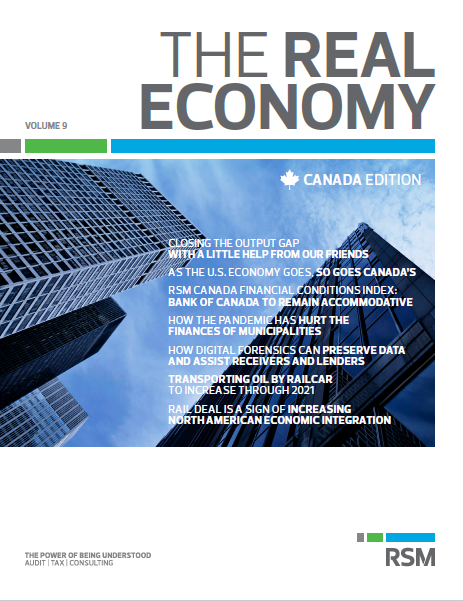 Volume 9 of The Real Economy forecasts robust growth of 6.5 per cent in 2021, according to accounting and professional services firm RSM Canada.
RSM Canada releases Volume 9 of The Real Economy
As the U.S. economy goes, so goes Canada's, asserts Volume 9 of The Real Economy from RSM Canada, released just prior to Budget 2021. Canadians are fortunate that the Biden administration's American Rescue Plan, which, when combined with aggressive federal spending and monetary policy north of the border, has Canada primed for exponential economic growth not seen in decades. The $25 billion Canadian Pacific Railway deal to buy Kansas City Southern indicates further integration of both economies.
Economic reports are a challenge during the ongoing Covid pandemic. CPA Canada, for example, cancelled more than one of its Business Monitor reports in the past year, saying that, due to rapidly changing circumstances during the pandemic, some data may be out of date. The Real Economy states, however, that Canada's economy is expected to grow by 6.5 per cent in 2021, though slow vaccination rates may limit full economic potential.
The Real Economy includes an entire section on municipal finances, "How the pandemic has hurt the finances of municipalities," which delves deeply into the plummeting revenues of Canadian cities. The report also includes an illuminating section on digital forensics in business failure and bankruptcy cases, as well as a section that looks at the transportation of oil by railcar in 2021. Visit The Real Economy webpage or go directly to the Volume 9 webpage.
Published by Canadian Accountant.