Profession
Thought Leaders
Video: Canadian accountants can mitigate climate change, says Mark Carney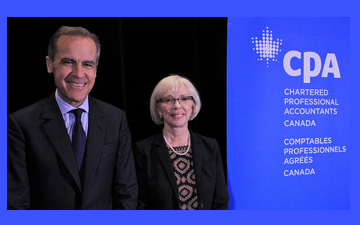 Bank of England Governor praises Canadian CPAs for supporting the global move to climate-related financial disclosure
TORONTO, May 31, 2018 - Canadian accountants can play a role in the mitigation of and adaptation to climate change through the shaping of good practice in climate-related financial disclosure. That's according to Mark Carney, Governor of the Bank of England, in an interview with Joy Thomas, president and chief executive officer of CPA Canada, at the Canada Growth Summit 3, presented by the Public Policy Forum.
Carney is chair of the Financial Stability Board (FSB), which, at the request of the G20, created a task force to develop a set of voluntary disclosures to help establish greater reporting consistency on climate change issues. The disclosures are for use by companies in providing information to investors, lenders, insurers and other stakeholders.
In his interview with Thomas, Carney says the accounting profession can assist in determining the applicability of the recommendations. "The key thing is that the professionals represented by your membership, and memberships around the world, work with the recommendations, determine what works best, what works less well, and there's an iterative process that help refine and make them truly decision-useful for the providers," says Carney.
This, he adds, goes beyond static disclosure and includes scenario analysis, management of risk and governance processes. "These are some very higher order types of disclosure," adds Carney, "[which] takes true judgment, and that's why having the support of the CPA and the professionals in the CPA is hugely important to make sure that this works."
Colin Ellis is the managing editor of Canadian Accountant.