Profession
Practice
National
Consulting in Canada: Where the Big Four firms are making money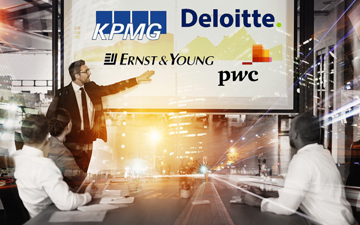 Canadian Accountant does a deep dive into the numbers from Source Global Research
TORONTO, July 10, 2018 – The ongoing digitization of the Canadian financial services sector is driving consulting revenue at the Big Four accounting firms in Canada. But healthcare digitization is the fastest growing sector in consulting, according to "The Canada Consulting Market in 2018," a new report from Source Global Research.
As reported by Canadian Accountant in June, the Big Four (Deloitte, EY, KPMG, and PwC) dominate the Canadian consulting market, accounting for $1.5 billion of a $3.9 billion market (all figures in U.S. dollars), and clocking in at the highest growth rate among rivals. According to the report, "Those firms that have been able to overcome internal silos and bring all of their solutions to bear to deliver a truly joined-up offer to support transformation opportunities have performed particularly well."
But a deeper dive into the numbers uncovers some surprising revelations about consulting in Canada. The business is booming in Canada, as demand is growing in every economic sector and consulting line, with a 4.9 per cent growth rate in 2017. "We've got a lot of calls coming in from clients — the phone is ringing a lot, which is great news for us," enthuses Linda Williams, a partner at EY Canada's advisory services.
Canadian companies lagging behind U.S. investment
Despite the strength of the Canadian economy, the consulting market's performance "might strike some as a bit disappointing," when compared to our neighbours to the south. While Canada outperformed the U.S. economically in 2017, "Canada doesn't have the same pool of large clients. There are far fewer large global companies that have significant consulting budgets."
And, while Canadian consultants dislike the uncertainty around North American trade, interest rates and a mercurial U.S. president, Canadian consulting firms have divergent views as to U.S. influence. "Trump's [tax] incentives make it so attractive to move business to the U.S.," said one unnamed accounting consultant. "We are, unfortunately, very busy helping Canadian clients to relocate. This trend benefits our tax practice as much as business consulting, and it's fair to say that we're reacting live to this trend."
Others see opportunity, however, in terms of both risk management and the attractiveness of Canadian multiculturalism as compared to U.S. immigration, driving talent northward, especially in the technology sector. As Tim Christmann of Deloitte explains, "Clients are undertaking scenario planning for a range of trade realities."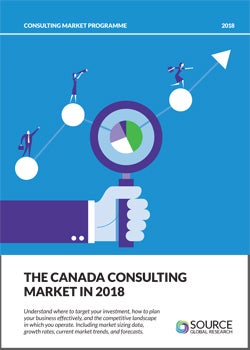 Source Global Research report, 2018.
Where the money is spent
For all the hype (often generated by consultants themselves) surrounding artificial intelligence and machine learning, consulting revenues in Canada are largely driven through the digitization of legacy systems, as Canadian corporate clients tend to be conservative adopters of new technologies. "Canadians — my beloved Canadians — are perhaps a touch conservative," says Wayne Ingram, the general manager of Slalom in Toronto, "so I'd suggest that emerging technology adoption is about a year behind that of the U.S."
Bay Street in Toronto is ground zero for the largest drivers of consulting revenues in Canada, as the head offices of the Big Four accounting firms and the Big Six banks are loctaed within blocks of one another. Overhauling legacy IT infrastructure was a priority in 2017 for the financial services sector, as was the growing demand for data and analytics initiatives. The demand for fintech assets also provided consulting firms with opportunities to act as facilitators between the financial and technology sectors respectively.
"The banking industry continues to undergo change in part due to the industry-wide payments modernisation initiative," says Tim Christmann, managing partner of Deloitte Canada's consulting practice. "Financial services continues to be a dominant sector of us in Canada," says EY's Williams. "Demand remained strong, including in wealth management, predominately driven by digital disruption."
According to Williams, "Healthcare is once again a star sector this year, as it was last year, specifically in the public sector. There's a lot of demand to redirect cost toward modernising service to Canadians." An ageing population and a highly competitive environment are seen as the primary factors driving consulting capacity.
Caution amid continued consulting growth
As the report by Source Global Research makes clear, the consulting sector is booming in Canada and driving revenues at the Big Four accounting firms, and that growth is expected to continue through to 2020. However, a quarter of clients surveyed expected their consulting expenditure to decrease. "Canada's clients are clearly not alone in showing a degree of wariness about their consulting spend, but they may be feeling slightly warier than most."
Canadian clients demonstrate a clear bias towards hiring consultants for their specialist capabilities rather than capacity to fill internal gaps. This suggests that the ongoing march of the Big Four to accumulate technology, legal and management expertise through acquisition will continue.
"We tend to use consultants for their expertise," says one VP of talent development in the services sector. "There's been a reduction in our workforce over the last five to eight years, so we do have fewer people, but there are cheaper ways of filling those gaps than bringing in consultants to fill seats."
As 2020 nears, watch for growth ranging from two per cent at the low end of the scale (pharma and biotech) to seven per cent at the high end (healthcare and financial services), with plenty of capacity to grow.
Colin Ellis is the managing editor of Canadian Accountant. "The Canada Consulting Market in 2018" is available for purchase and download from Source Global Research. Access the firm's other reports here.